Mercedes-Benz S-Class S 63 AMG
December 2013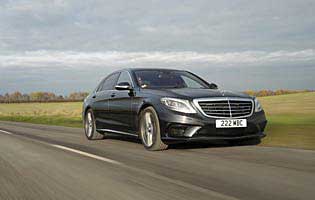 Subtle exterior belies the S 63 AMG's performance potential
Ratings
Overall rating
Value for money
Costs
Space and practicality
Controls and display
Comfort
Car security
Car safety
Likes
Hushed engine allows quiet progress in urban settings
Super- smooth gearbox offers step-free changes with light throttle use
Comfortable multi-way adjustable seats offer real luxury
Ridiculously rapid and composed in the corners
Gripes
Hard to tell apart from a regular S-Class
Keen drivers will probably find it too quiet
Too many gadgets are still expensive optional extras
Expensive to run and thirsty if driven hard
The benchmark in the luxury saloon sector for some time now, Mercedes' S-Class is a popular choice in the executive hire and chauffer market. Sticking an AMG badge on its rump might seem like an inappropriate act, but the previous generation car proved a hit and something its maker hopes to repeat with this latest S 63 AMG model.
This car has been a chauffeur's favourite for a long time, because traditionally it has been superb both to drive and to be driven in. Mercedes pioneers all kinds of sound-deadening, ride-smoothing and entertainment-boosting ideas in this car to make life better for everyone on board. That mission has been taken to the next step with the 2013 model.
However, there's also a naughty side to the S-Class in the shape of the S 63 AMG, a 577bhp V8-powered version promising supercar thrills without sacrificing the usual S-Class refinement. You get the best of both worlds: rapid straight-line speed, the ability to make light work of cross-country drives all wrapped up in the now familiar combination of high-class refinement and luxury.
Unlike with your average supercar, you can waft around in relative anonymity in the S 63. Mercedes has blessed the car with a modest bodykit, while its exhaust note is a muted one, although this latter observation might prove a disappointment for hardcore AMG fans.
Still, the fact the car is only sold in long-wheelbase trim in the UK means buyers aren't short-changed when it comes to comfort. The ambience in the rear is close to that of a business class jet, as you can recline your seat to maximise the extra legroom available over the standard car. You will have to dig deep for some of the more attractive options, although at this price point that's unlikely to be a concern for most buyers.
Our verdict on the Mercedes-Benz S-Class S 63 AMG
If you're seeking the rare combination of Porsche 911 pace and limousine comfort, the Mercedes S 63 AMG should be at the top of your shopping list. It may not look much at first glance but the car's abilities easily make up for the lack of visual drama. A genuine split personality machine, one minute you can be blasting along and next wafting through town untroubled by poorly surfaced urban roads.
Costs

No S-Class is going to be a bargain, and the S 63 promises to be a considerable drain on even the most substantial of budgets. Its thirst, asking price and general running costs put it head and shoulders above the comparably frugal diesel variant, while you'll need to spend a few pounds on options to bring the car up to a suitably luxurious standard.
Space and practicality

There is more than ample luggage space available in the boot of this S 63. In the cabin there are many small storage solutions fore and aft, including the likes of ashtrays in the doors and pockets in the doors. For many the focus will be on rear seat practicality, and it's fair to say there's ample room to stretch out in comfort.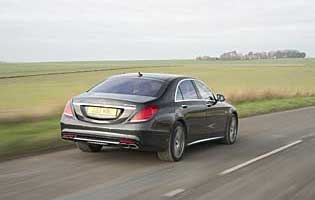 Likely to be the view most other road users see of the mighty S 63
Controls and display

With two 12.3-inch widescreen displays to look at, the driver can in theory enjoy one of the most up-to-date dashboards in the industry. The one directly in front of the driver simulated analogue speed and tachometer dials. The second display is the main access point for entertainment and navigation functions and is controlled by Mercedes' now familiar rotary controller located down in the centre console.
Comfort

An S-Class without comfort in abundance is not an S-Class at all, which is why every measure has been taken to make sure all occupants are satisfied. Electrically adjustable seats all round cater for back angle, lumbar support and all the usual directional adjustments. In long-wheelbase trim the car offers rear seat occupants near-business class comfort and space.
Car security

As a high-value Mercedes the S-Class is very desirable in the eyes of thieves. To help prevent theft the company has installed an alarm with internal and exterior sensors, plus an immobiliser that's so effective it makes the car impossible to start without the correct key. Locking wheel nuts and a locking fuel filler cap help prevent parts and fuel theft, too.
Car safety

Myriad systems fill the car from front to back, from Pre-Safe-enabled seat belts that make a huge difference, to passive safety ratings to a wide array of monitoring sensors and warnings that aim to prevent an accident in the first place such as a lane-keep assist system and radar cruise control.
Driver appeal

In S 63 guise the S-Class is predictably rapid. What's more impressive is the car's composed nature, even when being driven hard and pointed at challenging corners at speed. It's not quite the tactile experience of the smaller E 63, but this S-Class also has to function as a plush limousine. It can feel disappointingly muted at speed but, again, the trade off is a hushed experience at urban speeds.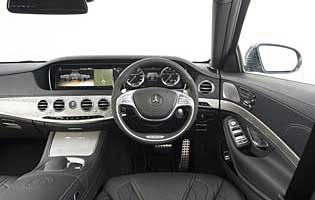 Fuss-free fascia and large digital displays make driving the S 63 a breeze
Family car appeal

While the sheer space and comfort on offer put's the S-Class on a par with some more conventional large saloons, the purchase price and plush interior would likely be viewed negatively by those on even a large budget and in possession of small children - think sharp objects, food and sticky fingers
First car appeal

It's likely any S-Class would be a challenge for the novice driver. With it's 500-plus horsepower the S 63 is probably not the wisest choice, and that's before you factor in the asking price and associated running costs.
Quality and image

The Mercedes brand image is riding high after a series of excellent and solid-feeling new models, and it's entirely backed up by the tactile sensations from within the S-Class. Very high-quality materials and lots of soundproofing help to reinforce the quality message. In AMG trim it's always been special, and this latest variant continues the trend.
Accessibility

For UK buyers the S 63 is long-wheelbase only, which means better than average access to the rear seats. The rear door aperture is a generous size, with only a slight duck of the head required when sliding onto the back seat. No problems up front thanks to the wide opening doors, while the car's boot is powered and the load lip is pleasingly low.
Stereo and ICE (In car entertainment)
As standard the car uses a huge 12.3-inch central display for the media interface. Music can be stored on the in-built 10GB 'music register' hard drive, an SD card fitted to the single slot, or an external device like an iPod or other MP3 player, via special USB cables that are included with the car. DAB radio and Bluetooth are also standard, while the default speaker layout uses a 'Frontbass' system for greater punch.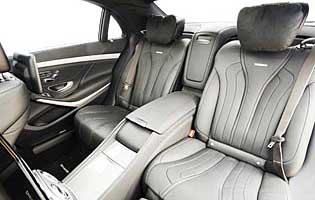 The S 63 is capable of spoiling rear seat occupants rotten
Colours and trim
The range of dignified and sober hues to choose from, including black, silver and dark blue, do much to flatter the S-Class. The body styling makes less of a visual impact than before, thanks to the presence of a modest bodykit. On the inside, wood and sumptuous leather upholstery is standard, with enough options to help personalise the cabin to your liking.
Parking
Among the many sensors on board the S-Class are several for the Parktronic Package, which is a comprehensive parking assist array including front and rear parking sensors, a rear-view camera and Active Park Assist, which within certain limits can park the car semi-automatically. The latter function isn't quite perfect yet but makes a good fist of most situations, while the more traditional parking sensors and camera do an excellent job of making this large car easier to slot into a space.
Spare wheel
Space saver spare wheel fitted as standard.
Range information
Petrol engine options - 3.5-litre (302bhp); 4.7-litre (449bhp); 5.5-litre (577bhp). Diesel engine options - 3.5-litre (254bhp). Transmission options: Seven-speed automatic gearbox only, plus seven-speed AMG Speedshift automatic (5.5-litre petrol only). Trim levels: SE Line, AMG Line, AMG.
Alternative cars
Audi A8 Rapid, sure-footed and well built, but driving experience lacks sparkle
BMW 7 Series No dedicated performance option and not engaging enough at speed
Jaguar XJ Stylish and dynamically entertaining - rapid and fun to drive, too
Maserati Quattroporte Dramatic looks matched by engaging and rapid driving experience
Over 1,200 more car reviews online
All the reports since 1990 are available on this site, just search by make and model below.
Other products & services
Related information
December 2013