Audi S3 Saloon
November 2013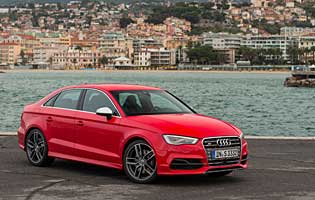 Understated styling means that from the front the S3 attracts little attention
Ratings
Overall rating
Value for money
Costs
Space and practicality
Controls and display
Comfort
Car security
Car safety
Likes
Very stong performance from turbocharged engine
Synthesised engine note is nonetheless pleasing to the ear
Manual gearbox increases driver involvement and satisfaction
Composed ride is firm but rarely uncomfortable
Gripes
Many desirable features are costly options
Satellite navigation has numerous niggling faults in its guidance
Saloon boot loses a measure of practicality for carrying large items
Rear seat access could be better
Audi is in a phase of its brand development where building as many derivatives as possible is a priority. The Saloon is the third version of the S3, following three- and five-door hatchbacks and preceding a convertible. Each version differs slightly in its dimensions, level of practicality and target audience, but they each share the same drivetrain.
The S3 is primarily a performance car, built to thrill its driver and provide a measure of the acceleration and speed provided by the marquee RS models at a more affordable price. The saloon variant is a new addition to a range that has previously only consisted of hatchbacks and convertibles, and adds what some buyers will see as extra prestige.
The market sector is a growing one, and recently Audi's main rivals, BMW and Mercedes, have also introduced high-performance compact saloons. To differentiate itself from the competition the S3 attempts to combine ferocious acceleration and grip with subtle styling and a more refined air than its rivals. Four-wheel drive is standard, as on all Audi S and RS models.
S3 models have been popular for a long time in the UK, loved for their surefootedness and all-terrain speed as much as their premium build quality and badge appeal. Audi believes more in evolution than revolution, and in truth its past sales figures show that it got the balance of qualities in the car right in its first incarnation.
This latest model, with its particularly appealing 'three-box' proportions, carries on the tradition in examplary fashion, with higher-quality materials, more efficient and yet more powerful engines, and plenty of advanced technology both in terms of performance and safety. However, as a halo model for the A3 line it is not likely to contribute large sales volumes.
Our verdict on the Audi S3 Saloon
There can be no doubt that the S3 is very fast, and is capable of exploiting its performance in almost any conditions thanks to the latest generation of quattro four-wheel drive and advanced torque vectoring technology. It's actually very difficult to step beyond the car's limits and therein lies a large part of its appeal, but as ever the joint bonuses of materials quality and style complete a convincing package.
Costs

Clearly a 296bhp, four-wheel drive Audi performance car is not going to be cheap to buy or run, but thanks to significant recent gains in fuel efficiency the S3 actually manages very reasonable running costs for the performance on offer, including a road tax charge that only a few years ago applied to ordinary, modestly-powered family hatchbacks. Residual values are not among the best, but in terms of value for money against its direct competitors the S3 holds a convincing hand.
Space and practicality

Numbers can sometimes be deceiving and so it could prove for some people with the S3 Saloon. The extra body length technically makes the boot bigger than those of the hatchback and convertible variants, but the Saloon has less scope for expansion. While the hatchbacks can swallow large items like household appliances by putting the seats down, such feats are not easily replicated in the Saloon. More thought could also have been given to the cabin storage solutions, although the existing array is adequate.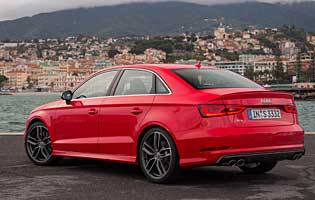 Four exhausts are main hint towards performance potential
Controls and display

The main instrument cluster is the standard mix of grey, red and white seen on all S-badged cars. It's not new but it still looks as good as ever, and it certainly does the job efficiently, with alternating speed increments in large and small figures to differentiate and separate them. The highlight is the main interface screen, which rises out of a slot at the top of the dashboard neatly, quietly and elegantly, giving a very premium impression.
Comfort

The standard sports seats are on the wide side, and only broad people are likely to feel properly snug. The exhaust can also drone annoyingly if the car is left in its Dynamic drive mode, where the system is at its most vocal. However, the front two seats offer very good shapely support for lower backs, and the ride quality is actually surprisingly comfortable for the type of car. It's firm but not crashy or harsh. Audi has struck an impressive balance with the S3.
Car security

No common faults or shortcomings have been exposed in Audi's recent security systems, and generally the firm puts maximum effort into preventing the theft of any of its models regardless of price. Few details are actually available to prevent criminals gaining an insight into what they're dealing with, but the security systems include remote central locking, an alarm that monitors the interior space for movement as well, and a secure boot that cannot be accessed from inside the car when the locks have been activated.
Car safety

The S3 benefits as standard from some of the active safety systems that otherwise only come on the options lists of lesser A3 models. Motorway drivers will appreciate it most of all, but every owner can take a measure of peace of mind from the presence of the technology. Quattro four-wheel drive helps to ensure a safe getaway from wet or slippery junctions, too. Passive safety is of the highest calibre, because Audi will not permit its cars to be built any other way.
Driver appeal

Driving appeal is the main factor that buyers of cars like this want to believe they base their decision on, so it's fundamentally important to the brand that the S3 is thought of as a driver's car. The latest generation has a level of communication and involvement that previous versions have lacked, which immediately makes it more appealing from behind the wheel. While the exhaust note is largely faked with clever mechanical sound engineering, it does still manage to sound different and exciting.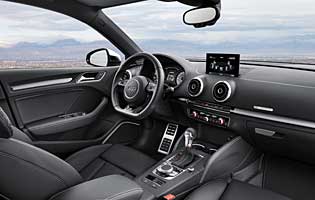 Interior gives little indication of S3's relatively modest standing in Audi stable
Family car appeal

Arguably it's the A3 Sportback, with its five doors, that makes an ideal car for a young family. The four-door Saloon model isn't far behind, though, as long as the boot proves large and practical enough for a young family's real day-to-day needs. Child seat mounts are present to account for the family buyer, and the front passenger side airbag can be switched off to allow babies to be carried safely in rear-facing seats.
First car appeal

Young men embarking upon the hunt for their first car are almost certain to look at the S3 - or more likely used versions of older models that fall more into their price range. This is simply too expensive a new car option to be viable, and any S3 is highly likely to be unaffordable to insure for any new driver who doesn't have vast disposable income. While the car itself isn't too difficult a size for an experience-shy motorist to handle, the large power output might be. On the whole, the S3 would be an unwise choice as a first car.
Quality and image

Audi enjoys a hard-earned and continuing reputation for quality, while its S brand is even a notch above its regular cars. Such is its sway with buyers that not even unimpressive results in large-scale reliability surveys have dampened the public's desire for cars bearing the famous four rings. The car itself does exhibit some noticeable poor panel alignment and inconsistent fit, perhaps revealing where costs have been squeezed, but on the inside the car feels more premium.
Accessibility

Four-door saloons like the S3 are generally quite accessible, but the compact dimensions here do bring some drawbacks. The rear doors initially seem adequately long but leave rather little foot room for passengers, especially when getting out. The roof line begins to slope, too, so taller passengers might find it something of a squeeze all round. The front passenger and the driver will have no such complaints, though, and the saloon boot doesn't sacrifice too much in the way of aperture size and practicality.
Stereo and ICE (In car entertainment)
The car's main display screen rises quietly and neatly up out of the top of the dashboard, presenting a large and clear surface on which music data is displayed. The Audi MMI system controls the music menu navigation for both the standard stereo and the optional upgraded choice, but while the system is not the most intuitive while trying to navigate large lists, simply changing the music source and playing an album is easy. Speakers are placed throughout the cabin for an even spread of sound.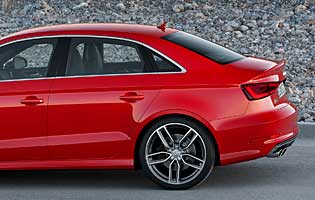 Small rear doors can slightly hinder access, but boot is large
Colours and trim
The S3 saloon has arguably the neatest and most natural proportions of all the S3 derivatives, and as such is perhaps less sensitive to colour choice. Apart from its four exhausts the styling is quite understated, which makes metallic grey a particularly good choice. Red and black also suit it, while the interior takes care of itself with high-quality and attractive trim. The hidden display screen allows the dashboard trim to stay neat and appealing.
Parking
The S3's size works in its favour when it comes to parking. It's not a wide car and fits into most bay spaces easily, but its extra length compared to the two hatchback S3 models does hurt the saloon slightly when it comes to parallel parking. Rear parking sensors are standard-fit to help drivers judge the distance, with front sensors and a pair of cameras for the front and rear available as options. Variable-assistance steering makes low-speed manoeuvres into light work.
Spare wheel
Emergency tyre repair kit supplied as standard.
Range information
Petrol engine options - 2.0-litre (296bhp). Transmission options: six-speed manual gearbox, DSG twin-clutch automatic optional. Trim levels: S3.
Alternative cars
BMW 1 Series coupe Rear-wheel drive handling dynamics make it popular with drivers
Mercedes CLA 45 AMG Much more power than the S3 with a great noise on demand
Volkswagen Golf GTI Hatchback model falls behind in the prestige stakes, but is a brilliant all-rounder
Peugeot RCZ R Excellent driving dynamics but short on practicality and with a high price tag
Over 1,200 more car reviews online
All the reports since 1990 are available on this site, just search by make and model below.
Other products & services
Related information
November 2013