3 Series 330d xDrive Touring M Sport
October 2013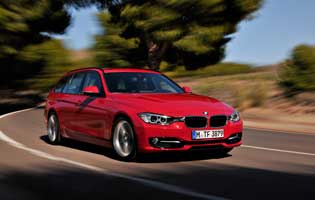 A familiar sight but still a bold choice in the executive car park
Ratings
Overall rating
Value for money
Costs
Space and practicality
Controls and display
Comfort
Car security
Car safety
Likes
Practical boot adds significant capacity gains over the saloon
Smooth and quiet cruising ability
Balanced and poised driving dynamics offer rewarding journeys
Added mechanical grip welcome in unfavourable weather conditions
Gripes
Diesel engine can sound gruff when pushed hard
Auto gearlever could be easer to operate
Standard spec still demands more than a few cost options to help car justify premium badge
Eco driving modes can dull driving experience
For all BMW's considerable marketing efforts to promote its rear-wheel drive cars as 'ultimate driving machines' it also makes some pretty good all-wheel drive cars. Sadly for the purists, those cars are chunky SUVs, not agile sports saloons. That's changed with the introduction of xDrive-badged regular BMWs like the firm's 3 Series Touring.
Sports saloons - and estates - are predictably popular with keen drivers, but when the conditions underfoot change many will clamour for the default winter choice: an SUV. With an all-wheel drive option available for an increasing number of conventional BMW models, buyers who have yet to jump on the SUV bandwagon can sleep soundly again.
A word of caution, though. Unlike the firm's ubiquitous X5, a total-traction 3 Series is not aimed at the go anywhere brigade. It's role is to deliver more grip when conditions deteriorate, not allow you to charge across muddy fields. In reality, little has changed beyond the inclusion of the extra transmission hardware. If you want something more rugged but not an SUV you're going to need something from Audi sporting an 'allroad' badge.
Still, the car in question, a high power diesel estate, could for many prove to be an ideal blend of practicality and performance. The 3.0-litre engine has received considerable critical acclaim and combining it with a practical yet stylish compact executive load-lugger is likely to appeal to buyers who have grown out of more utilitarian Subarus and don't fancy the prospect of running a genuine SUV.
For generally slippery road conditions and mud-strewn country lanes it's hard to see why you'd want something more than something like this 3 Series. An SUV would be overkill unless you plan on regularly towing caravans or trailers, and the extra fuel penalty incurred from running even the more economical full-blown 4x4 would be hard to justify if you never ventured off road.
Our verdict on the 3 Series 330d xDrive Touring M Sport
In 330d xDrive Touring guise BMW's 3 Series becomes considerably more appealing if you're seeking a do it all compact estate car for that busy active lifestyle. It also shines in adverse conditions where you want - and need - extra grip and security such as rain-drenched motorways and greasy rural B-roads. In every other respect this 3 Series Touring performs like any other; it's well built, thoughtfully equipped and the cabin is tastefully appointed in easy on the eye and durable materials.
Costs

You don't buy a top of the range 3 Series Touring if you're watching the pennies, but in the context of executive car buyer this 3 Series delivers an above average fuel economy performance and should save both private and business users a reasonable sum when it comes to vehicle excise duty.
Space and practicality

Predictably the Touring model is the one to choose if space and practicality are near the top of the priorities list. The boot has grown from the last generation's and is more than large enough for holiday cases, DIY supplies or a large dog. It provides enough space for the vast majority of buyers. Cabin space isn't quite as impressive; it's fine up front but there's only a moderate amount of room in the back for adults, especially regarding legroom.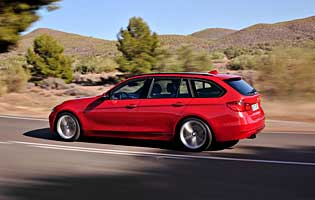 In all-wheel drive xDrive form the 3 Series is a great all-weather car
Controls and display

Central to the car's dashboard is a large widescreen display. The screen itself is high-resolution and clear, using a simple colour scheme to display key car systems information and menu options. The main instrument cluster is of BMW's latest series and is clear, large enough and bright in all light conditions. The main switchgear is intuitive to operate and even the iDrive can be mastered with a little practice.
Comfort

In years past, run-flat tyres like those on this model have been the source of much road noise and a firm ride. Such problems have been solved for the new model and comfort levels are impressively high even on larger wheels. Apart from some wind noise around the door mirrors, there's little to complain about.
Car security

As well as an alarm and immobiliser, the central locking secures the fuel filler cap and the boot. At the rear there's a sturdy load cover to deter prying eyes, while in the cabin covered storage areas allow you to hide valuable items when parked.
Car safety

The car's safety kit list is topped by a comprehensive complement of airbags, stability control and a variety of seemingly small but welcome aids. While there are many systems dedicated to keeping the car out of danger, this car's all-wheel drive system displays a subtle knack of keeping you pointing in the right direction with spoiling the overall driving experience - something electronic nannies are often famous for.
Driver appeal

The combination of all-wheel drive when you need it and a powerful, torquey diesel motor should please even the harshest of critics. M Sport models will deliver a noticeably firm ride but the trade off is minimal roll through the corners. Direct steering and good brakes are other highlights, although the auto gearbox could be more responsive when the car is driven quickly.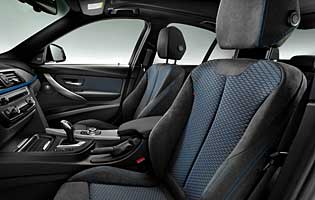 High quality interior is easy on the eye and practical too
Family car appeal

The 3 Series Touring is the natural choice for families, especially active ones if you factor in the xDrive's all-weather capabilities. Isofix mounts are installed as standard and the rear door apertures, although smaller than the fronts, should allow a child seat to be fitted without difficulty. The existence of leather in the cabin makes it a slightly vulnerable environment to expose to a combination of children and food. For the full family experience you would, predictably, be better off with proper SUV though.
First car appeal

Realistically this car is too powerful and not especially affordable, so it makes an unwise choice as a first car. In addition, insurance would most likely be beyond the reach of a typical first-time car buyer.
Quality and image

BMW has long since been the premium brand known best for its promotion of driving enjoyment, and that has afforded a certain degree of fashionableness that is unique in the sector. BMW also has an enviable reputation for build quality and solidity comparable with its rival German firms.
Accessibility

The 3 Series is an easy car to get in and out of in any body style, although it's slightly lower than some potential alternatives. The estate-type boot on the Touring brings with it a flat load bay. It's also possible to fit much larger objects or pets in without having to use the rear seats. The rear doors are somewhat shorter than the fronts, meaning they can open wider in the same space but that the aperture is smaller.
Stereo and ICE (In car entertainment)
A multitude of options are available for playing music, including a 3.5mm input, a USB port and Bluetooth wireless connection. There is also a single CD slot. Functionality is good, with a simple combination of buttons and dials, and a large colour screen readout to keep track of media inputs. Navigation through folders and albums is easy. Sat-nav is offered, with the large screen option particularly impressive.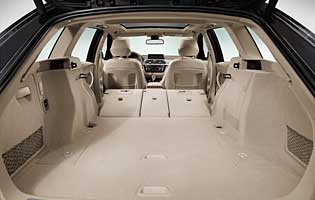 The boot is larger and more versatile than previous version
Colours and trim
The range covers all the key bases, and although blacks and silvers are likely to be most popular, stronger colours look great on this model. The 3 Series Touring is not the prettiest car in the sector and bold colours help to lift it aesthetically. Its interior trim holds no major departures from previous BMWs, being cleanly styled and unfussy.
Parking
Good visibility has been designed into this 3 Series, and even if no driver aids were fitted it would be easy to park in bay and on-street spaces. The car is larger than its predecessor however, which makes finding an appropriate space a little harder than it used to be. Thankfully steering assistance is considerable at low speeds.
Spare wheel
Run-flat tyres fitted as standard.
Range information
Petrol engine options - 2.0-litre (184bhp). Diesel engine options - 2.0-litre (184bhp); 3.0-litre (258bhp). Transmission options: six-speed manual gearbox, plus eight-speed auto gearbox. Trim levels: SE, Sport, M Sport, Modern, Luxury.
Alternative cars
Mercedes C-Class Estate A plusher interior and excellent ride, but lacks an equivalent all-wheel drive package
Audi A4 Avant Great looks and a high interior quality, but can suffer from a firm ride
Jaguar XF Sportbrake Sleek, attractive and British designed and built estate has huge appeal but rear-wheel drive only
Volkswagen Passat This cheaper alternative has lots of kit, powerful engines and a vast boot plus all-wheel drive option
Over 1,200 more car reviews online
All the reports since 1990 are available on this site, just search by make and model below.
Other products & services
Related information
October 2013