Audi A8 4.2 TDI quattro Sport Executive
October 2013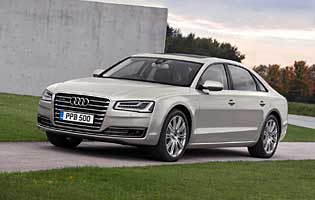 The most noticeable differences at the front are the new headlights
Ratings
Overall rating
Value for money
Costs
Space and practicality
Controls and display
Comfort
Car security
Car safety
Likes
Incredibly quiet driving experience
Stable high-speed stance ensures relaxed cruising
Exceedingly high quality interior materials
Advanced new technology eclipses rivals' equivalents
Gripes
Large size can make driving in town more difficult
Significant price increase over its smaller diesel sibling
Some technology is simply too complex to work effectively
Many desirable optional extras cost thousands
The A8 is a major competitor in the large luxury car segment, going head to head with BMW's 7 Series and the Mercedes-Benz S-Class. It's also one of Audi's flagships, so has to measure up to an elevated standard of both workmanship and drive. This facelifted version has a few tricks up its sleeve to gain ground on its rivals.
Rather than being an all-new model, this is a less comprehensive update, although some of the technology on the 2014 model makes its predecessor look decidedly old-hat. The basic chassis dimensions and components are the same and the silhouette is roughly identical, but the changes are more significant than they appear.
Most of the engines have gained either in efficiency, output or both, thanks to Audi's latest fuel-saving and power-maximising measures. This 4.2-litre V8 diesel, a unique engine type for this class of car, benefits more from the latter than from the former, with a marginal fuel economy increase but a significant output boost.
It's the highest-performance diesel saloon Audi makes, occupying a niche in the market for buyers who want more than the entry-level V6 diesel without resorting to the higher fuel consumption of the similarly-priced 4.0-litre petrol model, which incidentally will only come to the UK as a long-wheelbase version. All engines except the 3.0-litre petrol will have a long-wheelbase option.
Its trump cards are split between its impressive noise insulation on all fronts, its huge acceleration and high-speed cruising ability, and its class-leading new technology, like advanced LED headlights that can turn certain groups of LEDs off to dim individual parts of the main beam when it detects other cars, maintaining main beam while not dazzling other drivers.
Our verdict on the Audi A8 4.2 TDI quattro Sport Executive
On paper it's fair to say that the A8 still lags behind its rivals in several key areas. However, the big Audi offers such a comprehensively satisfying experience to passengers and drivers alike, especially with this drivetrain, that it's impossible to overlook it. Despite its price hike over the 3.0-litre diesel this could be the best real-world version of this car, with few obvious improvements to be made anywhere.
Costs

With a purchase price beyond most motorists the A8 TDI V8 can never be called affordable, but for the performance and luxury it offers, it's actually quite efficient. As a large premium car its residuals are inherently poor and lag substantially behind the Mercedes S-Class's, but they are on par with the BMW 7 Series and Jaguar XJ. On a gentle cruise, fuel economy could be surprising.
Space and practicality

Thanks to a huge boot and plenty of cabin space the A8 certainly ticks the roominess box, but outright practicality is hampered slightly by the fixed saloon boot aperture, which prevents large boxes from fitting into the capacious luggage bay. There could also be more provision for cabin storage, although drinks holders for front and rear passengers are suitably present and correct. The central rear seat can be sacrificed altogether in favour of an optional entertainment and communications console.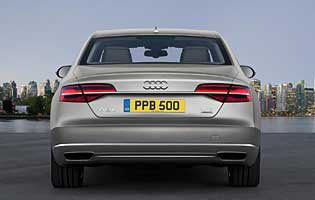 Instantly recognisable Audi styling divides opinion
Controls and display

As Audi's flagship saloon the A8 uses the best displays the company has access to, and the result is a pleasant balance between digital readouts and analogue dials. The high-resolution colour centre console screen does an excellent job of displaying graphics and menus, while the main instrument cluster is clear, modern and very Audi. The remaining dials and buttons, of which there are plenty, are weighted so as to inspire a feeling of long-term solidity.
Comfort

Comfort is a prerequisite for a car like this and the A8 delivers with some style, riding extremely well over typical road surfaces and keeping audible intrusions to a minimum. It does depend on which driving dynamics mode the driver is using, though, because in truth the ride is unpleasantly crashy and harsh in Dynamic mode while being pillow-soft in Comfort. Long, customisable seats give four or five people an extremely comfortable ride.
Car security

As a high-value car the A8 needs to have state-of-the-art security systems, and it does. Security experts Thatcham have rated the A8 among the very cream of secure cars, and an advanced network of electronics make sure that thieves cannot steal it without the proper key. Darkened glass around the rear half of the car helps to keep out prying eyes, and the fuel filler cap locks with the central locking system.
Car safety

To run through all of the safety kit on the A8 would take an inordinate amount of time. However, one of the highlights is the new MatrixBeam full-LED headlight system that can maintain a full main beam while turning off individual LEDs to dim part of the light spread to avoid dazzling other traffic. It's not quite flawless but in practise it's a remarkable system that is years ahead of the competition.
Driver appeal

This is arguably the best A8 for driving appeal, because reasonable fuel consumption tempers furious acceleration from the uprated V8 diesel engine. A moment's turbo lag is followed by relentless thrust through the rev range and through each gear, pushing around to the 155mph speed limiter with ease. It's also extremely torquey at low revs, pulling the car along at as little as 900rpm, and makes a lovely rumble under power.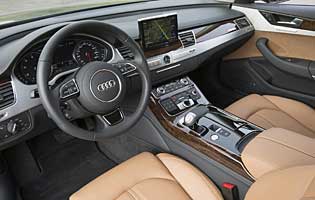 A choice of high-quality materials and finishes
Family car appeal

The A8 would certainly make a spacious car for the family, and there are child seat mounts installed in the outer rear seats. But in reality there are several important barriers in the way for parents, and chief among them is the high-quality leather upholstery and dashboard trim, which could be vulnerable to spills of all kinds. The second problem is the car's size, and although many parents choose to make the school run in large cars it's not always easy to park them.
First car appeal

While some first-time car buyers might walk past an Audi showroom and glance hopefully at the technology-rich and surprisingly fast A8, there is little chance that they could afford even the entry-level models, let alone this powered-up diesel. Equally unlikely is the idea that they could secure insurance, but even if that obstacle could be overcome, the sheer size, power and parking issues surrounding the A8 are all prohibitive factors.
Quality and image

An Audi A8 is a car that simply doesn't need to be explained or justified, in the same way as its class rivals. It's the pinnacle of the Audi saloon ideal, and its comfortable luxury is well known and accepted. This lends it an exclusive, lofty image that leaves it respectfully out of reach for most drivers. The Audi brand image has taken some knocks, though, with poor showings in several recent reliability and ownership satisfaction surveys.
Accessibility

Even on this standard-wheelbase model all four doors are long enough to make it easy to get in and out. The doors are not lightweight items and some drivers with shorter arms might sometimes find the process of closing them a little arduous, but the apertures themselves are broad. The front seats adjust for height, but taller drivers may resent the fact that the electric driver's seat automatically slides a few inches forwards upon removing the key and getting out.
Stereo and ICE (In car entertainment)
Audio systems are a particular special interest for many owners of large luxury cars, and predictably the standard system can be upgraded with a high-performance Bang and Olufsen system with greater power and clarity. Either way, music output can be controlled through the MMI interface and the large colour screen at the top of the centre console. Having a low, centrally mounted dial helps with ease of use on the move.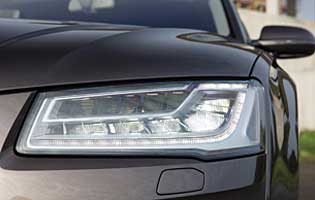 MatrixBeam LED headlights could signify a technological revolution
Colours and trim
The A8's colour palette is rather muted in recognition of the understated style that nearly all European luxury car buyers prefer. The selection is rich in silvers and greys, with the essential black and a questionable brown making up the numbers. Silver is the best choice for the car's aesthetics. The interior trim, whichever kind of wood or metal trim is specified, is of the highest quality and looks superb from any angle. The A8 looks and feels every inch worth its price.
Parking
The A8 is not really a car that is designed to park conventionally, being geared more towards pulling up at the kerbside of expensive hotels and private airports. It's a long and wide vehicle that simply isn't well suited to multi-storey car parks, and some of the tighter ones in large cities will put the car in real danger of damage. Parking sensors at the front and rear, plus manoeuvring cameras are standard on this highly-specified model.
Spare wheel
Space saver fitted as standard.
Range information
Petrol engine options - 2.0-litre hybrid (241bhp); 3.0-litre (306bhp); 4.0-litre (429bhp, 513bhp (S8 only)); 6.3-litre (493bhp). Diesel engine options - 3.0-litre (254bhp); 4.2-litre (380bhp). Transmission options: eight-speed automatic gearbox only. Trim levels: Hybrid, SE, SE Executive, Sport Executive, W12, S8.
Alternative cars
BMW 7 Series Exceptionally comfortable front seats and a good range of engines
Mercedes-Benz S-Class Not without imperfections in its ride, but very quiet and comfortable
Jaguar XJ The driver's choice in the sector uses light weight to its advantage
Lexus LS Peerless outright noise insulation and much-improved driving dynamics
Over 1,200 more car reviews online
All the reports since 1990 are available on this site, just search by make and model below.
Other products & services
Related information
October 2013