BMW 5 Series GT 335i Luxury
August 2013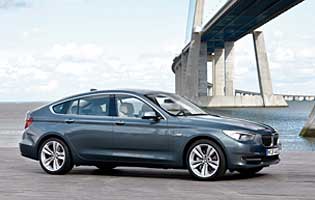 Looks almost identical to the previous version from the front
Ratings
Overall rating
Value for money
Costs
Space and practicality
Controls and display
Comfort
Car security
Car safety
Likes
Large, comfortable seats offer good support over long journeys
Spacious boot trumps even the 5 Series estate's
Plenty of legroom for rear seat passengers
Sure to be less common than the 5 Series saloon and Touring
Gripes
Rear styling, although sleeker than on the old version, is still unpopular
Standard ride height and tall body create an ungainly profile and proportions
Poor rear visibility due to high boot line
Significantly more expensive than the other 5 Series lines
This is arguably BMW's most controversial model, with oddball styling that has polarised opinion sharply. It has been given a series of mid-life updates, designed to refresh its appeal and give it the latest technology in order to keep it competitive in a niche market, where relatively small sales volumes can translate to high percentages.
The reason the GT model came into being in the first place was to satisfy demand for a 5 Series-sized car with a higher driving position and more luggage space. This remit hasn't changed and it still offers more boot space than the saloon and Touring variants, but importantly for the new model the divisive rear styling has been neatened.
As a part-large saloon, part-crossover vehicle the GT occupies a market space somewhat all of its own. It's designed for those people who want high levels of interior space and luggage room in combination with a raised diving position, without fuel thirst and image that accompany SUV-type vehicles. BMW itself admits the GT is a low sales volume vehicle.
It is significantly more expensive than the 5 Series saloon, and as such those who buy it will be particularly keen on its attributes. It cherry-picks the trim levels and engines that best suit its buyers, which is fine in principle but it leaves the range rather confusingly stacked, with some engine and trim grade combinations not possible.
A revised range aims to broaden its appeal, with relatively low-CO2 models joining the familiar more powerful ones. BMW would like to use the price difference and the extra rear passenger space on offer in the GT to place it firmly as a more premium 5 Series, and in doing so the firm hopes to boost sales significantly.
Our verdict on the BMW 5 Series GT 335i Luxury
Being taller, heavier and worse looking than the saloon and Touring models, the GT doesn't have a lot resting in its favour. However, rear seat passengers will definitely notice a difference and appreciate the extra legroom. The cabin also feels more airy because of the improved headroom, but given the substantial price increase over the admittedly slightly less spacious other models, it's hard to recommend the GT.
Costs

While the featured petrol model won't be the last word in economical motoring, opting for a diesel variant will ensure running costs are kept to a modest level. Economy and emissions figures are competitive for a large car like this, factors that should also please company car drivers.
Space and practicality

This is one of the primary reasons BMW gives for why buyers might want to upgrade from a Touring to the GT. If the rear seats are slid as far forward as they can go, there's up to 650 litres available without spilling over the level of the load cover. That shrinks to 500 litres with the seats right back, so in truth there are much cheaper C-segment hatchbacks that offer more space if this is a priority.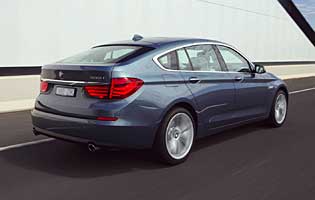 Rear styling smoothed for a neater, more rounded look
Controls and display

The main instruments are clear and large, with a relatively plain combination of black, white and red detailing doing an effective job. The secondary display for the sat-nav and media readouts is large enough to be comprehensive and even for split-screen displays, making it a very practical unit. The chief iDrive controller is easy to use and intuitive; a much-improved effort compared to its distant ancestors, and the remainder of the controls are clear enough.
Comfort

The standard seats are fine and will keep the majority of buyers happy, but this test car had been upgraded with the optional Comfort Seats, which have a much greater range of adjustment across more areas of the seat. The upper and lower portions of the backrest adjust, as does the under-thigh support. Wind noise seems fairly constant at the top edge of the windscreen at motorway speeds but is otherwise well controlled.
Car security

There is a Thatcham Category One alarm and immobiliser on hand to report and prevent any attempted theft. Remote central locking and deadlocks are of course standard.
Car safety

There are lots of standard safety features both in active and passive categories, but some of the most interesting features are optional. A night-vision camera can be added, incorporating pedestrian recognition at up to 300 metres away. The central display acts as the screen for this, and it helps to give an early warning of roadside wanderers. Adaptive Cruise Control, tyre pressure monitoring and adaptive LED headlights are also optional.
Driver appeal

BMW once marketed its cars as 'the ultimate driving machine,' but such a claim can't be made of the GT. Its high sides, increased weight and higher centre of gravity compared to the 5 Series saloon sees it roll more and transfer its weight from side to side with a hint of dumpiness only normally found in some of BMW's larger cars. It is, however, a good cruiser, and the eight-speed gearbox is joyously smooth and precise.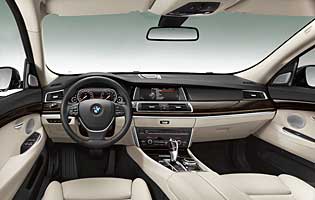 GT uses higher quality materials than the 5 Series saloon throughout
Family car appeal

The combination of higher seats, taller roof line and a larger boot makes the GT a very capable family car, and its automatically-opening boot is a very handy feature for parents returning to the car carrying children or shopping. It's broad inside, too, giving three young kids plenty of space, although it's impossible to secure three full-size child seats across the bench seat. Child seat mounts are present and correct, and the front passenger side airbag can be switched off for transporting rear-facing car seats.
First car appeal

Many young men hope, usually in vain, for a BMW as their first car but this model would be way off their radars. Before even considering financial implications, the 5 Series GT doesn't have the style and street cred that young people lust after, but accounting for atypical taste the monetary hurdles are simply too large. The purchase price alone is in fantasy territory for first-time car buyers, while insurance would be unattainable.
Quality and image

BMW's image is maintaining the same high level it has done for decades, with a desirable edge and a pedigree in upmarket saloons. The company's cars tend to hold their value very well, too, reinforcing their desirability and prestige. It's a quality that's tangible in the 5 Series GT, because it uses generally higher quality materials than its saloon and estate-bodied siblings. It seems well screwed together, but BMW seldom sees the top positions of reliability surveys.
Accessibility

The GT scores points here over its cheaper stablemates, with raised seats that make it easier to get in and out, with less of a bend of the knee. The higher roof line is an equally important factor, and putting the two together makes a notable difference to how comfortable the ingress and egress experience is. A further plus point is the standard powered boot lid, which opens automatically when the keyholder swings a foot under the centre of the rear bumper.
Stereo and ICE (In car entertainment)
Media readouts are displayed on a very wide and clear screen mounted in the dashboard and recessed enough to shield the screen pretty effectively from bright sunlight shining into the car. The car is equipped with several options for music playback, too, with DAB radio included and Blueooth also standard. Enhanced Bluetooth is also available for an extra charge, which comes with a USB port to allow MP3 players to connect.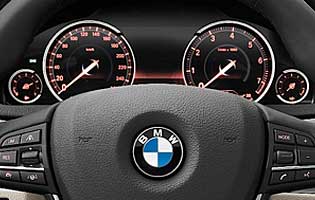 Main instruments are now fully-digital
Colours and trim
Grey is clearly a popular customer choice, because there are a number of different shades of it available here, on top of blacks, sliver, whites and a subtle colour duo of red and blue. Unsurprisingly the GT's bulky form best suits darker, slimming colours like the two black options. The interior is similar to those of the saloon and Touring but made of higher-quality materials, so long strips of wood and plastic stretch from door to door emphasising width.
Parking
The basics of parking are not as easy in the GT as they could be, with the raised boot line presenting problems in terms of rearward visibility. Fortunately there are parking sensors at the front and rear as standard, and a rear-view camera can be added optionally for a more comprehensive safety check. There is also a Park Assist system that can semi-automatically park the car into a parallel space with only light throttle and gear-change inputs from the driver.
Spare wheel
Run-flat tyres fitted as standard.
Range information
Petrol engine options - 3.0-litre (302bhp); 5.0-litre (444bhp). Diesel engine options - 2.0-litre (181bhp); 3.0-litre (254bhp, 309bhp). Transmission options: eight-speed auto gearbox only. Trim levels: SE, Modern, Luxury, M Sport
Alternative cars
Audi A5 Sportback Similar concept but without the added height, with good engine options
BMW 5 Series Touring Better looking, greater seats-down storage potential and cheaper
Jaguar XF Smaller than the GT but looks muscular and classy, with high-quality features
Mercedes-Benz E-Class This straight-laced saloon has an extremely high-quality interior
Over 1,200 more car reviews online
All the reports since 1990 are available on this site, just search by make and model below.
Other products & services
Related information
August 2013