Volkswagen Polo BlueGT 1.4 TSI ACT 5dr
August 2013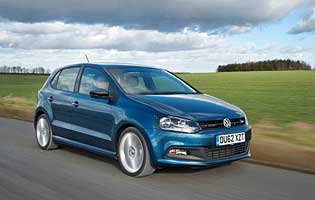 Sporty looking Polo strikes a stylish pose
Ratings
Overall rating
Value for money
Costs
Space and practicality
Controls and display
Comfort
Car security
Car safety
Likes
Highly responsive and efficient 1.4-litre engine
Cabin and boot space good for a car of this size
Should please keen drivers with its predictable behaviour
Subtle bodykit doesn't shout about the car's potential
Gripes
Despite performance potential, exhaust note is a little flat
Could be considered quite pricey for a car of its size
Visually there are a few lower rent elements within an otherwise pleasing cabin
Real world economy savings are modest
In general terms this generation of Polo is a considerable step forward in terms of refinement, agility, cabin space and overall 'big car feel'. Keen drivers might view the GTI model as the only one for thrill seekers, but Volkswagen's engineer's have shown they're capable of thinking outside the box with the quirky BlueGT variant.
Volkswagen has a long history of producing small, fun and fast cars - think anything with a GTI badge. Not everyone, however, wants the all-out performance of such cars but still desires a fun experience. In 'warm hatch' terms, the Polo BlueGT is that car, delivering around 40 horsepower less than the full-fat GTI.
The heart of the BlueGT is an advanced 1.4-litre, four-cylinder petrol engine boasting turbo and supercharging - the latter for low down acceleration and the former to provide a large slice of top-end thrust.
Unlike the flagship GTI, the BlueGT model also promises more sensible running costs - hence the reference to VW's Bluemotion economy sub-brand. It achieves its goal by way of engine cylinder shut off, whereby two of the engine's four cylinders are shut off when the car is running on a light throttle. Almost imperceptible from inside the cabin, this action does much to cut fuel consumption, but not at the expense of overall refinement, be that in town or running at motorway speeds.
In every over way this BlueGT model is everything you'd expect a warm version of a GTI would be. Externally the car's bodykit is a subtle one, while noise levels are subdued when on the move. Crucially for some, the car's ride isn't as firm as the GTI's, enabling it to be enjoyed on even the worst urban roads.
Our verdict on the Volkswagen Polo BlueGT 1.4 TSI ACT 5dr
Contrary to what the enthusiastic magazines might say, not everyone is desperately seeking super-fast hot hatchbacks. Ownership costs for such cars can be very high, and at odds with the opportunities when such performance can be exploited. The Polo BlueGT offers a rewarding compromise in the form of more accessible performance, while maintaining sensible levels of refinement and comfort. There's no question that the trick engine technology plays an important role is ensuring modest running costs. That it doesn't hamper enjoyment proves that such mechanisms can be of benefit in the real world.
Costs

For a supermini the Polo BlueGT's initial purchase could be considered quite high but Polos are strong used car performers. The added draw of the BlueGT is its economy and CO2 performance, which should lead to modest savings at the pump at in the wallet but without any associated performance compromises.
Space and practicality

With the Polo having grown in size in recent years, space in both the front and rear is now good. The driver's seat, front passenger's seat and rear bench have all been redesigned and offer more comfort, practicality and space. Knee room in the rear is also better than expected. The boot is also a decent size and has a low loading lip for extra practicality which can be boosted if you fold the rear seats.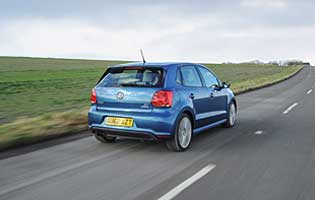 Small proportions make the Polo GTI easy to park
Controls and display

Volkswagen has a reputation for making cars with clear and intuitive controls and displays, and the Polo is no different. Furthermore, the centre console controls are laid out logically and a multifunction wheel includes supplementary audio controls to keep dsitractions to a minimum. In manual gearbox guise the shift is short and slick.
Comfort

If you don't crave for the GTI's all-out performance character, the BlueGT's slightly softer set-up is probably for you. In the real world the car copes well with surface imperfections and is also much quieter than your average hot hatch. The icing on the cake is the supportive nature of the Polo's sports seats.
Car security

The standard fitment of an engine immobiliser and central locking give even the base model Polo a respectable level of security, and an auto locking anti-hijack system when on the move. All audio units are custom fit and will not fit in any other vehicle. For added peace of mind and alarm or even a visible steering lock might prove a worthwhile investment.
Car safety

The Polo has been designed and manufactured to be among the safest in its class and this generation is a good effort. The car comes as standard with all the usual electronic stability assistants, along with a trick electronic differential control to tame the car's ample power and torque when barrreling through corners at speed.
Driver appeal

The Polo BlueGT feels light and agile and it has a chuckable character, which makes it fun to drive and does much to flatter drivers of average ability. Just as important, the car's urban ride is surprisingly good and offers a good trade-off in the face a stiffer riding and faster alternative. Key to the BlueGT's appeal is its responsive engine which is both supercharged and turbocharged. Always willing yet alsoquiet and refined, it's hard to find fault with this hi-tech motor.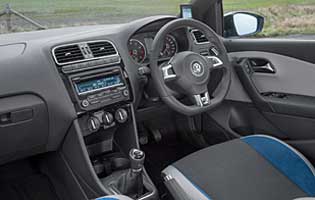 Instruments have been redesigned for a more modern look
Family car appeal

This car in five-door form has enough space for a small family and it's reasonably practical with a spacious boot plus a low-loading lip. However, this particular variant is geared more towards performance than functionality and has a firm ride, making a standard Polo a more sensible choice in terms of comfort and running costs.
First car appeal

In contrast with the GTI, the BlueGT could be suitable for a novice, but only one with deep pockets to afford the insurance and added running costs of a performance hatch. It's small and easy to drive but so is a standard car, which would be better suited if the Polo was the favoured choice.
Quality and image

It's no surprise to learn that the Polo feels like a baby Golf. It shares a lot of refinement and sophisticated equipment with its bigger brother. The Polo's instruments include soothing white backlighting to aid visiblity in all lighting conditions, while there's a impressive feeling of solidity from the cabin.
Accessibility

The Polo can be had in three or five door form and the solid, chunky door handles help make getting in and out of the car reasonably easy. In five-door guise the car's short front doors ensure easy access and exit in tight parking spaces. It can be a little tight getting in and out of the back, though. At the rear the car's tailgate requires little effort to open.
Stereo and ICE (In car entertainment)
The standard provision in the Polo is a radio/CD player with basic MP3 player compatibility. Options aren't as extensive as with some rivals, but you can choose from Bluetooth connectivity and sat-nav if you want to maximise the Polo's big car feel.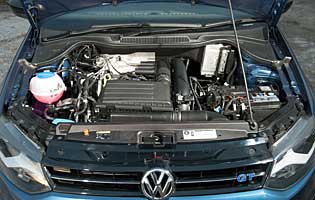 Checked seats hark back to GTI models from the past
Colours and trim
Exterior colour options range from bright, youthful shades like candy white to more conservative tones like grey, silver and black. Surprisingly, it's the latter options that do much to flatter the Polo. The car's interior is, like so many in the VW family, a subdued affair. There's lots of dark plastic to compliment the dark seat fabrics.
Parking
Small and competent, the Polo is easy to park and manoeuvre. Getting in and out of tight spots is never complicated. A decent driving position is easy to find and there's great all-round visibility. Don't forget to include the rear parking sensors to make life that bit easier.
Spare wheel
Fully size steel spare wheel as standard.
Range information
Petrol engine options - 1.2-litre (60bhp, 70bhp, 105bhp); 1.4-litre (85bhp); 1.4-litre (140bhp, 180bhp). Diesel engine options - 1.2-litre (75bhp); 1.6-litre (90bhp). Transmission options: five-speed manual, six-speed manual, seven-speed DSG gearbox. Trim levels: S, Match Edition, SEL, BlueMotion, R-Line Style, R-Line, BlueGT, GTI.
Alternative cars
Skoda Fabia VRS variant fun to drive but a little rough around the edges
Seat Ibiza Cupra A slightly firmer driving experience but one that still impresses
Citroen DS3 A little bit more exclusive with its fresh, funky design and good level of refinement
Renault Clio The Renaultsport 200 variant is more involving, accurate and agile but more hot than warm in this context
Over 1,200 more car reviews online
All the reports since 1990 are available on this site, just search by make and model below.
Other products & services
Related information
August 2013