Volkswagen Golf BlueMotion 1.6 TDI
July 2013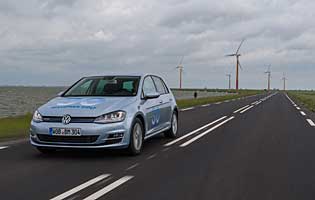 Slim grille distinguishes BlueMotion from rest of the range
Ratings
Overall rating
Value for money
Costs
Space and practicality
Controls and display
Comfort
Car security
Car safety
Likes
Bodykit improves looks still further
Exceptional economy and emissions performance
Drives with the same assurance and control as the standard car
Demands little effort from the driver to deliver impressive economy
Gripes
Slightly firmer ride may not suit all
Further choice of trim would be welcome
Minimal weight saving from removal of spare wheel
Long gear ratios require careful selection to maintain progress
The latest generation of Volkswagen's evergreen Golf aims to be the most refined, comfortable and capable version ever. But in keeping with these eco-conscious times the popular BlueMotion version is one of the most keenly-anticipated models in the range, promising even better fuel consumption and emissions performance than before.
Having appeared on numerous Volkswagens for a number of years the BlueMotion tag is one that has become popular in its own right, promising above average fuel consumption performance compared to its siblings and with a modest increase in cost. Volkswagen has succeeded in improving this third generation Gold BlueMotion in this respect, and it now claims consumption figures way in excess of the original model.
The BlueMotion uses a new 1.6-litre TDI unit that also appears in other Golf models, although here it benefits from a number of enhancements to maximise its economy. Longer gear ratios, lowered sports suspension, low rolling resistance tyres and improved aerodynamics all play their part, as does a number of weight saving measures.
Under the bonnet the BlueMotion has a stop-start function, stopping the engine automatically when the car is stationary, the gearlever is in neutral and the clutch is released. Pressing the clutch restarts the engine immediately, requiring no extra effort on the part of the driver but improving fuel consumption significantly in city traffic. Regenerative braking also helps to reduce drag on the engine when under power, while a gearshift indicator keeps the driver informed about when to change up or down for maximum efficiency.
Although the Golf BlueMotion commands a reasonable premium over the standard model, this would be recovered over a number of driven miles through road tax savings and with reduced fuel consumption. Under current regulations the Golf BlueMotion is exempt from Vehicle Excise Duty, although the standard 1.6-litre diesel Golf also achieves this.
Our verdict on the Volkswagen Golf BlueMotion 1.6 TDI
For a relatively modest additional outlay the Golf BlueMotion offers a better specification, arguably improved appearance and even better fuel consumption and emissions. The true achievement of the Golf BlueMotion is that it is capable of such thrift without any compromise in terms of driving dynamics or comfort, and as such it is an excellent all-rounder.
Costs

With impressive economy from the entire range of engines the Golf represents a cost effective car to run, but the BlueMotion offers exceptional frugality by any measure. Insurance groupings are low thanks to good security and safety measures.
Space and practicality

There's no compromise compared to a standard Golf hatchback, so there is good space for passengers front and rear plus a useful boot. There's decent space for oddments too.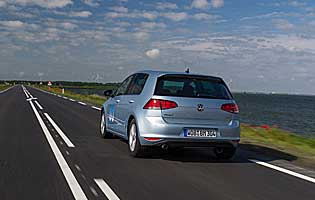 Discreet bodykit helps to cut aerodynamic drag
Controls and display

The Golf's cabin is a first-class example of a user-friendly and high quality cabin. The displays are clear and a pleasure to look at, the controls easy to understand and the operation of the switches and buttons is excellent. The large touchscreen works well too, with a clever sensor that only displays all the options when it detects your hand moving toward it.
Comfort

Once again an excellent level of comfort comes as standard with the Golf. Refinement is better than ever, with excellent insulation from wind and road noise as well as quiet engines. The seats are supportive too even over long journeys, although the stiffer suspension does reduce ride quality by a fraction - this is unlikely to upset anyone other than the most sensitive of passengers however.
Car security

An immobiliser is standard equipment, as is an automatic speed sensitive door locking system that can be deactivated if required. Naturally, all models feature remote central locking and the lockable glovebox is an additional benefit. The load area can also be shielded from view with the parcel shelf.
Car safety

A five-star safety rating comes as no surprise considering the impressive array of standard passive and active safety systems incorporated into the new Golf. A raft of airbags including one for the driver's knee, a whiplash restraint system and seatbelt fastening detection for the rear seats are all included. ABS with brake assist, an advanced ESP system with a differential lock and traction control and automatic hazard light activation are all important elements to avoid an accident in the first place.
Driver appeal

There's very little to distinguish the Golf BlueMotion from the standard version; the same very high levels of grip, balance and control are in evidence although the BlueMotion does have lower and stiffer suspension, which marginally improves its responses. All the controls are beautifully weighted and make it a pleasure to drive whatever your mood.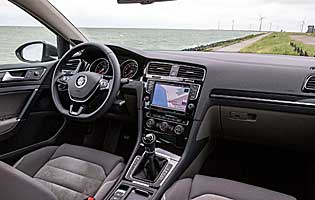 Superb cabin is comfortable and exceptionally well-finished
Family car appeal

An excellent family vehicle, the Golf BlueMotion is prepared for pretty much any eventuality. Spacious, practical, safe and easy to drive it's the ideal choice for families of five or fewer.
First car appeal

The Golf would be an extremely good choice for a first car if it wasn't for the excellent range of even smaller vehicles in the Volkswagen stable. However, if a larger vehicle is required, the Golf's easy nature makes it a sensible choice.
Quality and image

The Golf has one of the finest reputations in the family hatchback market, built on successful previous generations that have shared the same strengths. Quality has taken another big stride forward with refinement and road manners improved still further. The Golf's popularity means drivers won't particularly stand out from the crowd, but the Golf badge still has cache.
Accessibility

Nothing less than easy access through all the doors and to the boot would do. Generous doors front and rear present no problems, while the tailgate gives a good opening for easy loading.
Stereo and ICE (In car entertainment)
All Golfs get a big touchscreen display with a variety of inputs and controls on the steering wheel to match. With an info display between the instruments too and DAB across the range is a welcome addition.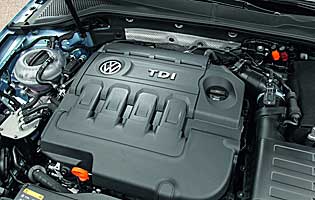 Super-frugal 1.6-litre diesel unit is new
Colours and trim
There's a wide choice of bright and more subdued colours available for the Golf BlueMotion and unlike many cars it wears both options very well. On the inside the default dark colours can leave the cabin feeling a little sombre, but there are brighter options.
Parking
With sound visibility all round the Golf BlueMotion does not offer any particular challenges when parking. Light steering and accurate controls are a help, the only demerit being that parking sensors are a cost-option on all but the top models. Additionally the automated parking system doesn't come cheap but works exceptionally well.
Spare wheel
Emergency inflation kit mounted beneath the boot floor.
Range information
Petrol engine options - 1.2-litre (84bhp, 104bhp); 1.4-litre (120bhp); 1.4-litre ACT (138bhp). Diesel engine options - 1.6-litre (104bhp); 2.0-litre (148bhp, 168bhp). Transmission options: six-speed manual gearbox, seven-speed DSG twin clutch automatic gearbox with switchable sequential manual mode. Trim levels: S, SE, GT.
Alternative cars
Toyota Prius Lower overall emissions but more expensive
Renault Megane Smooth and comfortable but no special economy model
Vauxhall Astra Ecoflex Astra is efficient, economical and good to drive
Ford Focus Econetic Excellent dynamics, comfortable and safe
Over 1,200 more car reviews online
All the reports since 1990 are available on this site, just search by make and model below.
Other products & services
Related information
July 2013