Citroen C4 Picasso 115 e-HDi
June 2013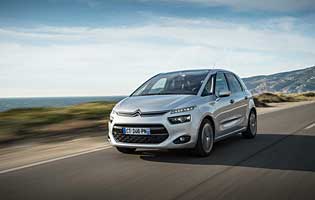 Slim LED lights are a key feature at the front
Ratings
Overall rating
Value for money
Costs
Space and practicality
Controls and display
Comfort
Car security
Car safety
Likes
Smart exterior design is pleasing to the eye
Huge amount of light and space in the cabin
Ride quality is excellent
Improved standard of fit and finish
Gripes
Manual gearchange can be rubbery
Fascia layout can be a little confusing
Airline' style seat is a good idea but flawed in practice
Turbocharged petrol version feels surprisingly weak
Citroen had a huge hit on its hands when it introduced the original C4 Picasso, bringing versatility and space to the masses at a very affordable price. Since then successive versions have sought to build on a sound reputation and the latest fourth generation model aims to take it a step further.
Few manufacturers have enjoyed the kind of success in the compact MPV market that Citroen has achieved in recent years. The original Xsara Picasso model struck a chord with buyers thanks to its highly competitive pricing and spaciousness, bringing in a wider audience that previously felt an MPV was beyond their reach.
This fourth-generation Picasso wears the C4 tag but it is in fact the first Peugeot/Citroen model to use a brand-new modular platform shared between the two manufacturers. Dubbed EMP2 it is claimed to offer numerous improvements such as reduced weight, a wider track, increased strength and a lower floor and engine mounting point, all of which contribute to crash safety, efficiency and practicality.
In design terms the C4 Picasso shares obvious visual links with the outgoing car but is arguably more civilised in respect of its overall look. A multitude of LED lights at the front increases the amount of clean bodywork giving it a more mature and sophisticated appearance. A very generous glass area also helps to make the car look spacious from both outside and inside.
Mechanically the C4 Picasso is broadly conventional, offering a choice of petrol and diesel units with five and six-speed manual gearboxes depending on the engine fitted, with a six-speed automatic gearbox to follow. It also offers a number of electronic safety and driver aids which are normally the preserve of cars further up the range, as well as comfort features such as a lounge-style seat and massage for front and rear passengers.
Our verdict on the Citroen C4 Picasso 115 e-HDi
Competition is tougher than ever before and previous Picassos have been sales successes, but the latest C4 Picasso manages to improve in many areas. It is easy to drive and very comfortable with it, is well equipped with several impressive features and is as practical as an MPV should be. It is strong in many areas and deserves serious consideration alongside the most popular class offerings.
Costs

With significant improvements in terms of weight saving and engine efficiency the diesel C4 Picassos in particular should prove to be impressively cheap to run. Insurance and servicing costs should be no more expensive than average either.
Space and practicality

The C4 Picasso is as spacious and as practical as you would hope. Headroom is good even with the glass roof, all occupants have good legroom and with three individual rear seats there are endless variations to carry passengers and luggage. Stowing the seats is very easy to do with simple levers to flip and fold. There are also plenty of useful storage areas throughout the cabin although the door bins are relatively narrow.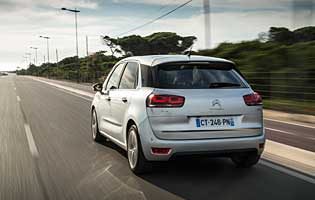 Smooth and attractive rear design links it visually to C4 hatchback
Controls and display

The C4 Picasso has follows previous Citroens in having a relatively unusual layout. At its heart is the touchscreen which controls many functions and this works in tandem with a number of buttons on the steering wheel. The instrument panel is also a digital screen rather than dials and can be configured to show a variety of information. For the less technically-minded this could be a little baffling, and even a more savvy user will need a bit of time to become familiar with the whole system.
Comfort

Comfortable seats are a crucial element in any good MPV and the C4 Picasso does very well here. When chosen as an option the front passenger has a 'business-class' style seat with a footrest when reclined. It's a nice idea but the seat does slide back far enough to allow it to be used comfortably. More impressive is the ride quality, which is truly impressive. It soaks up bumps very well and offers a remarkably smooth ride.
Car security

Aside from the standard alarm and immobiliser the C4 Picasso is helped by a secure load bay, well covered by the retractable luggage screen, as well as dark privacy glass on the rear doors which should keep prying eyes at bay.
Car safety

A new, lightweight and strong platform gives the C4 Picasso a secure structure in the event of an accident, whilst there are also a multitude of safety systems: Active cruise control, active seat belts, automatic high beam, lane-departure warning and blind spot monitoring are all optional or standard depending on the model.
Driver appeal

Even though it is a practical car the driving quality of MPVs has increased markedly over recent years, so buyers are not prepared to accept a stodgy drive. Thankfully the C4 Picasso does well. The steering is surprisingly sharp and the engine responsive. Although clearly tuned for comfort the suspension doesn't allow bodyroll to become excessive and the grip is good. The higher-output diesel engine is willing and able - only the rubbery gearchange and vague clutch let it down.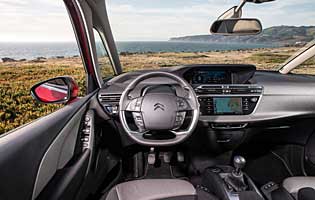 Spacious and airy cabin is an enjoyable environment
Family car appeal

The family driver is the core market for the C4 Picasso and it firmly hits the target. Compact on the outside but spacious inside, it has all the flexibility that is crucial to families that carry various combinations of people and luggage while offering them a comfortable cabin too; lots of storage, space and light. The leather seating option also means some more resistant to stains and mess.
First car appeal

The C4 Picasso is a relatively unlikely first car it has more space and seating than many younger buyers will need, but that said it is an easy car to drive with no obvious vices. Quirks such as the electronic handbrake and touchscreen will likely be new to freshly-qualified drivers however.
Quality and image

Citroen has been pushing hard to raise its perceived quality and the C4 Picasso is clear evidence of this. The materials are significantly better than before and the quality of the construction looks good. In terms of image the C4 Picasso is probably a mixed bag; it has a distinctive and modern look inside and out, but it is still an MPV and might therefore be seen as a little frumpy and dull.
Accessibility

A key area and one in which the C4 Picasso does very well. All the doors offer good entry and exit, helped by the high roof and the relatively slim seats. The same goes for the boot which can be operated electrically depending on the trim or option.
Stereo and ICE (In car entertainment)
The C4 Picasso has a large touchscreen system in the centre of the dashboard and with ability to swipe and scroll, plus controls on the steering wheel. It also has an impressive range of inputs and the ability to use apps in order to stream music. It takes a little while to get familiar with the system but once there it works well.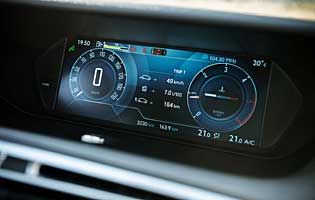 Digital display can be configured in numerous ways
Colours and trim
With slim pillars and lights as an integral part of the design the C4 Picasso needs a strong colour to make the best of the shape. On the inside there is a wider choice of colours and materials, and on the higher specification versions it can achieve an appealing 'lounge' feel.
Parking
With so great a glass area seeing out of the C4 Picasso is easy, and as well as parking sensors there is even the option of self-parking. Even when done manually it is a very easy process - only the vague clutch can be a problem.
Spare wheel
Space saver spare fitted beneath the boot floor.
Range information
Petrol engine options - 1.6-litre (120bhp and 156bhp). Diesel engine options - 1.6-litre (92bhp, 115bhp). Transmission options: five and six-speed manual gearbox depending on model, six-speed automatic to follow. Trim levels: VTR, VTR+, Exclusive, Exclusive+.
Alternative cars
Renault Scenic Sets the standard but feels dated in comparison now
Vauxhall Zafira Clever and spacious, drives well too
Volkswagen Touran Conservatively styled but offers a solid and dependable driving experience
Ford C-Max Excellent drive with strong engines
Over 1,200 more car reviews online
All the reports since 1990 are available on this site, just search by make and model below.
Other products & services
Related information
June 2013