Audi A6 Avant RS6
April 2013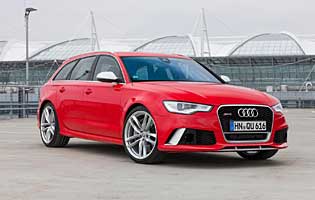 Beefy looks leave no doubt about the performance on offer
Ratings
Overall rating
Value for money
Costs
Space and practicality
Controls and display
Comfort
Car security
Car safety
Likes
Pumped-up looks avoid being over the top
Searing performance and soundtrack from turbocharged V8
Comfortable when cruising and sporty when required
Easy to drive and easy to live with too
Gripes
Although much improved the RS6 is still a thirsty car
Quattro' lettering on the front grille may be too much for some
Insurance and servicing costs likely to be high
Bi-turbo diesel A6 provides two thirds of the performance
German firm Audi has been at the forefront of high performance estates for decades, and despite a general push for greater efficiency and downsizing it hasn't prevented the third generation RS6 from reaching the showrooms. With a thundering V8 squeezed into the practical Avant body it promises equally huge amounts of performance and space.
Looking to exploit every available corner of the premium segment has resulted in huge sales success for Audi, including the development of its performance sub-brands. The mid level 'S' models and the ultra high performance 'RS' models have a back catalogue of note and have carved out their own loyal following.
The previous RS6 used a turbocharged 5.2-litre V10 engine giving huge performance with the inevitable expense of economy. This latest version follows the downsizing trend that is common throughout the company and its rivals, and instead has a 4.0-litre V8. Interestingly this engine is used in the S6 and other S and RS models in the Audi range, and it is merely a unique state of tune that gives the RS6 its distinctive performance.
As expected in a car like this Audi's highly advanced Quattro four-wheel drive system delivers the power evenly, with an automatic central differential distributing the torque between the front and rear wheels. The RS6 also has torque vectoring, which can distribute the power between each side to maximise traction.
Despite its super-car performance, Audi has attempted to design the RS6 so that none of the practicality and tractability of the A6 models is lost. The large and luxurious interior remains intact, as does the copious boot. Adjustable suspension means the RS6 needn't always offer a harsher, performance-orientated ride. Fuel consumption has been minimised too, although it still reflects the high-output nature of the engine.
Our verdict on the Audi A6 Avant RS6
The blend of performance, comfort and practicality is refined still further in this latest RS6 and in many ways it is hard to comprehend how a car this fast can be so easy to drive. Of course it requires a substantial financial commitment but it is remarkably capable in so many ways.
Costs

The new V8 engine offers economy and emissions significantly better than the previous V10, but it's still thirsty in the grand scheme of things especially if the performance is exploited. Purchase price, running costs and insurance will all be high.
Space and practicality

There are little or no comprises between the RS6 and the standard A6 Avant, so there is plenty of space in the rear, additional storage beneath the boot floor and lashing eyes for securing loads. Space in the cabin is excellent too, with ample room for front and rear occupants.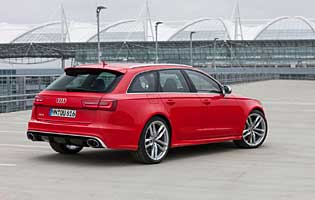 Giant exhaust pipes are hard to miss
Controls and display

The RS6 features a well-organised assembly of dials and displays. A second colour display is integrated into the instrument binnacle, which compliments the full-size display in the centre console well. Constant refinement of the MMI system has improved it to the point where it is very straightforward to use.
Comfort

With the adjustable suspension set to comfort, the RS6 delivers an impressively refined ride. Even though the firmest setting does stiffen it significantly it still dispenses with bumps in a composed fashion. Wind noise is pared down to a bare minimum and road noise, despite the wide tyres, is also well controlled. The front sports seats are very supportive and comfortable too.
Car security

The RS6 features Audi's usual high level of security including alarm, immobiliser and central locking. Covered storage is available inside and the optional tracking device is highly recommended.
Car safety

Tyre pressure monitoring is standard on the model and side airbags are included front and rear, over and above the usual airbag specification. Stability control, traction control and an electronic locking differential are also present.
Driver appeal

The RS6 is a real experience to drive, with eye-watering acceleration and a seemingly endless amount of grip. The difference between the comfort, dynamic and sport settings of the adjustable suspension is immediately evident and the settings are perfectly tuned to deal with relaxed or frenetic driving. The advanced four-wheel drive system limits the amount of electronic interference required for safe high-speed driving, enhancing the experience further.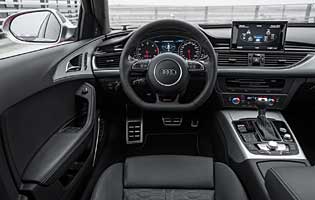 Sumptuous leather and loads of technology
Family car appeal

The RS6's size makes it an ideal family car, and its excellent build quality should be more than capable with dealing with abuse thrown at it by kids. Leather interiors are not always suited to family life however, and few drivers will want to explore the performance potential with their family onboard. However, the model has been designed to provide the dual role of everyday drive and super-car in equal measure.
First car appeal

The RS6 is too expensive, probably too large and far too powerful to make a sensible choice as first car. Although manageable, its considerable performance is best suited to a more experienced driver.
Quality and image

Audi's build quality is usually among the finest, and the RS6 is no different. Interior and exterior are beautifully finished and materials feel extremely high quality. On the image front the RS badge is held in much respect and especially the RS6, as previous generations have essentially defined the ultra-high performance estate.
Accessibility

A large car, the RS6 poses no problems in terms of accessibility. Five large doors make accessing the front, rear and boot extremely easy, while low sills fail to hinder progress. A motorised boot door is an extra benefit.
Stereo and ICE (In car entertainment)
The RS6 is packed with the latest navigation and entertainment kit, and the ever-evolving MMI system continues to improve. Features such as Google maps data and any number of audio inputs make for a comprehensive and attractive package.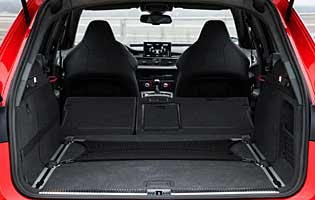 Huge boot uncompromised by performance
Colours and trim
The latest RS6 is available in a wider choice of colours than before, including pale whites alongside the usual reds and greys. This gives the buyer the option of being stealthy or more outlandish. On the inside there is supple, dark leathers and a choice of metal or carbon fibre trim. Either way it is high on quality and comfort.
Parking
Equipped with parking sensors front and rear, there should be little reason to bump the RS6 during a parking manoeuvre. It may be a sizeable machine but apart from the need to protect the alloy wheels the RS6 is hassle-free.
Spare wheel
Temporary puncture repair kit fitted as standard.
Range information
Petrol engine options - 4.0-litre (414bhp and 552bhp). Diesel engine options - 2.0-litre (175bhp); 3.0-litre (201bhp and 242bhp) . Transmission options: six-speed manual, seven-speed dual clutch automatic, eight-speed CVT automatic. Trim levels: SE, S line, S6, and RS6.
Alternative cars
Mercedes-Benz E63 AMG Thunderous V8 dominates the experience, expensive as a result
BMW 550i Touring Fast and capable, but no M5 Touring planned
Porsche Panamera Turbo Not an estate but spacious, fast and capable
Range Rover Supercharged V8 is fast and vast, with bills to match
Over 1,200 more car reviews online
All the reports since 1990 are available on this site, just search by make and model below.
Other products & services
Related information
April 2013