Vauxhall Adam 1.4i 87PS Slam
March 2013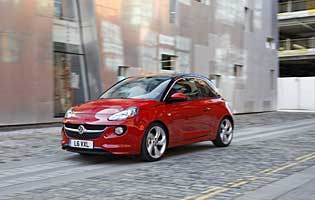 Red is expected to be a popular colour choice
Ratings
Overall rating
Value for money
Costs
Space and practicality
Controls and display
Comfort
Car security
Car safety
Likes
Curvy shape looks good as standard while offering a blank canvas for extras
Responsive 1.4-litre engine provides zesty performance and good fuel economy
Incredible scope for personalisation guarantees an individual Adam
Wide range of advanced technologies available
Gripes
Price can quickly rise with many desirable options available
Complex design process can make it easy to lose sight of good taste
Some shiny plastic surfaces can feel cheap
Rear passengers are not afforded much space
Vauxhall has decided that the time is ripe to enter a market that has until now been dominated by the Mini, the Fiat 500, and latterly the Citroen DS3. The Adam is marketed heavily on its style and customisation potential in much the same way as the other three, and boasts more potential combinations than one person could ever explore.
The basic platform of the car is simple, with a handful of trims and engines to choose from. No external badges are attached to any model, so visually none can be identified as a 'cheap' model. The petrol-engine-only range is instead focused on detail changes that allow individual owners to design their own perfect version of the Adam.
The engine of choice could be either of the 1.4-litre options, which are noticeably more responsive and all-round enjoyable than the comparatively breathless 1.2. The larger powerplant makes better use of the shortened Corsa chassis' dynamics to provide a driving experience more fitting for the fun-focused Adam. Every trim level includes desirable luxuries like a leather-trimmed steering wheel.
The breadth of customisation can be daunting and pre-selected option packs are available to make creating a finished car easier. But those with vivid imaginations can run riot with coloured materials, exterior graphics, stick-on wheel trim accessories and interior textures. The result makes the Adam a happy-feeling place to be; an impression reinforced by the way it drives.
Perhaps the Adam's greatest strength is that as well as being a good car it's brand new, which means a completely new set of possibilities for a new generation of drivers who missed the launches of the Mini and Fiat 500. It is uncharted territory, and that will attract many buyers for whom being new, different and unique is vital.
Our verdict on the Vauxhall Adam 1.4i 87PS Slam
Sometimes cars sold chiefly on style fail to impress on the road, but not so the Adam. Its keen turn-in, zesty engine and all-round user-friendliness all make it as rewarding to drive as it is to design in the first place. The one negative that could be levelled against it is its price, which with so many option boxes available can creep up into costly territory very quickly.
Costs

The Adam offers a mixed bag when it comes to costs. Its engines produce relatively low CO2 emissions and are therefore quite cheap when it comes to road tax and benefit in kind tax, while insurance is surprisingly affordable. Driven gently either of the engines will return respectable miles per gallon, too. However, the problem comes with its purchase price. Initially competitive prices can skyrocket with certain popular options.
Space and practicality

There are deep and long door pockets which add practicality, as well as a partitioned open compartment at the base of the centre console that proves useful for coins and other oddments. Otherwise this is not the most practical of cars, with restricted boot space a key consideration for some people. There are several optional ways to improve matters, though, like a luggage net and a lockable in-boot compartment.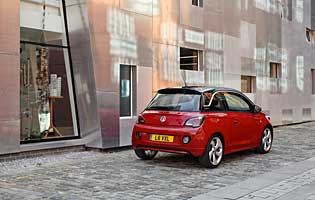 stylish Adam uses a shortened Corsa chassis
Controls and display

The main instrument cluster is clear, well illuminated and stylish. It fits the overall feeling of the car well and helps to give the driver a greater sense of enjoyment. On this car the central colour touch-screen is fresh-looking, clear and easily legible. It's among the best of its type. Elsewhere the controls follow a standard pattern and fall easily to hand via two chunky and solid-feeling ancillary stalks.
Comfort

Vauxhall has prioritised the front two seats and rightly so. The driver and passenger feel like they have a lot of room around them and the seats themselves are relatively well shaped and supportive. There is quite a lot of road noise above 40mph or so, exacerbated in this car by the low-profile tyres. On the whole the Adam's comfort level depends entirely on the quality of the road surface and can vary from good to poor.
Car security

Remote central locking is standard on all Adams, but over and above that there is very little information in the public sphere about the Adam's security systems. It's known that it has an immobiliser, while some models can be ordered with tinted glass around the rear half of the car to make it harder for would-be criminals to see inside. Additionally there is the option of a lockable storage container made to fit the boot, which is great for valuables.
Car safety

Six airbags and an advanced construction take care of the passive safety elements, while there are many active safety systems available that are designed to avoid or mitigate a dangerous on-road situation. A development of Vauxhall's ESP stability control called ESP-plus is standard on all Adams, along with ABS to ensure a safe stop especially in low-grip conditions and steering wheel-mounted audio controls to ensure a driver can keep both hands on the wheel.
Driver appeal

The 1.4-litre engine is the pick, with a much more willing nature and little less fuel economy than the cheaper 1.2. Its more immediate feel makes it a sharper drive and one that anyone would appreciate. This model, on its larger and wider alloy wheels, turns in remarkably keenly too, displaying an eagerness and agility that make every journey more enjoyable. The ride quality is somewhat jiggly, though, and potholes are best avoided.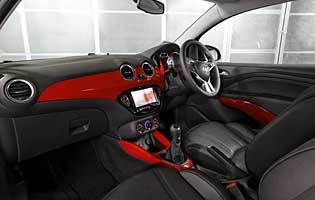 Interior colours to match exterior hue
Family car appeal

The Adam is not really suited to family life unless perhaps as a second car for a family that already has a larger, more practical vehicle. The three-door layout is not helpful when trying to squeeze children into the back or mount car seats, and there isn't enough legroom for older kids. The cabin materials can also be quite sensitive to knocks and scrapes, with a variety of surface textures that can be vulnerable.
First car appeal

On the face of it the Adam is perfect first car material; small, light, easy to park and inexpensive to run. Even insurance is cheap thanks to intelligent design that minimises the cost of typical accident damage. The type and breadth of technology is also hugely appealing to a new driver, especially a younger one. The one significant problem is purchase price, which can be higher than the cost of a good car from two classes larger.
Quality and image

Vauxhall does not have a brilliant record in customer satisfaction surveys and its image has suffered over the years. It sits in the middle-ground of car brands but Vauxhall aims to push further upmarket with cars like the Adam. As such the actual feel inside the car is very positive, with a nice chunky steering wheel one of the keys to a solid overall impression. The coloured leather may begin to look dirty quickly, though, reducing the premium feel.
Accessibility

As a small, three-door car accessibility is never going to be one of the Adam's strongest suits, and for rear passengers it certainly isn't. The side doors are quite long, which necessitates a lengthy step forwards into the car unless the door can be opened all the way. For the same reason the seat belt mount on the B-pillar will be a little bit of a stretch for some people.
Stereo and ICE (In car entertainment)
As standard the car has a basic stereo system with a simple combination of dials, buttons and an old-fashioned LCD readout. It's not especially pretty but it does at least include a CD slot, a USB port and Bluetooth connectivity to provide maximum choice. There are seven speakers dotted around the cabin. Optionally the system can be upgraded with a large colour touch-screen that streamlines the functionality and improves the overall feel.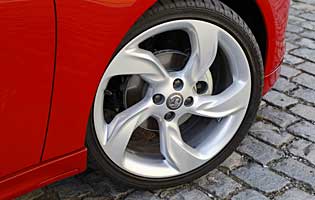 large alloys only available on top trim level
Colours and trim
Not only is the Adam available in an astonishing range of colours, albeit with more options at the higher trim levels, but they are also all amusingly named. There are very few colour bases that aren't covered by at least one Adam model, giving it maximum appeal to as many people as possible. The same goes for the inside, where almost any taste is catered for, even if the coloured leather steering wheel trim inserts are a little dubious.
Parking
There are no parking aids fitted as standard but rear parking sensors are available. The Adam is exceptionally easy to manoeuvre anyway, especially when fitted with the 'city' steering system that reduces the effort required to park the car to almost nil. Visibility is good all around the car, too, but the Adam does have a trick up its sleeve in the shape of a self-parking system. With a little driver input the Adam can parallel- or bay-park itself.
Spare wheel
Emergency tyre repair kit supplied as standard.
Range information
Petrol engine options - 1.2-litre (69bhp); 1.4-litre (86bhp, 99bhp).. Transmission options: five-speed manual gearbox only. Trim levels: Jam, Glam, Slam.
Alternative cars
Fiat 500 Cute and chic city car with endless charm and character
Mini Hatchback Ageing but still appealing to look at and to drive
Citroen DS3 Modern, appealing styling sets it apart, with a good range of engines
Renault Twingo Fun and frugal, if a little outdated by comparison
Over 1,200 more car reviews online
All the reports since 1990 are available on this site, just search by make and model below.
Other products & services
Related information
March 2013