Citroen C3 Picasso HDi 115 Exclusive
February 2013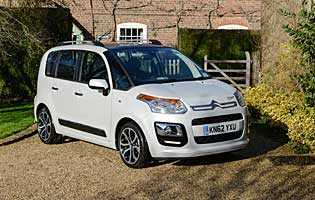 The C3 Picasso is one of the most stylish compact MPVs
Ratings
Overall rating
Value for money
Costs
Space and practicality
Controls and display
Comfort
Car security
Car safety
Likes
Curvaceous styling gives a youthful charm and character
Large windows give a light, airy feel and good all-round visibility
Brilliantly quiet and refined new diesel engine
Affordable buying and running costs should appeal to families on a budget
Gripes
Fragmented dashboard styling presents interfaces inefficiently
Stereo controls too far away from media screen
Soft ride becomes crashy and less comfortable at low speeds
Rear passengers' knees block fold-up front seat back tables
The youthfully-styled C3 Picasso has evolved into an excellent small MPV, and for 2013 it receives more small updates that keep it fresh. The one larger change is under the bonnet, with a new version of the Peugeot-Citroen 1.6 HDi diesel. It's quieter, smoother and more efficient than ever, with a whisker more power as well.
With downsizing the key theme of recent years, the C3 Picasso has emerged as a stylish and fun-looking small family car that appeals to a wide gamut of buyers for its charm and healthy mix of driving manners, practicality and user-friendliness. It's distinctive from its rivals in both its looks and the reputation it has accrued over the years.
The revised engine fitted to this version is the latest development of an engine that can trace its roots back to the middle of the last decade. When it was first released it was noted for being especially quiet, and over the years it has become even more so. With its new updates it's among the quietest diesels anywhere.
Its size and five-seat layout mean that its main target audience is young families, who want the practicality of a raised seating position and a higher roof line in combination with ease of use around town and a simple choice of excellent drivetrains and optional extras. To keep its style fresh this model features extra chrome-effect trim details.
With this C3 Picasso Citroen maintains its connection with panoramic sunroofs, with a large glass roof panel giving this model a much lighter, airier feel than it would otherwise have. It's especially beneficial to rear passengers, who get a much better view of the world outside, like tower buildings, overhanging trees or the night sky.
Our verdict on the Citroen C3 Picasso HDi 115 Exclusive
The C3 Picasso is designed with the key simple things in mind, and does an excellent job for young families. Its outward flashiness contrasts with its interior practicality and superb new engine to create a package that manages to feel worth more than the sum of its parts. Some cabin materials are not as expensive or classy as in some alternative cars, but the Picasso gets the important things right.
Costs

Thanks to this efficient diesel engine running costs can be kept remarkably low. It also produces little CO2, which is tax-friendly and beneficial to all users. While this model is outwardly quite similar to the previous version it now has more equipment and better engines, making it more likely to hold on to more of its value than before. The only mark against it is that despite an affordable entry price the higher-end models are expensive.
Space and practicality

Despite the shapely exterior, the interior retains the boxy practicality needed by any serious family car. Five seats is the maximum number available but the boot is sizeable, with a dual boot floor to aid practicality and either keep some things completely hidden or eliminate the boot lip to make loading and unloading heavy objects easier. Deep, broad door pockets are useful additions to the cabin space and there are three 12-volt sockets.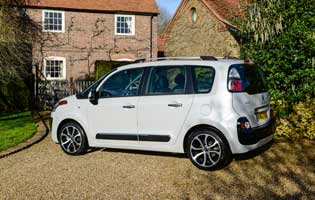 rear combines smooth looks with boxy practicality
Controls and display

The instrument cluster is entirely digital and offset from the driver's line of sight, set up in the centre of the car on top of the dashboard. Its positioning, because of its unusualness more than anything else, makes it less intuitive at first to read. The digital rev counter is particularly awkward, working in blocks of approximately 200 revs each. The engine is so quiet it's difficult to time gear changes through hearing alone, so a more precise tachometer would be welcome.
Comfort

Thanks to the slightly raised seats the C3 Picasso feels less cramped than lower cars of a similar size because passengers' knees can be less bent. It also has a soft ride, which although occasionally feeling over-damped and harsh at low speed, works extremely well at typical urban and open road velocities and gives a smooth ride for everyone on board. The quietness of the engine helps to make the cabin a hushed place to be up to motorway speeds.
Car security

A dual-layer boot floor enables a layout that can hide valuable items from view even when the tailgate is opened. Remote central locking is standard, and all the doors including the tailgate can lock automatically when starting a journey. Security experts Thatcham have not tested the 2013 C3 Picasso yet, but gave its closely-related predecessor four stars out of five for preventing theft of the car, and three stars for preventing theft from it. No alarm is fitted, but can be added as an option.
Car safety

Entry-level models do without full stability control but do have ABS with Electronic Brakeforce Distribution and Emergency Braking Assist to ensure a safe stop in any conditions. Dual front airbags are the only ones present until you step up to mid-range trim, where side and curtain airbags are added. Stability control is also added at this point, but only on one specific model. With Exclusive specification and the more expensive diesel engine, stability control is standard.
Driver appeal

This model has the range-topping e-HDi diesel, which is the latest in a line of evolutions of the same 1.6-litre engine. It is extremely quiet; so much so that below 2,000rpm even a trained ear would struggle to tell that it isn't a petrol. It's not an especially quick car although there is a little pace on offer if required. The driving experience is largely soft and comfort-biased, so drivers will need to appreciate this as a priority.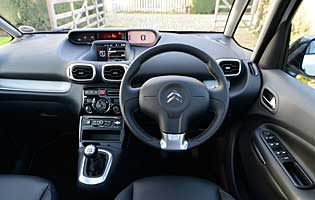 Much of interior design and instrument layout is controversial
Family car appeal

Short, wide-opening doors and raised seats make it easier to install child seats - and their occupants - than it might otherwise be. The rear door apertures are sometimes a little restrictive in terms of elbow room, but children should have plenty of legroom in the back. There are two sets of Isofix child seat mounts on the outer rear seats. Fold-up tables on the back of the front seats provide somewhere for kids to place their drinks.
First car appeal

While most first-time buyers won't need a practical small family MPV, there is undoubtedly a market for young families who need a second car for the first time. For those people the Picasso is relatively affordable, although less so in this most expensive trim and engine combination. It's very easy to drive and live with, though, so make a very suitable option. Insurance is not as cheap as you might suspect, since a number of these cars suffer low-speed scrapes and bumps.
Quality and image

Citroen is one of the brands that during and after the recession has struggled to maintain sales. A series of bold new models has started to turn that trend around and the brand is generally seen as a maker of attractive and affordable cars. The brand's reliability record is not so keenly viewed, though, with electrical gremlins more common than they are for some other brands. The C3 Picasso's image is a good one, being seen as an honest and likeable compact MPV.
Accessibility

Five doors are compulsory for any practical car and their presence here should go without saying. Both the front and rear doors are relatively short and can be opened wide enough to get in and out even when space beside the car is restricted slightly. Another point heavily in the C3 Picasso's favour is that its tailgate is relatively light and can be lifted easily with one arm, which is a key factor when arriving at the car carrying shopping or a child.
Stereo and ICE (In car entertainment)
Buyers wanting to use Bluetooth or USB connections to play music will need to pay extra for an options pack that also includes satellite navigation. As standard there is a single CD slot and AM/FM radio. However, when the optional screen is installed, the stereo buttons are placed well away from it making the system less intuitive and harder to use. The button functions themselves are pleasantly simple and easy to grasp, but operating them on the move requires more concentration than it should.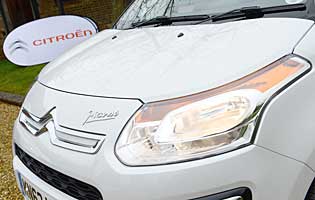 Picasso name has become synonymous with this car class
Colours and trim
For such a stylish and youthful exterior design, the C3 Picasso really doesn't make the most of its colour palette. A selection of dark or dull options is broken only by a bright blue, which gives the car a more fitting look. However, in Exclusive trim the Picasso looks particularly sharp in black. On the inside a controversial design for the dashboard and console will split opinion aesthetically.
Parking
No electronic parking aids are fitted as standard, but in the car's favour there is excellent visibility in all directions. It is also relatively narrow and can slot into most bay-type parking spaces with ease. Its turning circle is about average for the sector. Assistance is on offer with an option pack that adds rear parking sensors, a reversing camera and satellite navigation; the screen for which acts as the display for the camera. It should help prevent any low-speed reversing accidents.
Spare wheel
Emergency tyre repair kit supplied; space saver spare wheel optional.
Range information
Petrol engine options - 1.4-litre (94bhp); 1.6-litre (118bhp). Diesel engine options - 1.6-litre (89bhp, 113bhp). Transmission options: five and six-speed manual gearbox depending on model, plus automated manual gearbox (1.6-litre petrol only). Trim levels: VT, VTR+, Exclusive, plus special editions.
Alternative cars
Renault Scenic Well-known and competent compact MPV with decent engines
Ford B-Max Innovative pillarless design boosts practicality, with style a prerequisite
Skoda Roomster Large boot and well thought-out cabin space makes life easy
Nissan Note Closer to Honda Jazz in size but a solid, dependable alternative
Over 1,200 more car reviews online
All the reports since 1990 are available on this site, just search by make and model below.
Other products & services
Related information
February 2013