Citroen C3 VTi 1.0 68 Exclusive
January 2013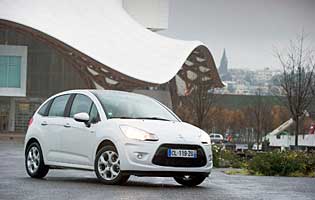 Characterful and very modern looks give the C3 unique charm
Ratings
Overall rating
Value for money
Costs
Space and practicality
Controls and display
Comfort
Car security
Car safety
Likes
Pleasingly different looks combine cheekiness and modern style
Smooth new engine balances character and a relaxed nature
Zenith extended windscreen makes the cabin light and airy
Low running costs will bring new appeal to the model for young families
Gripes
Small boot with an aperture that pinches towards the top of the back seats
Turning circle not as tight as some might expect
Some desirable equipment left on the options list
Requires lots of revs to get up to motorway speeds
Citroen's C3 is one of the core products in the company's range, having acted as the basis for several spin-off models as well as being a commercial success in its own right. It stays largely the same for 2013, but the big news is a raft of new engine technology that massively reduces the car's environmental impact and running costs.
The C3 is a stylishly modern and cheeky supermini with a lot going for it. Its looks have been mildly revised, making more use on the higher trim levels of chrome-effect bodywork details to accentuate its lines and character. It also has certain features as standard on this trim level that mark it out from most other small cars.
The extended 'Zenith' windscreen runs above the front seats to provide a much more airy cabin environment but at the same time promises a higher bill if it should ever crack. The five-door-only body reveals the C3's designs on buyers for whom the rear seats are important, and fittingly it has always been popular with parents of young children.
With so relatively little changing from the preceding model year the focus is on the new petrol engines, which promise much improved emissions and fuel economy. Having moved down to three cylinders, the VTi unit has more character among unilateral improvements. It suits the C3 particularly well, but is also destined for several other cars in Citroen's range.
Tangible benefits will be seen at the filling station but the bonuses that the engine has brought, alongside simple aesthetic changes and refinements for the new model year, boost many elements of the driving experience. In general the C3 seems a cheerier place to be, although there are still one or two shortfalls in specification.
Our verdict on the Citroen C3 VTi 1.0 68 Exclusive
The heart of any car is its engine and the C3's powerplants had begun to lag behind the industry leaders. The new VTi units including this one have given a much-needed improvement in key areas that really matter to buyers. The C3's traditional driver-friendliness combines with the high-tech updates to create a package that feels fresher than most of it really is, which is testament to its appeal.
Costs

The new VTi 68 engine has reduced the likely costs of an owner by a significant margin. The new version is much more tax-friendly, sips fuel at a much slower rate if the driver is careful, and being both new and better will hold onto more of its value. It also makes a lot more sense than it used to as a company car proposition. In terms of purchase price it looks expensive, but dealers can usually offer big discounts.
Space and practicality

There are precious few storage solutions in the C3's cabin, with short, narrow door pockets and a small space for loose items ahead of the gear stick. The boot is limited in size because Citroen, like most supermini makers, has decided to dedicate more room to rear passenger space. But with soft baggage the C3 can turn into a surprisingly capable load-lugger. The rear seats fold down to create a more van-like load bay.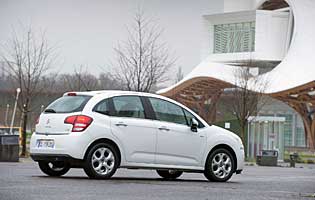 Its rounded, neatly-proportioned shape is cheeky and stylish
Controls and display

A three-dial design is stylish and clear, placing speed in the centre as the number one priority and making it easy to keep an eye on it. The functions linked to the ancillary stalks are predictable and user-friendly and the three-section air management controls are equally easy to understand thanks to the central digital display, but the stereo controls are fiddly, too low and too far away from the media interface screen.
Comfort

The C3 is not the most streamlined of cars and creates a moderate amount of wind noise around its windscreen, door mirrors and A-pillars. The suspension is generally pretty quiet, though, until a large bump sends a loud thump through the cabin. The front seats offer basic adjustment and suitable comfort, while the back row offers ample room for two average-height men over shorter distances. Younger children would be perfectly comfortable.
Car security

The large windscreen area could potentially give thieves an easier view in, and there are no covered storage spaces in the cabin. The boot is fully enclosed with a parcel shelf hiding its contents from view. Deadlocks attached to the remote central locking system prevent the doors from opening from the inside, so a thief cannot just smash the window and open them. In addition, Exclusive models benefit from an alarm.
Car safety

The C3 Exclusive is well equipped with passive safety for front occupants, with dual front, front side and curtain airbags installed as standard. The body is also well constructed, only missing out on the full five stars for adult occupant protection because full stability control is not standard fit. It can be added for a sensible fee. However, ABS and braking aids to ensure a fast, safe stop are standard, as is a basic traction control.
Driver appeal

The new engine has made a big difference to every aspect of the C3's drivability. It has a useful amount of extra power, but also the larger cylinders generate more low-down torque that makes it easier to get the car up to speed gently and efficiently. The sense of feedback and involvement is about average for the class, but the increased visibility out of the C3 gives an airier feel which some will think improves the experience.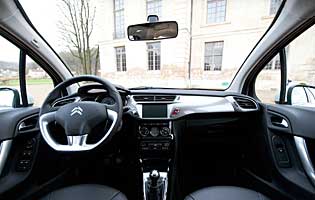 Exclusive trim brings part-leather seats and a more upmarket console
Family car appeal

A young family could look on the C3 as a prime candidate for them thanks to its happy, cheerful demeanour and low running costs. Two sets of Isofix child seat mounts are fitted to the outer rear seats and getting three small children across the bench is theoretically possible, but Citroen recommends against putting child seats on the middle of the three. The only other real down-side is the boot space restrictions. Only small or comprehensively folding pushchairs will fit.
First car appeal

The supermini class is one that many first-time new car buyers look at, since the cars here are the same size as compact family hatchbacks used to be. Cars like the C3 are easy to drive, offer adequate space and a good spread of equipment spanning both the luxury and the safety strands. The C3 is a great example and in its functionality is perfect for a new driver. It's not cheap at its list price but discounts are usually readily available.
Quality and image

Citroen's brand image is perhaps not what the company would like it to be, with sales struggling recently, especially in the brand's key European markets. However the truth is that Citroen is in the middle of the car industry pack when it comes to build quality and reliability, with some more prestige and more successful firms actually placing lower on reliability scales. The C3 is a solid enough proposition and feels well put together.
Accessibility

The C3 is only built for the UK as a five-door, so rear passengers have much better access by default. Although the door aperture sizes are limited by the length of the car, it's a relatively tall supermini and that means people don't need to tuck into a ball on the way in and out. The boot is similarly practically shaped, but with the drawback that the seat backs begin to impinge on the luggage space.
Stereo and ICE (In car entertainment)
The buttons that control the main stereo functions can sometimes seem like too much of a stretch away, and with the media interface screen on the Exclusive being so far away from the controls it can be a real test of your motor skills to work neatly. It does, however, have a USB input for MP3 players and a full complement of speakers including one on top of the dashboard and an amplified subwoofer.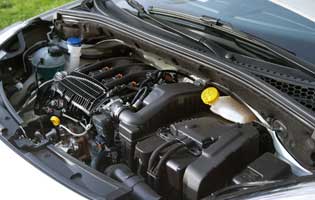 A new three-cylinder engine has breathed fresh life into the C3
Colours and trim
The range of colours for the C3 is typical of many cars, with the only free option being flat white. Then there is a range of metallic and pearlescent shades covering silver, grey, black, white, red and blue, with the only unusual exception being a fashionable brown. Bright colours best suit the C3's cheerful looks and it's a shame there aren't more to choose from. The interior trim has a generally upmarket look, although shiny dashboard plastics are a matter of taste.
Parking
Rear visibility is no problem in the C3 and the boot length is easy to judge to avoid bumps, so reverse parking is as easy as it can be. No parking assistance systems are fitted as standard, but rear parking sensors can be added optionally for a very reasonable price. As a supermini the C3 is compact enough to fit into most spaces without drama, and the five-door layout means the shorter doors open wider.
Spare wheel
Full-size steel spare wheel supplied as standard.
Range information
Petrol engine options - 1.1-litre (60bhp); 1.0-litre VTi (67bhp); 1.2-litre (81bhp); 1.4-litre (94bhp); 1.6-litre (118bhp). Diesel engine options - 1.4-litre (69bhp); 1.4 e-HDi (69bhp); 1.6-litre (90bhp); 1.6 e-HDi (113bhp). Transmission options: five-speed manual gearbox, four-speed automatic, five- and six-speed EGS Airdream automated manual. Trim levels: VT, VTR+, Exclusive.
Alternative cars
Peugeot 208 The 208 shares engines with the C3, but not design philosophies
Nissan Micra Blessed with clever engine technology and a cute shape
Kia Rio Sportier looks, but engines that fall behind the C3's VTi
Chevrolet Aveo Dynamic styling and a good spread of equipment
Over 1,200 more car reviews online
All the reports since 1990 are available on this site, just search by make and model below.
Other products & services
Related information
January 2013