Audi R8 V8 Coupe
November 2012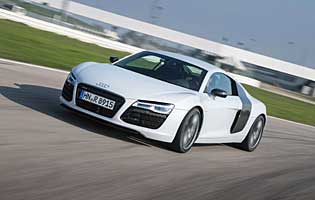 Easily recognisable styling hides minor changes
Ratings
Overall rating
Value for money
Costs
Space and practicality
Controls and display
Comfort
Car security
Car safety
Likes
Dramatic but not overly arrogant styling
Astonishing acceleration
One of the finest engine noises around
High quality interior materials and finish
Gripes
Potentially tricky when driven to extremes
Sub-standard rearward visibility
Inevitably an expensive car to buy and run
Relatively small changes may leave some buyers cold
Audi's everyday supercar has been given a mild styling update, some new technology and one crucial new feature. The 2013 model is defined by a twin-clutch automatic gearbox, which replaces the automated manual unit from previous cars. This is the original R8 formula of hard-top, V8-powered four-wheel-drive performance and it's arguably where the experience is at its purest.
The company has adopted a slightly conservative approach for the redesigned R8, with the silhouette becoming more like that of the mass-selling TT. The coupe keeps its distinctive contrasting side panels, though. It replaces a car that has served Audi well both with sales and with its image-boosting credentials.
The biggest difference, however, is in the gearbox. Audi has long since developed its S tronic twin-clutch automatic gearbox to the point where it can handle the power and torque of the big V8 engine, but it had to wait for the model update to install it. Prior to the S tronic an underwhelming R tronic automated manual gearbox took care of the shifts and it was neither engaging nor especially smooth.
That means the new R8 is a better car to drive quickly, because it's under pressure that the S tronic shines. It pre-selects the gear you're most likely to choose next, allowing seamless changes under power. Performance goes up and so does efficiency, since the efficient technology allows for precise shift points to be engineered in for surprising fuel economy.
This new R8 benefits from many of the improvements that have been brought in over the previous generation's life cycle, forming a more complete package. There are two other models in the Coupe range, both using V10 engines, but the V8 arguably has a little more class and dignity where the V10s are brasher and in some circles endowed with a slightly less desirable image.
Our verdict on the Audi R8 V8 Coupe
The old R8 was a hit for its entire showroom life. The standard V8 has always excelled as a usable supercar with impressive comfort and all the excitement you could ask for. Audi is synonymous with technology and the new elements of the latest R8 are well balanced, with a mix of aesthetic and performance-related improvements giving potential buyers - including those upgrading from older R8s - exactly what they want.
Costs

The R8 V8 is slightly less thirsty than its V10 counterparts, but it still has an amazing desire to guzzle super-unleaded fuel. Road tax, insurance and servicing costs are all about as expensive as they can be, and if a lucky buyer was considering an R8 as a company car the benefit in kind payments would be huge. Relatively speaking, however, the basic list price is not too high for a car in this class.
Space and practicality

Although it has its share of practicality, the R8 wasn't built to carry very much luggage. The only exterior luggage compartment is the space in the R8's nose with the same 100 litre capacity as the previous coupe versions. Deep rather than wide, it will accept a couple of soft overnight bags. Audi does, however, make tailored luggage sets for behind the seats and in the under-bonnet space, conveniently selling them on the R8 options list.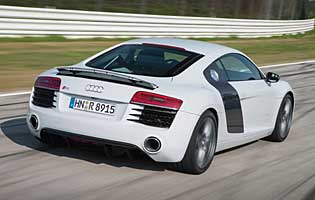 The rear indicators now sweep sideways in the direction of the turn
Controls and display

One of the R8's most appealing features to many owners is its control layout, which conforms to standard Audi form, meaning that everyone who's driven a modern Audi will be comfortable driving this car. The large colour display projects information with clarity, as do the brightly-lit and stylish dials in the instrument binnacle. The ventilation and audio systems are controlled using a neat interface that's simple to master.
Comfort

The R8 is known as an everyday supercar, and with supportive seats, a comfortable and adjustable driving position and a surprisingly spacious cabin it's no surprise. When you're not pushing the car hard, wind, road and engine noise is pleasingly minimal, and the optional Sports suspension does an excellent job of soaking up road imperfections. The car's usability is a big part of what makes it so appealing and thanks to the new S tronic gearbox it's more so than ever.
Car security

Audi rarely goes into detail about what security systems it actually uses on its cars. Needless to say a state-of-the-art alarm with an immobiliser that cannot be bypassed without the proper key, central locking, a lockable glovebox and valet key are to be expected on a car this expensive and are absolutely essential.
Car safety

As you would expect, the quattro four-wheel drive system is a real benefit in terms of traction in all conditions, but to be on the safe side ESP with traction control, anti-slip regulator and a full compliment of braking aids are standard. Tyre pressure monitoring is also present as are driver and passenger front and side airbags. Front and rear parking sensors can be specified to aid safety at low speeds.
Driver appeal

Even this least powerful R8 is still a potent machine, but it's manageable around town thanks to adaptive steering and a tractable nature. The open road is where the full performance of the V8 engine and tremendous grip offered by the rear-biased four-wheel drive system come into their own. Superbly responsive in terms of throttle, brake and steering input, it's a huge thrill to drive at speed. The traction control unit has several settings to allow more slide if the driver wishes.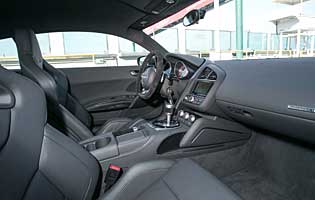 Leather, high-quality stitching and many options are available
Family car appeal

While it's fair to say that with only two seats the R8 just can't perform family duties, there are a couple of surprising features present as standard. The front passenger airbag can be deactivated and Isofix points are present to allow a child seat to be mounted on the passenger side. The R8 is definitely a car for more mature owners but it's good for them to know that the facility to carry a small child is there in case it's needed.
First car appeal

Given the choice, many young or new drivers would pick the R8 as their perfect first car, but even if a freshly-qualified driver had the ability to secure and pay for an insurance policy the sheer power of the R8, combined with its size, restricted visibility and purchase price are obstacles that are too big to ignore.
Quality and image

Audi hit a very desirable niche with the R8 and its allure is unquestionable. Thanks to its distinctive styling, great performance and Audi's constantly rising and seemingly unimpeachable reputation, the R8 more than holds its own against cars from typically exotic brands. All that counts against the V8 is the existence of the technically superior V10 model, but the V8 has a more reserved sense of class that many buyers will prefer. Quality is excellent, with the car finished impeccably inside and out.
Accessibility

As with any long, low sports car the R8 coupe has relatively long doors so despite the low roof the aperture is still more than adequate. If the sports seats are specified, occupants will need to bear in mind their high sides, which require some minor acrobatics to climb over. This is no more than a minor irritation however, and soon becomes second nature.
Stereo and ICE (In car entertainment)
As standard only a single-CD stereo is fitted, although there are USB and auxiliary ports to allow the use of MP3 players. A six-CD changer is optional, and so is a more powerful Bang and Olufsen stereo that makes better use of the functionality provided by the large colour touch-screen interface. Through the screen all audio functions can be controlled. A DVD-based sat-nav system is standard fit, but it will not recognise full postcodes.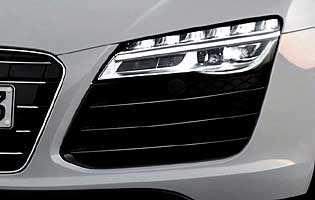 The 2013 R8 now has full-LED headlights as standard
Colours and trim
Although many colour choices are listed, customers can optionally specify any colour they wish, even for the side panels which can be matched or contrasted according to taste. Inside, high-quality leather is the standard finish with or without the sports seat option, and even the dashboard gets a leather lining. Carbon fibre dominates the cabin with extra carbon panels included as standard, and it helps to lift the appearance still further.
Parking
Its redesign has done nothing to lessen the R8's need for parking sensors. Deceptive overhangs, low ride height and poor rear three-quarter vision make them essential, but they are only an optional extra on the V8. The former two attributes are to be expected with such a car but the over the shoulder view is disappointing, although previous R8 owners will be used to it. The R8's wide stance is sometimes an issue, but despite wide tyres the car's power steering offers plenty of low speed assistance.
Spare wheel
Standard fit is a tyre mobility system with an inflation device.
Range information
Petrol engine option - 4.2-litre (424bhp); 5.2-litre (518bhp, 542bhp). Transmission options: six-speed manual gearbox or six-speed S tronic twin clutch gearbox. Trim levels; V8 Coupe, V10 Coupe, V10 Plus Coupe, V8 Spyder, V10 Spyder.
Alternative cars
Aston Martin V8 Vantage Charm, looks and a thrilling drive with bags of character
Porsche 911 Turbo Phenomenal pace and heritage with everyday usability
Maserati Granturismo A more relaxed drive but one of the best engine noises in the world
Bentley Continental GT V8 Heavier and taller, but has devastating pace and advanced technology
Over 1,200 more car reviews online
All the reports since 1990 are available on this site, just search by make and model below.
Other products & services
Related information
November 2012