Audi A3 Sportback Titanium 1.8 TFSI S line
November 2012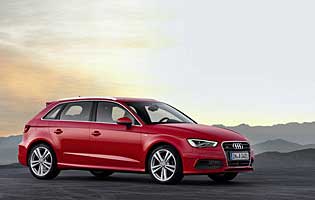 The Sportback is as slick and good-looking as any Audi
Ratings
Overall rating
Value for money
Costs
Space and practicality
Controls and display
Comfort
Car security
Car safety
Likes
Impressive blend of performance and economy from TFSI engine
Interior is of the highest quality
Innovative and luxurious technology and equipment
Extra doors better integrated into overall shape than before
Gripes
Exterior design could be bolder
Versions on smaller wheels can look a little undernourished
Slightly restricted rear three-quarter view
Brand's sheer success might put some buyers off
Following the introduction of the third-generation A3, Audi has quickly followed with the more practical Sportback version. Benefitting from all the same advanced technology as its three-door counterpart including the latest shared architecture, the Sportback adds an extra pair of doors for greater practicality that increases its practicality for family buyers.
An ever-expanding range means that Audi has a car to fit into every single niche and has arguably created a few of its own. But out of the broad choice it is the A3 that is one of the core products and it is its strong and consistent sales over the years that has allowed the German firm to expand into other areas.
The Sportback is a crucial model as its five-door versatility makes it a suitable proposition for a wider range of buyers as a compact hatchback in the premium sector. The A3 will be the entry-point to the Audi brand for many buyers and so has a challenge to meet expectations and keep buyers coming back for newer and bigger models.
Like many of Audi's most recent models the A3 has an overall focus on efficiency, and this manifests itself in terms of the design and the mechanical make up. Increased use of aluminium and lightweight steels reduces the overall bodyshell weight by 25kg compared to the old car. Other weight saving measures means it is 80kg lighter overall and Audi claims it is the lightest car in the class.
The other side of the efficiency coin is a range of engines that are either new to the A3 or substantially revised. Audi claims that fuel consumption is reduced by an average of 12% across the range with even the least fuel-efficient version managing to achieve a healthy combined figure.
Our verdict on the Audi A3 Sportback Titanium 1.8 TFSI S line
The logical extension to the already popular three-door A3, this five-door premium hatch delivers the same high levels of cabin quality, sophisticated exterior design and overall build quality that we've come to expect from Audi. The more family orientated A3 experience won't come cheap - hardly a surprise to Audi fans - but the end result is a car that's good to drive, a welcome step more versatile and likely to be just as popular as its three-door stablemate in years to come.
Costs

Despite the performance on offer the 1.8-litre TFSI A3 has the potential for remarkably good fuel consumption and emissions figures. That means relatively low costs for Vehicle Excise Duty too, while keeping the A3 fuelled up won't require too much investment. Repair and servicing costs may be a little higher thanks to the premium badge, but on balance the A3 should be cost-efficient.
Space and practicality

Although there's no extra space the Sportback is a more practical version of the A3. Boot space is very healthy and certainly beats many of its close rivals, while for passengers there is good head and legroom - the rear seats are certainly suitable for full-sized adults. Neat changes up front also save crucial space; the adoption of an electronic handbrake and a slimmed-down button arrangement for the MMI control system leaves more space for elbows and oddments.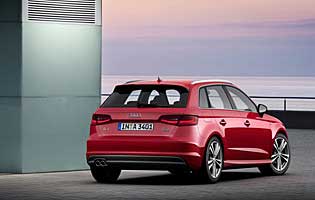 Steeply-sloped tailgate gives it an almost estate car appearance
Controls and display

The big screen and new MMI control system make the A3's controls even more intuitive. After a few moments of familiarisation it all makes perfect sense, and the solidity of the switches and buttons make them a pleasure to use. It has even more features than before yet the dashboard itself seems even more uncluttered and clean, avoiding a busy looking dashboard yet retaining a strong ease of use.
Comfort

The A3 doesn't put a foot wrong in terms of ultimate comfort. Arguably an SE model with its standard suspension will offer the best ride comfort, but even this Sport model with a firmer set-up never feels overly harsh. As befits the quality of the cabin the seats are very supportive, noise insulation is very impressive and the overall comfort levels would not disgrace a more expensive car.
Car security

Aside from the standard fitment of an interior alarm, engine immobiliser and remote central locking, the A3 offers complete keyless operation which allows the driver to keep the key well out of harm's way.
Car safety

The focus on saving weight is only achieved with a complementary increase in chassis stiffness and strength, so there is no compromise in terms of overall crash safety. On the active safety side, as well as standard fit elements such as ESP and airbags there are optional systems such as radar-guided cruise control, active lane assist and even the Pre-Sense system which anticipates and prepares the car for a potential collision.
Driver appeal

Choosing a premium product raises the expectations a little, and despite the A3 inevitably being an everyday sort of car most buyers will also expect it to provide a reasonably invigorating driving experience when circumstances permit. To that end the 1.8-litre TFSI version is an ideal compromise. Paired with the seven-speed S tronic gearbox, the petrol unit delivers unfussed turbocharged torque from low revs for easy cruising and perky low-speed acceleration.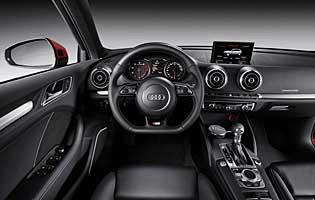 High quality interior raises the bar once again
Family car appeal

All passengers will have far less trouble getting into the rear seats thanks to the extra pair of doors, and the standard Isofix mountings are present for extra child seat security. The boot will happily swallow larger pushchairs although it is deep and wide rather than long, and as long as you choose leather rather than cloth the A3's cabin will stand up to sticky finger abuse.
First car appeal

A well-heeled new driver could probably just about afford an A3 as a first car and with that hurdle negotiated would find it very suitable. Not too big, easy to drive and with a more modest engine beneath the bonnet not too expensive to run either. A bigger purchase price means potentially higher insurance bills too, but otherwise running costs are comparable to an ordinary hatchback.
Quality and image

A high standard of quality is one of the key elements of Audi appeal and the A3 manages to move that on still further. The cabin is textbook example of slick design and is executed with fine materials. The same goes for the outside with tight panel gaps and a flawless paint finish. The A3's image is one of a desirable and accomplished car, the only potential demerit being its own success.
Accessibility

The Sportback has a clear advantage over its three-door sibling, providing all passengers with equally-easy entry into the car. Even though this means that front seat occupants have a slightly smaller aperture than on the three-door, there is still a generous aperture. The same goes for the rear, and the steeply-angled rear avoids the roofline encroaching on headroom. Meanwhile the boot space is well-sized and easily accessed.
Stereo and ICE (In car entertainment)
Raising the standard over the old car is a large 5.8-inch foldaway display screen sitting centrally in the dashboard, with audio information repeated in the panel between the instruments. Steering wheel controls also give further ease of use, and with a proper MP3 connector, Bluetooth and voice control as standard the specification is high.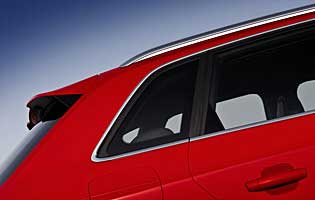 Extra doors are seamlessly integrated into the design
Colours and trim
The Sportback's exterior lends itself to a broad choice of colours, although to make the most of the subtle edginess brighter shades are best. Inside the typical high quality cabin can be specified in a variety of trims and colours - black will likely be the most popular choice but brighter colours show off the quality even better.
Parking
The Sportback is no bigger than the regular A3 and so remains a relatively compact hatchback. Parking will never present too much of a problem particularly with the option of parking sensors and even a reversing camera, although the rear pillars are relatively thick. Cars with larger alloy wheels will need to be parked with care too to avoid any unsightly kerbing.
Spare wheel
Space saver spare wheel fitted as standard.
Range information
Petrol engine options - 1.4-litre (122bhp, 140bhp); 1.8-litre (180bhp) Diesel engine options - 1.6-litre (105bhp); 2.0-litre (150bhp). Transmission options: Six-speed manual or seven-speed dual clutch S tronic fitted as standard depending on engine. Trim levels are SE, Sport and S line.
Alternative cars
BMW 1 Series Capable and highly efficient hatchback, looks likely to divide opinion
Alfa Romeo Giulietta Attractive, fun to drive, quality not of the highest standard
Volvo V40 Practical cabin, distinctive design and clever technology
Lexus CT-200h Efficiency-biased, well specified but lacks driving appeal
Over 1,200 more car reviews online
All the reports since 1990 are available on this site, just search by make and model below.
Other products & services
Related information
November 2012