Audi A6 Allroad quattro
September 2012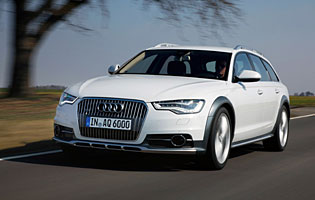 The Allroad oozes class and restrained style
Ratings
Overall rating
Value for money
Costs
Space and practicality
Controls and display
Comfort
Car security
Car safety
Likes
Ride quality is generally good, even on larger wheels
Range-topping diesel brings phenomenal performance and economy
Classy and understated looks offer high levels of ownership satisfaction
Huge amount of interior space allows for many types of uses
Gripes
Dark grey plastic trim extensions may not be to all tastes
Particularly patchy road surfaces can transmit vibrations through the cabin
Too much desirable equipment is optional at extra cost
Cabin storage solutions could be better and more numerous
Audi says the A6 Allroad is the car that attracts its wealthiest buyers; buyers who don't need to boast about their wealth, and probably already have a number of more exotic cars to call upon anyway. The Allroad is therefore designed to be Audi's most multi-talented car, from motorway cruising to towing a horse box across a field.
The Allroad is an offshoot of the regular A6 range, with raised suspension, more rugged exterior trim and stainless steel under-body plates to protect vulnerable parts from potential impacts. Only available in Avant estate guise, it sits beside but slightly above the A6 with a slightly more premium air and slightly higher prices to match its increased sense of usability.
Its suspension is raised high enough so that farm tracks, typical fields and rutted green lanes should pose no problem, especially with permanent quattro four-wheel-drive providing additional traction as standard. The Allroad also has adaptive air suspension and special electronic systems biased towards off-road driving to make sure it can cope with more than drivers are likely to ask for.
There have been versions of the A6 Allroad before, and while the numbers they sold in have never been massively significant, the car is important to satisfy a clientele that Audi is keen to hold on to. A small range of engines are available, but only one trim level is offered, unfortunately leaving many desirable features on the options list.
This generation of Allroad sees the introduction of a new twin-turbo V6 diesel that acts as a new flagship engine. It's more powerful, faster-responding, quieter and smoother than older, still-available types, and it adds a significant new appeal to the car. Audi expects that among the many known quantities with this car, this new factor will be crucial.
Our verdict on the Audi A6 Allroad quattro
To drive the A6 Allroad, especially when equipped with the new BiTDI diesel, is to appreciate a truly great all-round car, with excellent suspension, an ideal driving position, astonishing performance on-road and deeply impressive ability off it. When it comes to combining the indulgences of a country lifestyle with weekend family demands and the highest levels of class asked by the City, the A6 Allroad is peerless.
Costs

Despite the weight and power involved, the diesel engines all achieve good fuel economy if driven gently in the in-built efficiency-specific drivetrain mode. Affordability is not one of the typical Allroad buyer's chief concerns and there is no low-CO2 option to appeal to markets that depend on such figures. Residual values are famously high because there are relatively few Allroads by comparison to A6 Avants, and because of their extra versatility.
Space and practicality

Practicality is high on the A6 Allroad's list of talents, not least with its useful off-road ability. The cavernous boot also features a very useful load-securing system to ensure that loads don't slide around the available space. If maximum load capacity is a priority, the A6 Allroad platform offers it in spades. On the other hand, there could be more space inside the cabin to store oddments, loose change or receipts, for example.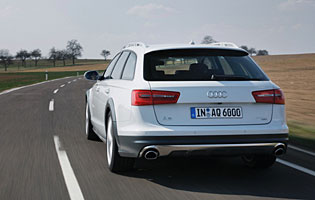 Unpainted trim extensions define the car's look
Controls and display

Audi follows a very set design for its instruments across almost all of its ranges, which is to say they feature a black background with simple white numerals and red accents. It's a formula that works, and whether in sunshine or at night the dials are so clear your peripheral vision is usually enough to read them accurately. The controls follow a familiar layout to any recent Volkswagen Group car owner and fall to hand easily enough. Automatic headlights and windscreen wipers are standard.
Comfort

With more suspension travel to play with, Audi's engineers have been able to dial in the ideal combination of body control and supple, bump-absorbing comfort. It never feels like a compromise. Tyre noise is more of an issue but it's still relatively well contained. The seats are wide and comfortable, despite the backs in particular being rather firm. With dual-zone climate control standard, 'basic' comfort is taken care of. Four-zone climate control is available as an option.
Car security

A sophisticated alarm and immobiliser system can be taken for granted, but there is rarely cause for a manufacturer to reveal the exact systems that protect its cars. As such, few details are known in the public sphere apart from that the alarm features a tow-away warning and interior monitoring, both of which can be switched off. Security experts Thatcham award the A6 on which the Allroad is based five stars for preventing theft of the vehicle.
Car safety

On top of its compliment of airbags, the Allroad has automatic hill hold control, whereby the handbrake will activate when the car stops, releasing it automatically when the gearbox requests forward motion. There are tyre pressure and seat belt monitoring systems, stability control and a break recommendation system that monitors the driver's inputs and alerts the driver when it's calculated that he or she might need a break. Many additional and complex systems are optional.
Driver appeal

Driving appeal largely depends on the engine chosen, with the lower powered diesels acting as very capable but ultimately unexciting choices. The BiTDI range-topping engine is a revelation in diesel response, thrust and enjoyment, adding more than its own cost increase to the ownership satisfaction. The suspension is tuned wonderfully well to bumpy roads and allows astonishingly swift progress in comfort. It also cruises brilliantly and offers excellent all-round comfort, and so makes an irrepressible case for itself.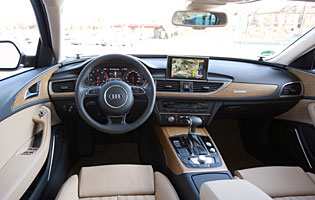 Cabin quality is outstanding, with optional wood trim
Family car appeal

Family taxi duties are among the most important that the Allroad has to be adept at. Child seat mounts are installed in the outer rear and front passenger seats, and the spacious boot has more than enough room for child-related paraphernalia. If the family enjoys the country lifestyle and towing is a factor, the Allroad can pull up to 2.5 tonnes, which is about as good as passenger cars get. Many of the luxurious interior materials are not well suited to potential liquid spills, though.
First car appeal

There are few reasons why a typical first car buyer would single this car out, and many why it would be a bad idea if they did. Theoretically inexperienced drivers might not find the easy-going nature of the Allroad too difficult to deal with, but it's still a large, heavy and powerful car that's very unlike typical learner-friendly cars. Insurance is a particular hurdle for young drivers and here it would be insurmountable, even before considering the purchase price.
Quality and image

Audi enjoys a reputation for materials quality that is envied by most of the rest of the industry, regardless of whether their own products are actually better or not. The wider Audi image is extremely popular, and has been shown to be particularly popular with men. The perceived quality of the interior, including the contact points, matches with the reality of how well the cabin is screwed together. Audi's cars don't often number among the most reliable, though.
Accessibility

Large door apertures and seats that are raised higher in relation to the standard A6 mean that access is very easy. The seats do have modest side bolsters but nothing that's likely to cause annoyance or difficulty. The boot, which as standard is accessed via a manual boot lid, is low enough to load items in easily enough, although not quite so easily as in the lower A6 Avant. Electric boot operation, both opening and closing, is an optional extra. Electric soft-closing of all doors is also available optionally.
Stereo and ICE (In car entertainment)
A motorised fold-out colour screen is standard, and retracts into the dashboard to neaten the array up when not in use. It follows the same layout as other Audi systems, allowing users to navigate through stereo options controlling tone and output geography. There are two SD card slots, a single-slot CD player and 10 speakers. The entertainment menus are simple to understand, very easy to read and allow quick changes.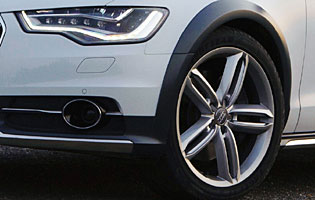 Ride quality is excellent even on the largest available wheels
Colours and trim
The available colour palate is somewhat funereal, with only two whites and a silver bucking the trend for dark, sober shades. The size and shape of this car does better suit darker colours though, helping to integrate the look of the trim extensions. Custom colours are available on request. The interior trim is of a very high quality with wood inserts available if specified. It looks much like the interior on most other high-spec Audis, and is designed to encourage upgrading from lower models.
Parking
Part of the Allroad's standard equipment is a Parking System Plus array that includes front and rear parking sensors and a visual display on the dashboard's central screen. It goes a long way towards offsetting the size of the car, but the generally good visibility and raised driving position mean that even without the driver aids parking is not too challenging. It does, however, have quite long doors, which can sometimes be difficult to open safely to their rest points in bay spaces.
Spare wheel
Space saver fitted as standard.
Range information
Petrol engine options - 3.0-litre (306bhp). Diesel engine options - 3.0-litre (201bhp, 241bhp, 308bhp). Transmission options: Traditional automatic tiptronic or dual-clutch S tronic gearbox depending on model. Trim levels: Allroad quattro.
Alternative cars
Volvo XC70 More humble than the Allroad and lacks prestige high-power diesel
BMW X5 Similar, with equivalent spec in many areas, but taller and unwieldy by comparison
Range Rover Sport A more overstated image means the Range Rover is similar, but very different
Hyundai Santa Fe Left-field option offers amazing refinement, all-round capability and huge value
Over 1,200 more car reviews online
All the reports since 1990 are available on this site, just search by make and model below.
Other products & services
Related information
September 2012