Audi Q5 SQ5
September 2012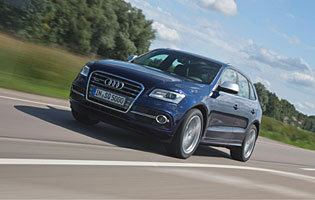 Bold styling expands the Q5 platform's road presence
Ratings
Overall rating
Value for money
Costs
Space and practicality
Controls and display
Comfort
Car security
Car safety
Likes
Subtle but bold styling makes the right kind of statement
Interior quality and styling is outstanding, making a superb diving environment
Inherits practical and useful everyday touches from lower Q5s
Diesel engine combines respectable fuel economy with excellent performance
Gripes
Ride quality is overly firm, due in part to very large wheels
Large door mirrors obscure the diagonal view out of the cabin
Despite extensive suspension retuning the car's weight is obvious through corners
High boot could be more practical and better thought out
The SQ5 is a milestone car for Audi. It's the first diesel model to feature as part of the firm's performance 'S' sub-brand, and it's also the first car from any of its three SUV ranges to be branded 'S' at all. As such the car has created major waves in the industry since its unveiling.
The new model sits over and above all existing Q5 models, using a little-changed version of a large-capacity diesel engine already seen in other Audi models. The engine's 'standard' state of tune has also engendered curiosity. As the performance flagship of the Q5 range, the SQ5 is required to go fast, boast high levels of luxury and ooze prestige.
Despite being identical to the engine found in a non-S-branded A6, the SQ5's powerplant certainly provides more than adequate performance. With many modifications having been made to the Q5 platform, both visual and beneath the skin, this is a car that is both subtle and arresting to look at, which fits the Audi S-car brief perfectly.
The car's sheer weight means that a petrol engine would have been far too fuel-inefficient in the modern world, leaving diesel and hybrid as the only realistic options. Audi's hybrid technology was not quite ready for the challenge during the SQ5's development, so diesel was selected. It actually suits the car very well, offering impressive refinement with excellent all-round ability.
Audi's rivals in the performance SUV sector will increase as time goes on, but the market sector itself is one of several that is performing very well. The firm's trademark high quality of manufacture and instantly recognisable interior space will impress existing Audi owners in particular, but buyers coming from elsewhere will find much to praise as well.
Our verdict on the Audi Q5 SQ5
The SQ5's key strengths are in its everyday usability, immense mechanical engineering and its fabulous interior. It's also very technological, with many customisable options and settings; features which will appeal to some more than others but that are particularly well suited to this particular market segment. While there is some loss of prestige with the lack of a powerful petrol engine, the SQ5 makes up for it in important ways.
Costs

While the SQ5 is never going to be able to claim to be cheap to run, for an S-branded Audi it does very well; doubly so considering its weight. Fuel economy is perfectly reasonable if the car is treated gently and the automatic gearbox is left in its most economical mode. Insurance is costly though, to some extent thanks to expensive parts if they were needed after an accident. Carbon dioxide emissions and the associated tax bands are relatively high, but not overly so.
Space and practicality

The Q5 on which the SQ5 is based has no shortage of space, and the SQ5's visual adornments do little to change that. Large cupholders, deep and broad door pockets join a deep central storage bin in providing plenty of useful large spaces to put items. There are no handy spaces to store smaller items, though, and consequently they can be left rattling around the larger pockets or bins. The boot is usefully large but sits high, potentially making stacking heavy bags particularly difficult.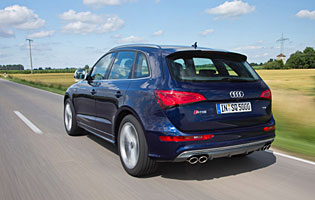 Four exhausts accent an otherwise subtle rear design
Controls and display

The car is fitted with a standard set of Audi 'S' instruments complete with SQ5 logos, albeit with a display that suits a typical diesel rev range with a red zone beginning at 4,600rpm. It's very clear, easy to read at a glance and, with red accents, great looking. The basic combination of a main dial and surrounding buttons is equally simple, but the colour interface is much more complex and while the display itself is sharp and clear, the menu systems are needlessly fussy.
Comfort

The front seats are relatively large but also unobtrusive in terms of bolstering, so they are easy to get along with. As per the German trend they are firm, though, so do not provide as much outright comfort as some might like. Occupant comfort is further compromised by the large wheels, which although not affecting the ride quality as badly as in some other similar cars in the recent past, still sometimes transfer too many vibrations.
Car security

A Thatcham category one alarm and immobiliser combination is standard, and there are a host of hidden pieces of technology that are designed to stop criminals taking the car or anything from it. Thatcham itself has tested the Q5 and awarded it five stars out of five for preventing theft of the car, while four stars are awarded for theft from the car; a notoriously difficult category to achieve full marks in thanks to breakable glass windows.
Car safety

Many features in this department are new standard fit on many cars, and the SQ5 includes daytime running lights, a first aid kit, an off switch for the front passenger seat in case a child seat is installed, a plethora of airbags, many electronic stability controls and more. Among the rarer of the car's equipment is a 'break recommendation system', where the car analyses the driver's control inputs and recommends a break when it thinks its human pilot might need one.
Driver appeal

It feels heavy, particularly through corners, but it manages to stay composed for the vast majority of the time. Cruising is not always a pleasure thanks to large wheels that can cause noise and excessive impact transfer into the cabin, but on balance the suspension does a good job of keeping the car stable and collected. The sheer straight-line torque will have huge appeal to the target buyers, and the interior contact points are ideally finished to provide a sense of satisfaction.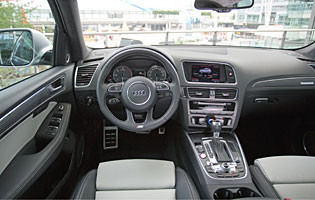 Large areas of leather and the overall effect is luxurious
Family car appeal

While this would be a particularly upmarket family car, plenty of buyers are in a position to take advantage of that. Benefitting from a tall driving position, wide door apertures, child seat mounts and a boot big enough for collapsible pushchairs or small bicycles, there is a lot in the SQ5's favour. However, the expensive and vulnerable interior materials, large exterior dimensions and, potentially, its price, are all off-putting factors families should consider.
First car appeal

While the SQ5 has a distinct look and a broad spread of talents, it would be very inappropriate for a new driver for several very important reasons. Firstly, its size and weight are considerably beyond the threshold for what is safe in the hands of an inexperienced driver. Secondly, its performance potential would easily run away with those without the learned discipline to control it. Thirdly, bundled into one reason are all the financial elements. A typical first-time car buyer simply couldn't afford the SQ5.
Quality and image

Despite Audi rarely figuring among the most reliable brands in the world, lagging behind the Japanese by some margin in that respect, its real appeal is in the quality of its materials and the way its cars feel. That reputation has stood the company in very good stead over recent years, where its image has remained enviable. The physical quality in the SQ5 is first-rate, with the soft and rich interior leather, precisely cut alloy wheels and precise use of shiny silver accents among the highlights.
Accessibility

Under normal circumstances the SQ5's tall stance and wide-opening doors making it easy to hop in and out without putting too much stress on your knees. The rear doors are only slightly shorter than the fronts and the sloping roof line only impedes upon taller rear passengers' ingress and egress. The boot will seem like standard fare for previous SUV owners, but those coming from lower cars should be aware that the boot floor is high, and can make lifting heavy loads in and out more difficult.
Stereo and ICE (In car entertainment)
A large colour screen is standard on the car and, in conjunction with Audi's MMI interface allows very easy navigation through the stereo system's options, sources, stored tracks and more. Upgraded, more powerful but optional stereo hardware is available as well. The only criticism that could be levelled at the clear and modern menu system is that it can get very complex, and arguably there are too many options and user-controllable settings. It can be easy to make a mess of things.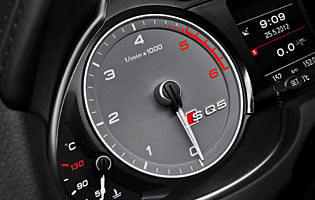 Typical S-branded instruments altered for diesel SQ5
Colours and trim
At the time of writing colours had not been confirmed, but are almost certain to include various shades and finish types of black, silver, white and blue. Other hues are unlikely, given the SQ5's size and Audi's preference for restrained, residual value-enhancing colours. The interior is much more impressive, with sumptuous leather, a well laid out dashboard and an overall feeling of extreme solidity. The seats and instruments feature SQ5 branding to enhance the feeling of driving something special.
Parking
Naturally, with slightly restricted rear visibility and not insignificant width, the SQ5 would not be easy to park without electronic aids. A rear-view camera provides welcome help in most reversing manoeuvres, but drivers have to remember that with large, extremely expensive wheels and low-profile tyres, the car is very vulnerable to kerb damage. Additionally, although the Q5 platform is technically mid-sized, on tighter car parks it presents a challenge to find a space where the doors can open wide enough for comfort.
Spare wheel
Emergency tyre repair kit supplied as standard.
Range information
Petrol engine options - 2.0-litre (222bhp); 3.0-litre (268bhp). Diesel engine options - 2.0-litre (175bhp); 3.0-litre (242bhp); 3.0-litre BiTurbo (309bhp). Transmission options: six-speed manual, tiptronic (petrol only) or S tronic (diesel only) standard depending on model. Trim levels: SE, S Line, S Line Plus, SQ5.
Alternative cars
Range Rover Sport Claims to focus on driving dynamics like the SQ5, but considerably slower
Mercedes-Benz M-Class Larger and not as sporting as the SQ5, but more subtle and less aggressively styled
Volkswagen Touran Based on the Q5 chassis, a top-spec petrol model is available for much less money
BMW X3 Fast, good to drive and cheaper than the SQ5, but not as luxurious inside
Over 1,200 more car reviews online
All the reports since 1990 are available on this site, just search by make and model below.
Other products & services
Related information
September 2012