Chevrolet Cruze Station Wagon 1.7 CRDi LTZ
July 2012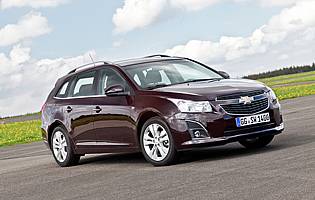 From front on the Station Wagon is hard to spot from its Cruze siblings
Ratings
Overall rating
Value for money
Costs
Space and practicality
Controls and display
Comfort
Car security
Car safety
Likes
Additional bodywork sits comfortably with existing design
Unquestionable boost in practicality is welcome
Slick and appealing overall driving experience
Excellent value for money
Gripes
Suffers from a low profile compared to more obvious rivals
Impressive 1.4-litre turbocharged petrol not coming to UK
Badge may be an issue for some buyers
Air-con control easy to knock with driver's knee
A diverse model range is crucial to success in the volume car market so it comes as no surprise that Chevrolet has introduced the third bodystyle in the compact Cruze range. Following the saloon and hatchback models comes the Station Wagon, more likely to be referred to as an estate by buyers in the UK.
While the saloon and hatchback versions of the Cruze will be the most popular, the Station Wagon has an important role to play and will open up the brand to a wider range of customers. Even with the number of SUVs and crossovers available in the marketplace, there is a strong contingent of buyers looking for a good value estate car that offers plenty of space and the Cruze certainly qualifies.
The Cruze Station Wagon is based on the existing saloon model and although it is a little longer overall thanks to the cargo area it still sits comfortably in the C-segment or compact class along with its siblings. The amount of cabin space on offer for passengers remains almost identical, but of course the boot space is considerably increased particularly with the rear seats folded.
Adding the estate-car rear to the Cruze's shape has not hurt its looks. Already a well-proportioned design and one which has a European feel to it, in Station Wagon form it has a little more presence to boot. With the right colour and wheel combination it has character above its price tag.
Mechanically both Cruze bodystyles are the same, but there is very little need for change. With the class-standard front-wheel drive layout and a mix of petrol and diesel units, buyers of all tastes and budgets will find something to suit. The engine room is another area where Chevrolet benefits from its parentage, with the diesel in particular being particular powerful and efficient in the class.
Our verdict on the Chevrolet Cruze Station Wagon 1.7 CRDi LTZ
The Cruze Station Wagon doesn't pull any huge surprises but it fulfill all possible expectations: it drives just as well as its siblings, is well-equipped, comfortable and good-looking too. Most crucially it offers stacks of load space for a reasonable price, and a rational buyer will give it plenty of consideration over rival products that merely offer more exclusive badges.
Costs

Chevrolet products have proved to be durable, making this a significant plus point. The Cruze's engine line-up average in terms of fuel economy and emissions, so don't expect much in the way of significant savings.
Space and practicality

Without plenty of space the Cruze would be lost in this segment but it has more than enough to offer buyers. Cabin space remains broadly the same, with no quibbles overhead or legroom for passengers front and rear. Storage space is also good too, with a reasonably sized glovebox and a well-shaped arm rest box that also offers a 12v socket and USB connector. The boot space is properly shaped without any intrusions, and a handy under-floor section allows items to be stored out of sight.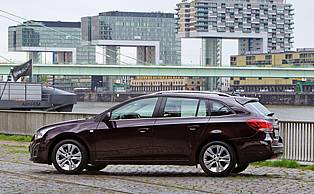 Estate-car rear is seamlessly integrated into the overall shape
Controls and display

Budget cars are often fitted with cheap and nasty controls, which undermine any honourable cost saving intentions. The Cruze has not been so afflicted; everything works in a well-oiled fashion and feels like the quality items they should be. The car's various displays are also impressive, having a high-quality look to them.
Comfort

While no limousine, the Cruze's cabin offers a decent amount of room for five adults. Wind, road and engine noise never proves to be an issue, and the seats offer a good balance of support and comfort. The cabin is also wide enough to avoid the driver clashing elbows with the front seat passenger.
Car security

Along with the standard issue remote central locking and engine immobiliser, the Cruze is little different to most rivals in this respect, although it does benefit from being less well known in its own right and perhaps therefore less of a target.
Car safety

Despite the car's low cost positioning, you do get the full compliment of twin front and side airbag right across the range. Electronic stability control is another standard feature, which will no doubt be welcomed by all who find it hard to believe that some makers still charge for it. The top spec car also gains cruise control to make long motorway journeys more relaxing.
Driver appeal

Built on a proven General Motors platform, critics will find the Cruze a pleasant surprise on the road. Dynamically a match for some European rivals, the car's ride feels sophisticated and doesn't fall apart when dealing with poorly surfaced urban roads. Accurate steering plus good brakes are very reassuring too. Engine-wise the pick is the 1.7-litre diesel which has sufficient torque to sail along, sadly the impressive 1.4-litre turbocharged petrol engine available in other markets will not reach the UK.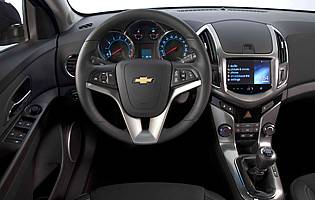 Cabin offers good space and impressive equipment levels
Family car appeal

Despite being a compact car the Cruze is ideally suited to family life. Getting a car seat into the rear should present no particular challenge, and the boot is wide enough to swallow large buggies with complete ease. Leather seats would be tougher than the cloth versions to cope with sticky fingers, but either way it would be up to the job of handling little ones.
First car appeal

There's no reason while the Cruze cannot be driven by a novice driver. It's not a complicated or overly powerful car and therefore is unlikely to be a challenge to drive.
Quality and image

Many European buyers will have little association with the Chevrolet brand outside of the Corvette. Although originally an American brand under the General Motors umbrella, Chevrolet is pitched as an affordable line-up for the rest of the world. The Cruze is a clean sheet design that aims to reverse any negative opinions of the brand.
Accessibility

All occupants are well catered for in the Cruze. The seating position is high enough so you never have to drop down into the seat. Despite being a relatively compact car, rear seat access is fine too. The door opens to an acceptable angle and you won't struggle to exit from any of the seats. The tailgate has a sensible handle that is easy to find and opens easily, with a low loading lip.
Stereo and ICE (In car entertainment)
Depending on specification the Cruze can be ordered with good quality audio and sat-nav unit that offers the usual breadth of MP3 and USB interfaces and a good-sized colour screen also. One demerit is that the control system can be a little confusing, with both a rotary knob and push buttons to alter and make selections on screen.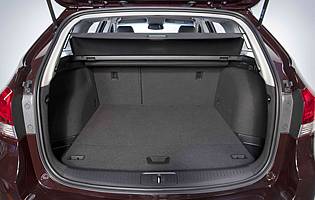 Boot is well-sized and shaped, easy to access and with hidden compartment
Colours and trim
The Cruze's shape has some interesting features within it, but a sober colour can make these effectively disappear so it comes down to buyer preference. It manages to look successfully smart even on smaller wheels however, while on the inside the standard cloth trim and grey plastics are perfectly acceptable the higher-specification leather and piano black is most welcome.
Parking
Even with the extra length the Cruze remains a breeze to park. The power steering is very light at low speeds and the tyres have a generous sidewall that minimises any potential kerb damage. Mid-range models get rear parking sensors as standard while high-spec versions add a reversing camera for extra convenience.
Spare wheel
Space saver fitted as standard.
Range information
Petrol engine options - 1.6-litre (113bhp); 1.8-litre (141bhp). Diesel engine options - 2.0-litre (158bhp). Transmission options: five-speed manual gearbox, six-speed auto gearbox (petrol only). Trim levels: S, LS, LT.
Alternative cars
Peugeot 308 SW Spacious and reasonable value, mixed driving experience
Renault Megane Sport Tourer Impressively efficient diesels and better quality, plain design
Vauxhall Astra Estate Mainstream rival very good in most areas
Ford Focus Estate Great to look at and to drive but expensive in this company
Over 1,200 more car reviews online
All the reports since 1990 are available on this site, just search by make and model below.
Other products & services
Related information
July 2012