Toyota Avensis 2.0 D-4D Tourer
April 2012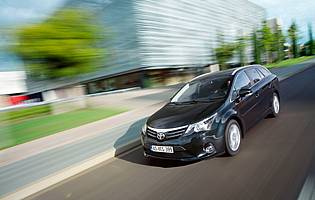 The Avensis Tourer has very balanced proportions and looks great
Ratings
Overall rating
Value for money
Costs
Space and practicality
Controls and display
Comfort
Car security
Car safety
Likes
Quiet cruiser at motorway speeds
Well-shaped boot offers lots of space for lugagge
Excellent seats offer ample cruising comfort
Impressive list of standard equipment
Gripes
Engine lacks power to match its more sporty rivals
Driving dynamics a little numb
Ride suffers over large surface imperfections
Touch-screen sat-nav requires a steady hand to operate when on the move
The Avensis saw one significant change and several minor ones for 2012. The styling was sharpened up and the chassis was strengthened to try to improve the driving dynamics, but the chief difference is a much more efficient diesel engine that will appeal to business users and families alike. The latter might be more likely to buy the Tourer estate version.
Key to the revised Avensis is an improved version of the 2.0-litre D-4D diesel engine, which in previous generations has taken up about two thirds of the model's overall sales. Company cars make up a big proportion of the Avensis' sales, but private buyers will also feel the benefits of a road tax charge that has fallen considerably alongside improved fuel economy.
A smaller, more efficient turbocharger combines with faster warm-up from cold starts, more effective lubrication and several other minor alterations to make the Avensis a much more efficient package overall and it's quieter than before. The engine is less powerful than some other mid-range diesels, as shown by its performance figures, but this fits with the car's understated character.
The car's seats are well suited to long-distance cruising. They are long under the thigh and carefully shaped at the back, with just the right firmness of padding. They are generously sized and the vast majority of people will never feel cramped. Rear seat comfort is impressive too, with ample legroom and shoulder room. It isn't wide enough to allow three adults to sit comfortably in the back, but two should be more than happy.
Despite claims of many improvements to the chassis and driving dynamics, this Avensis remains a conservative driving experience. Where this car really shines is in the standard equipment that it offers. A huge list of impressive luxury kit is standard even on mid-range models, including touch-screen satellite navigation, adding an increased sense of value for buyers.
Our verdict on the Toyota Avensis 2.0 D-4D Tourer
While this generation of Avensis Tourer has witnessed a relatively minor evolution from the last, the financial implications of the modifications are larger. Combined with slightly improved and very pleasant interior quality, a quiet cruising ability and a thoroughly impressive equipment list, it's often quite easy to overlook the lacklustre engine and uninspiring drive. If performance is not so important as practicality and refinement, it represents first-rate value for money.
Costs

Lower running costs come courtesy of the new diesel engine and make it excellent value to own. As an engine tuned specifically for economy it responds best to gentle pedal inputs, and if used with all due restraint it will return respectable mpg figures. Driving more quickly requires a disproportionate amount of extra effort from the engine, which spoils the economy. Residual values should be good, especially for cars equipped with the new engine.
Space and practicality

The Avensis estate isn't as wide as rivals like the Ford Mondeo and Vauxhall's Insignia, but there is still an impressive amount of interior space for passengers and luggage. A family of four would find it more than big enough for their needs. An average weekly shop might even need some form of netting or dividers to keep goods from falling over and rolling around the boot.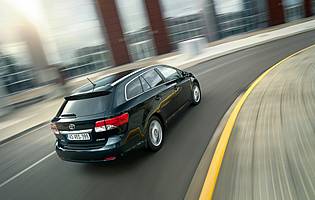 A high roof line all the way to the rear boosts passenger headroom
Controls and display

The main instrument cluster will divide opinion; some would say dated and boring, and others would say pleasantly uncomplicated and, in the case of the dials, easy to read. The central digital screen can't always be read easily at a glance, but both the speedometer and rev counter are clear. The large satellite navigation screen is clear, bright and intuitive to use. It also allows access to media and central control functions.
Comfort

Excellent seats underpin the car's generally comfortable ride. They are large, supportive and relaxing, and provide a very good driving position. The position is even and balanced, which helps to avoid over-stressing key muscles in a driver's back or legs. A large amount of standard kit also helps to enhance the sense of luxurious comfort, although the estate generates more road noise because of the larger, more open and boxier dimensions at the rear.
Car security

Just like the saloon version the Avensis estate has a Thatcham category one approved alarm and immobiliser system as standard, as well as deadlocking. High-end models have keyless entry, as does the mid-range TR when fitted with the 2.2-litre diesel engine. Remote central locking is standard on all models, and for models with alloy wheels there are locking wheel nuts.
Car safety

As might be expected for a modern car of its size, the Avensis estate scores very highly for safety thanks in part to its impressive airbag count. Optional advanced safety gear includes Pre-Crash Safety, which will brake the car automatically and activate the seatbelt pre-tensioners if a collision looks inevitable.
Driver appeal

Some would argue that estate cars are almost never meant to prioritise driving pleasure, and the Avensis has always struggled to create any driver appeal other than in being smooth, reliable and solidly built. It still offers the same pleasure, but even more so because it's quieter. In terms of driving enjoyment, though, neither the modestly powerful engine line-up, chassis nor the steering offer sufficient feedback to satisfy keen drivers. It's best enjoyed as a motorway cruiser.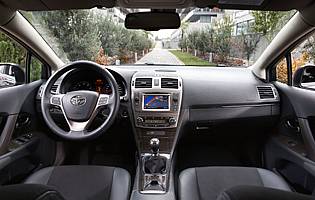 Toyota has chosen more tactile materials for this version
Family car appeal

While the saloon version is aimed at the company car market, the estate would make an accomplished family car where space, practicality, reliability and affordability generally take priority over other factors. Thanks to the quantity of standard equipment the car feels more premium than its price, especially in a mid-range trim level, and it provides all the 'must-have' qualities that make a great family car.
First car appeal

As a Japanese diesel estate this is a car to perform a set function for a set sort of person, and the talents it has don't match the wishes of a first-time car buyer. There are always exceptions to the rule, but the Avensis isn't small enough, cheap enough or desirable enough to fit the bill as a first car. For some older people who pass their driving tests in later life, it might be a more attractive option.
Quality and image

Toyota's image has taken knocks in recent years, but has recovered much of the reputation for reliability that it had previously. Because of that the brand attracts buyers who prioritise fuss-free dependability above all else. This generation of Avensis has higher quality interior plastics than the preceding model, and it shows in a solid, tactile and premium-feeling environment.
Accessibility

Four quite short doors combine with a relatively flat roofline and lots of interior space to make the Avensis estate very easy to get in and out of, whether it's the front or the back. The boot is capacious and well shaped, with the high roof offering plenty of potential for stacking or piling items if needs be. There's no load lip so sliding heavy items up to or back from the edge of the boot is easier.
Stereo and ICE (In car entertainment)
As standard the stereo on mid-range models works via the touch-operated satellite navigation screen and can be awkward to use while on the move. At a standstill however, the touch-operated screen's functionality is up with the best thanks to clear diagrams and instructions. A full range of tonal adjustments is available to give the user as much freedom as possible. Upgraded 11-speaker systems are available and fitted to T4 and T-Spirit models as standard.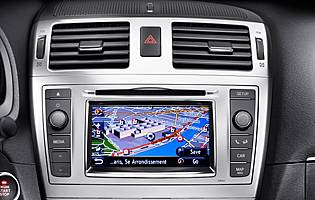 A touch-screen sat-nav is standard on mid-range models upwards
Colours and trim
Aside from a sophisticated red, the majority of the Avensis' colours are very similar. It's a modest choice with little real variation, which will suit buyers aiming to keep their car as low-key as possible but those whose car is their pride and joy will struggle to find something special enough. The interior trim is pleasingly high quality for the price of the car, and provides a welcoming environment in the light and dark colour options.
Parking
Although the estate can feel like a lot more car to have to park, part of the car's standard equipment list on all but the most basic model is a reversing camera that helps the driver guide the car into a space. Visibility is good all around the car, but the precise visual guide that the camera provides is more than welcome. Its doors are relatively short which means passengers may need to tuck their legs in a little to get out, but the doors open wider in tight spaces.
Spare wheel
Space saver spare wheel supplied as standard.
Range information
Petrol engine options - 1.8-litre (145bhp). Diesel options - 2.0-litre (124bhp); 2.2-litre (148bhp). Transmission options: six-speed manual, six-speed automatic, six-speed continuously variable automatic.
Alternative cars
Hyundai i40 A very good car for a very good price with a very good diesel engine
Volkswagen Passat The class leader for image, but more expensive and less well equipped
Ford Mondeo Great to drive and a stable cruiser, but expensive for a good specification
Vauxhall Insignia Looks great and has good engines, but rides poorly on large wheels
Over 1,200 more car reviews online
All the reports since 1990 are available on this site, just search by make and model below.
Other products & services
Related information
April 2012