Audi A4 3.0 TDI Allroad
April 2012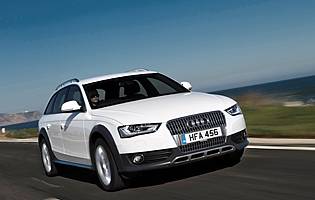 A revised, sharper and prettier front end keeps the Allroad looking fresh
Ratings
Overall rating
Value for money
Costs
Space and practicality
Controls and display
Comfort
Car security
Car safety
Likes
Slightly angular, pretty styling looks classy and will age well
Four-wheel-drive system and extra ground clearance enhance off-road ability
Large-capacity diesel engine provides impressive performance
Lots of interior space for passengers and luggage
Gripes
Relatively long, narrow footprint and tall stance detract from agility
Higher ride height makes loading and unloading heavy luggage harder
Large wheels can spoil the ride and attract damage off-road
Estate-type boot is technically very little bigger than the saloon's
With a raised stance and some degree of under-body protection, the A4 Allroad has been a popular way to combine executive luxury with a genuine ability to better cope with rough treatment on difficult terrain, like driving up rutted forest tracks or for towing caravans across uneven fields. This version continues the theme, but with updated styling.
Audi's compact executive cars like the A4 have been sales winners for the firm for 40 years. The 2012 model is not all-new, being instead a restyled version of the previous car with new engine technology. The Allroad offers a more rugged look than the normal A4, but shares much improved fuel economy and CO2 emissions to reduce ownership costs.
The Allroad's styling has been sharpened, replacing the blocky shapes of the old model with a sleeker, prettier nose. The silhouette is still much the same, though. New engines offer a better mix of fuel efficiency and performance, with a good choice of petrol and diesel options. The 3.0-litre diesel is popular in the Allroad and boasts a lot of torque low in its rev range.
The Allroad is based only on the estate version of the A4, which means it's blessed with more balanced proportions than the saloon as well as a slightly bigger and much more practical boot. The extra ride height does affect practicality in terms of loading and unloading luggage, but it's worth the compromise for customers who regularly drive off-road.
Trim levels and designations have continued largely unchanged from the previous model, and will be familiar to anyone upgrading or replacing their old Allroad. Many diesel A4s are initially used as company cars, but the Allroad tends to be bought more often for social and domestic use, which can mean they have covered fewer miles and retain more value.
Our verdict on the Audi A4 3.0 TDI Allroad
While the bulk of the Allroad's make-up is tried and tested, the many improvements having been made to the efficiency and running costs have improved it. It's a known quantity, but better in quantifiable ways. It cruises quietly, has economical engines and feels very well made. It will continue to serve the same niche that it has done for years and is likely to remain a popular choice.
Costs

The generation of TDIe diesel engines in this A4 marks a large leap forwards in efficiency and running costs when compared to the last one. Relative to their power outputs the running costs of these engines are among the lowest in the class. Benefit in kind charges are low, and with careful driving high fuel economy can be achieved - although it suffers heavily with aggressive use. The notable improvements in these areas are certain to keep residual values high.
Space and practicality

While the Avant body style that the Allroad shares only has 10 litres greater load capacity than the saloon, the real practicality advantage is in the high roof line all the way to the tailgate, which allows much larger objects to be stowed. With the 60/40 split rear bench seats folded down, large household items like washing machines slot in with room to spare. Cabin storage space is ample rather than exceptional, but it will be fine for most people's needs.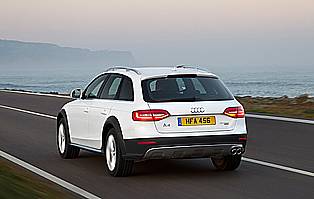 A higher stance compared to the standard A4 is more evident from the rear
Controls and display

The main instrument cluster is standard Audi equipment. It's clear and easy to read, with two black main dials imprinted with large, white and red markings. A digital screen between them offers trip computer information and satellite navigation instructions if the system is installed. While the displays themselves are very clear, the controls to operate the trip computer's functions are not quite so obvious until their positions and precise purposes have been learned by practice.
Comfort

Although the Allroad sits higher than its more road-biased A4 siblings, its seats are a little firm. Some people like the extra support and others prefer something softer, but the cabin is at least impressively quiet. Those in the rear seats have a general impression of greater road noise, an effect that is not helped by the cavernous Avant body style. There is plenty of legroom for all occupants, and four adults would be very comfortable.
Car security

As the security systems are the same as those in other A4 models, the standard alarm and immobiliser are Thatcham category one approved. Long, potentially valuable objects like skis can be kept inside the car more easily with an optional 'through load facility.' There is also an optional load area fixing kit, which provides rails, a telescopic bar and a robust strap for dividing the boot into sections and keeping objects secure. Privacy glass from the rear windows backwards is an option that will help keep luggage hidden.
Car safety

Front and front side airbags are standard on the single trim level, featuring a clever adaptive system that analyses the impact and the height of the seat to calculate the force with which to inflate the airbag. Rear side airbags are an optional extra. The seats are built and placed to minimise the risk of whiplash in a rear-end collision. ESP brakes individual wheels different amounts according to the manoeuvre being attempted, and also automatically dries the brake discs in wet conditions, improving braking performance.
Driver appeal

The chief advantage that the Allroad body style offers over normal A4 saloons and Avants is a higher driving position. The 3.0-litre diesel engine is a pleasure to use as well. All users will appreciate its refined drive even at motorway speeds thanks to tall gearing and quiet, exceptionally smooth engines, but its footprint, which is relatively narrow for its length, means that it doesn't turn into corners particularly eagerly and it can feel a little cumbersome on winding roads.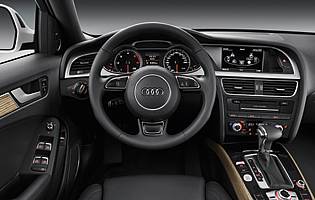 The interior layout and material quality are very classy
Family car appeal

The high driving position, generally practical boot, quiet drive, spacious interior and solid build of the Allroad are likely to be very appealing factors to family men and women. It's easy, practical and relatively relaxing to use day-to-day and it will readily swallow luggage at need. However, despite the rugged exterior the interior may still be vulnerable to food and drink spills during family taxi duties.
First car appeal

This is a car that would be great to buy and keep for a number of years, but the reality is that it's too expensive for the vast majority of first-time car buyers. It also lacks qualities associated with adventure, youth and excitement that are commonly designed into cars aimed at first-time buyers. It's also relatively expensive to insure, and inexperienced drivers are again likely to find the cost prohibitive.
Quality and image

This is a key reason why the Allroad is so successful. The build quality is high and it feels a cut above many other mildly off-road capable options. Audi is currently still synonymous with quality, although reliability surveys show that the brand's cars aren't as dependable as some rivals. This generation of A4 uses materials that, although high quality, feel lighter and less substantial than in previous models.
Accessibility

Although family buyers are a big consideration for Audi here, the rear door apertures are smaller than the fronts. As such, the front seat occupants will find it easier to enter and exit than the rear-seat passengers in general use, and rear passengers will have to tuck their feet in a little getting in and out. However, the shorter rear doors offer easier access for people in the back when in tighter car park spaces.
Stereo and ICE (In car entertainment)
The audio unit in the Allroad lacks any particular noteworthy features other than a moderately powerful 10-speaker arrangement, but is easy to understand and use even for first-time users. Audi's MMI media interface can be ordered in conjunction with satellite navigation, which initially makes the system less intuitive to use, but once the layout is learned it's a neater system that's quick to work through.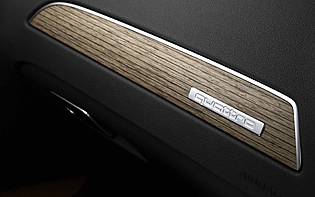 Genuine wood trim is available in several different finishes
Colours and trim
The Allroad is based on the Avant; the best-proportioned of all the A4 body styles, and sits well on the road with a generally purposeful air. The single trim level means there is little variation in trim from car to car, but its fit and finish is of a high standard. The revised front end improves the car's overall prettiness and makes it more stylish than the last model.
Parking
As standard the Allroad comes with rear parking sensors. It's an effective system aided by generally good visibility all around in this estate model. It's not an especially wide car so finding a space to fit is not too difficult, but a little space must be left behind and above the tailgate to allow it to open fully. Front parking sensors and visual parking aids can be added via the optional extras list.
Spare wheel
Collapsible' spare wheel supplied as standard (larger than space-saver, smaller than full size).
Range information
Petrol engine options - 2.0-litre (208bhp). Diesel engine options - 2.0-litre (175bhp); 3.0-litre (242bhp). Transmission options: six-speed manual or S Tronic automatic gearbox depending on model. Trim levels: Allroad only.
Alternative cars
BMW X3 Although shorter than the Allroad, the X3 is taller and drives well
Mercedes C-Class No off-road option but high build quality and engines are persuasive
Lexus IS Limited choice of derivatives, but exceptional reliability and quality
Volvo XC60 A pretty, luxurious and comfortable option with good engines
Over 1,200 more car reviews online
All the reports since 1990 are available on this site, just search by make and model below.
Other products & services
Related information
April 2012