Vauxhall Ampera Electron
April 2012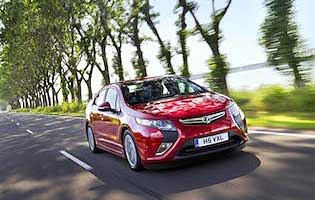 Bold looks help Ampera stand out from the crowd
Ratings
Overall rating
Value for money
Costs
Space and practicality
Controls and display
Comfort
Car security
Car safety
Likes
Exterior look is very futuristic
Hi-tech running gear delivers an impressive eco-centric performance
Refined ride one of the Ampera's plus points
Wallet and tax-friendly low emissions performance
Gripes
High purchase price makes it suitably only really for business users
Cabin quality could be better at this price point
Touch pad-like controls on fascia can prove awkward to use
Petrol engine refinement could be better
A significant release from Vauxhall, the Ampera blends the qualities of a pure electric car with the advantages of a range extender to eliminate worries over exhausting the battery.
With the need to deliver cars emitting fewer pollutants and returning ever-higher fuel economy figures, car makers have had to become more creative as they reach the limits of the humble internal combustion engine. Vauxhall's Ampera boasts a battery pack and electric motor, plus a small capacity petrol engine acting as generator.
Such a futuristic powertrain demands an equally space-age look and the Ampera doesn't disappoint. The four-door bodystyle might be aimed more at the American market - the near-identical sister Chevrolet Volt is the real reason for this layout - but for business users the compact saloon format should appeal.
The main draw with the Ampera is its ability to run on electric power alone for around 30-odd miles, which should prove sufficient for the majority of work-based journeys. Recharging is a simple process that can be done at home or at a suitable public facility, with the onboard petrol engine reserved as a failback to counter failing electric range or to boost performance.
Crucially this all happens without any intervention from the driver. You can, however, monitor the car's behaviour via the rather colourful central display screen. There are options to tweak the car's performance, such as boosting the built-in brake-battery regeneration effect and switch the bias between economy and performance.
Our verdict on the Vauxhall Ampera Electron
Looks aside, Vauxhall's Ampera is a striking car for a variety of reasons. That it packs a significant amount of technology is impressive in its own right. However, in use the various systems work well together and deliver a compelling case for an alternative to the conventional petrol or diesel saloon. In this context the few cabin quality issues are merely niggles, although its price point means it's largely the preserve of business users.
Costs

Although the Ampera's asking price is considerable, if you're a business user you can offset some of this through tax and the promise of long-term low running costs. If your commute is short enough, you may not trigger the petrol engine, which could mean a minimal fuel outlay if you choose to recharge the car on a regular basis.
Space and practicality

The basic four-seat layout maybe a nod to the car's American origins - it's the near-identical model to Chevrolet's Volt - but it should prove practical even by European standards. There's a modest amount of cabin oddment storage options and the boot is a good size, despite the need to negotiate a load lip.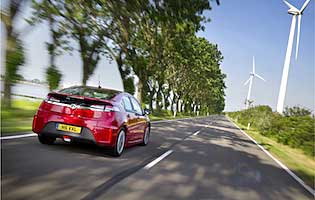 Real world economy performance is impressive
Controls and display

With a mix of conventional switchgear and futuristic touch sensitive minor controls, it's hardly surprisingly that the Ampera's approach is a little different. The main colour display offers a wealth of information: navigation, phone, audio and, importantly, eco performance. This works better than the touch sensitive minor controls, which can prove fiddly, while the main driver's display is clear and easy to read at a glance.
Comfort

With most of the Ampera's weight low down in the chassis, ride comfort is surprisingly good. The seats prove supportive enough at modest speeds and there's no shortage of cabin space for front seat occupants. And despite the car's streamlined profile there's a reasonable amount of room for those in the back, too.
Car security

With an alarm and immobiliser as standard, the important bases are covered. However, the car's parcel shelf cover isn't the most robust on the market, and you'd be advised not to keep valuables in sight of prying eyes - especially as the Ampera is such a visually distinctive car.
Car safety

For the initiated, any concerns over battery safety are unfounded as the Ampera's construction ensures solid protection for the battery pack and associated hardware. Everything else about the car is more conventional, with plenty of airbags and electronic stability aids to keep you safe.
Driver appeal

For all the car's advanced technology the driving experience is relatively straightforward. Treat it like and auto - there's a simple transmission and obviously no clutch pedal - and you can drive it without having to overthink the process. The Ampera isn't particularly quick or agile but it's quiet until the petrol engine kicks in, and in electric mode it feels brisk and responsive.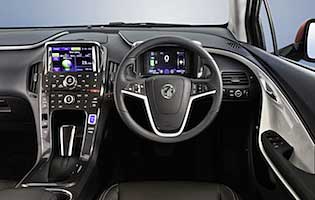 Brave cabin design blends conventional with hi-tech themes
Family car appeal

The Ampera wouldn't be the first choice as a family car but, despite its default four-seat layout if could be made to work. Boot space is reasonable and the cabin is accommodating, but you'd likely be better off with a conventional hatch or dedicated people carrier.
First car appeal

There's no reason why you couldn't pick the Ampera as a first car, as it's certainly easy to drive and isn't fast enough to cause an issue. The modest rearward visibility might initially prove a stumbling block but it's nothing a few hours behind the wheel won't solve.
Quality and image

Despite making considerable gains in terms of cabin and exterior quality with the rest of its range, the Ampera lags behind due to widespread use of dark, hard plastics and average quality upholstery. In its favour, however, is the car's potential on the road, as it has something of a pioneer in terms of hybrid technology.
Accessibility

In four-door guise the Ampera is an easy car to get in and out of. Despite its streamlined profile, rear seat occupants shouldn't experience much hardship accessing the cabin. At the back the car's boot is easy to open but you will have to contend with a high load lip.
Stereo and ICE (In car entertainment)
The central colour display is the conduit to the car's infotainment and eco performance information. Despite the slightly garish colour scheme, the information is well laid out. The touch sensitive supplementary controls demand more patience, however, and can be tricky to operate when on the move.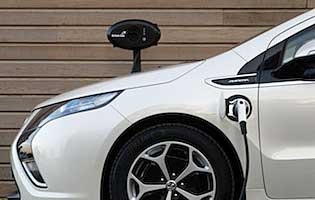 Ampera boasts easy to use charging hardware
Colours and trim
The Ampera's unusual look lends itself well to bright colours such as white as, in contrast, black does the car few favours. The car's cabin isn't as exciting though, as dark, low quality materials dominate alongside a space-age central display and touch sensitive minor controls.
Parking
While the view forwards is good, the car's high boot line does restrict your rearward vision slightly. That said, with help from the parking aids and the considerable assistance from the power steering, the steep learning curve is soon overcome.
Spare wheel
Emergency tyre repair kit fitted as standard.
Range information
Petrol engine options - 1.4-litre with electric motor (148bhp). Transmission options: CVT automatic. Trim levels: Positiv, Electron.
Alternative cars
Nissan Leaf Credible and well-developed pure electric rival is competent option
Volvo V60 Plug-in Hybrid Diesel electric V60 is a polished performer but not cheap
BMW ActiveHybrid 3 Refined and economical on paper but a considerable financial investment
Toyota Prius Plug-In Hybrid powertrain and plug in charge option adds new dimension to popular Prius
Over 1,200 more car reviews online
All the reports since 1990 are available on this site, just search by make and model below.
Other products & services
Related information
April 2012