Audi A4 2.0 TDI Avant
January 2012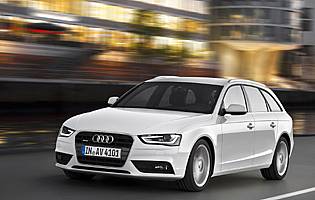 This A4 retains a familiar shape but with new front end styling
Ratings
Overall rating
Value for money
Costs
Space and practicality
Controls and display
Comfort
Car security
Car safety
Likes
Slightly angular, pretty styling looks classy and should age well
Impressively quiet and stable cruising ability at motorway speeds
Lots of interior space for passengers and luggage
Impressive list of options allows each A4 to be tailored
Gripes
Relatively long and narrow wheelbase detracts from agility
Mid-range diesel engine needs working hard to make brisk progress
Large wheels can cause the ride to suffer
Estate-type boot isn't much bigger than the saloon's
The A4 is Audi's best seller, appealing to families and business users alike with a blend of prestige image, spacious interior and good driving manners. Many are bought as company cars and spend the first few years of their lives covering long distances, but the A4 has always been equally adept at carrying families and their associated luggage.
Audi's compact executive cars have been sales winners for the firm for 40 years. The 2012 model is not all-new, being instead a restyled version of the previous car, with new engine technology as well. It's targeted at the business user market and features much improved fuel economy and CO2 emissions to reduce ownership costs.
The styling has been sharpened, replacing the blocky shapes of the old model with a sleeker, prettier nose. The silhouette is still much the same, though. New engines offer a better mix of fuel efficiency and performance, with a good choice of petrol and diesel options. The diesels in particular have been worked on to make them smoother and quieter.
The Avant is the estate version of the A4, and is blessed with arguably more balanced proportions than the saloon as well as a slightly bigger and more practical boot. It's aimed more at families than the saloon is, and although sales of both body styles are biased towards the Avant in continental Europe, the British buy more saloons.
Trim levels have continued largely unchanged from the previous model, and will be familiar to anyone upgrading or replacing their old A4. Many diesel A4 saloons are initially used as company cars, but the Avant tends to be bought privately for social and domestic use, which can mean they have covered fewer miles and retain more value.
Our verdict on the Audi A4 2.0 TDI Avant
The design of this A4 is tried and tested, and with many improvements having been made to efficiency and running costs. It's a known quantity, but better in ways that can't be doubted. It cruises quietly, boasts economical engines and feels well made. It faces stiff competition but represents a good option for people who prioritise refinement over sporting pretentions.
Costs

The generation of diesel engines in this A4 marks a large leap forwards in efficiency and running costs when compared to the previous one. Relative to their power outputs the running costs of these engines are among the lowest in the class. Benefit in kind charges are low, and with careful driving high fuel economy can be achieved. The notable improvements in these areas are certain to keep residual values high.
Space and practicality

Oddly, the Avant only has 10 litres greater load capacity than the saloon. The real practicality advantage is that in the Avant, with its high roof line all the way to the tailgate, allows much larger objects to be stowed. With the 60/40 split rear bench seat folded down, large household items like washing machines slot in with room to spare. Cabin storage space is ample rather than exceptional, but it will be fine for most people's needs.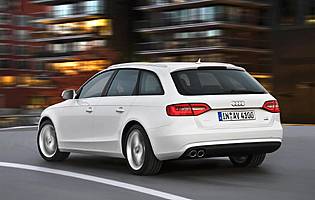 The Avant's estate boot allows much larger objects to be carried
Controls and display

The main instrument cluster is clear and easy to read, with two black main dials imprinted with large, white and red markings. A clear digital screen between them offers trip computer information and, on certain models, satellite navigation instructions. While the displays themselves are very clear, the controls to operate the trip computer's functions are not immediately so obvious, until their positions and precise purposes have been learned by practice.
Comfort

German cars universally tend to have firm seats and the A4 is no exception. Some people like the extra support and others prefer something softer, but the cabin is at least quiet. Those in the rear have a general impression of greater road noise, an effect not helped by the cavernous Avant body style. There is plenty of legroom for all occupants, and four adults would be very comfortable.
Car security

The standard alarm and immobiliser are Thatcham category one approved. Long, potentially valuable objects like skis can be kept inside the car more easily with an optional 'through load facility'. There is also an optional load area fixing kit, which provides rails, a telescopic bar and a robust strap for dividing the boot into sections and keeping objects secure. Privacy glass from the rear windows backwards is an option that will help keep luggage hidden.
Car safety

Only front and front side airbags are standard, featuring a clever adaptive system that analyses the impact and the height of the seat to calculate the force with which to inflate the airbag. Rear side airbags are an optional extra. The seats are constructed specifically to minimise the risk of whiplash in a rear-end collision. ESP brakes individual wheels different amounts according to the manoeuvre being attempted, and also automatically dries the brake discs in wet conditions, improving braking performance.
Driver appeal

The A4's main target market is business users, although they tend to opt for the saloon more than the Avant, which tends to be better suited to families. All users will appreciate its refined behaviour even at motorway speeds thanks to tall gearing and quiet, exceptionally smooth engines. But its footprint, which is relatively narrow for its length, means that it doesn't turn into corners particularly eagerly.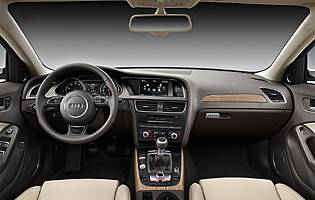 Although not as convincing as in the past, cabin quality is very high
Family car appeal

The large boot, quiet drive, spacious interior and solid build of the A4 Avant are likely to be appealing factors to families. It's easy, practical and relatively relaxing to use it day-to-day, and it will readily swallow a great deal of luggage at need. However, on high-spec models the expensive materials might be worse affected by damage caused by family taxi duties.
First car appeal

Although the A4 Avant is a safe, do-it-all car that would be great to buy and keep for a number of years, it's too expensive for the vast majority of first-time car buyers. It's also relatively expensive to insure, and inexperienced drivers are likely to find the cost prohibitive.
Quality and image

This is an area that has always been an Audi speciality. Audis are famous for having some of the finest interiors on the market, using top-grade materials and quality build processes. This generation of A4 uses materials that, although high in visual appeal, feel lighter and less substantial than in previous models.
Accessibility

The size of the doors differs from front to back, with the rear doors being significantly shorter than the fronts. As such, the front seat occupants will find it easier to enter and exit than the rear-seat passengers in general use, and rear passengers will have to tuck their feet in a little getting in and out. However, the shorter rear doors offer easier access for people in the back when in tighter car park spaces.
Stereo and ICE (In car entertainment)
The basic stereo in SE models lacks any particular noteworthy features, but is easy to understand even for first-time users. SE Technik trim adds Audi Music Interface, which uses a large colour screen to display album and track information from an MP3 player. The range-topping Black Edition trim level adds a Bang and Olufsen stereo with Audi Music Interface, a combination that is only slightly more complex to use but which offers greater sound quality.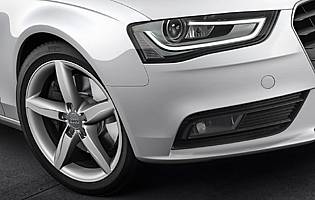 Daytime running lights given a more stylish shape
Colours and trim
The Avant is the best-proportioned of all the A4 body styles, and sits very well on the road especially in the higher trim levels that come with larger wheels and, in the case of certain models, lower suspension. It can look a little under-wheeled so larger, upgraded ones are required if looks are important. The revised front end improves the car's overall prettiness and makes it more stylish than the last model.
Parking
Even the base-model A4 Avant has rear parking sensors, while higher models have a more comprehensive system covering both ends of the car. It's an effective system aided by generally good visibility all around in this estate model. It's not an especially wide car so finding a space to fit is not too difficult, but adequate space must be left behind the tailgate to allow it to open fully.
Spare wheel
Space saver fitted to all except TDIe models.
Range information
Petrol engine options - 1.8-litre (118bhp, 168bhp); 2.0-litre (208bhp). Diesel engine options - 2.0-litre (134bhp, 141bhp, 161bhp, 175bhp); 3.0-litre (201bhp, 242bhp). Transmission options: six-speed manual, Multitronic automatic or S Tronic automatic gearbox depending on model. Trim levels: SE, SE Technik, S Line, Black Edition.
Alternative cars
BMW 3 Series The most dynamically capable option is an excellent all-rounder
Mercedes-Benz C-Class Very high build quality and excellent diesel engines are persuasive
Lexus IS Limited choice of derivatives, but exceptional reliability and quality. Sadly no estate variant
Volvo V60 A stylish and comfortable car with good engine options
Over 1,200 more car reviews online
All the reports since 1990 are available on this site, just search by make and model below.
Other products & services
Related information
January 2012