Renault Megane Renaultsport 265 Trophy
February 2012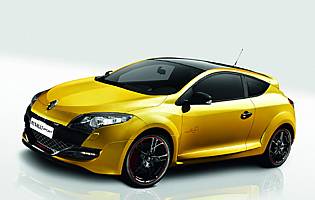 A low stance and sleek lines define the Megane's purpose
Ratings
Overall rating
Value for money
Costs
Space and practicality
Controls and display
Comfort
Car security
Car safety
Likes
Strong engine produces high performance and excitement
Impressive grip and balance from the chassis
Figure-hugging seats inspire confidence in corners
Excellent ride quality given the lowered, stiffer suspension
Gripes
Interior is relatively basic
The view rearwards could be better
A thirsty car when driven aggressively
Only 50 examples available
The Megane Renaultsport 265 Trophy is the most powerful road car ever to come out of the Renaultsport factory, produced to take the fight to the even more potent Ford Focus RS. With a series of modifications over the standard, and already excellent Megane Renaultsport 250, The 265 Trophy is designed to be as good as hot hatches get.
This Megane is an addition to the range alongside the regular models, positioned above them as a track-biased fast road car. It has a little more power and torque than the standard car, with a series of specification choices that are designed to get the most out of its admirable handling qualities. Key to those is a limited-slip differential.
The system maximises the available grip at the front wheels, and combined with the standard bucket seats and 'Cup' chassis, which is lower than the standard, more pliant version available on the Megane 250, it's clear that the Megane 265 Trophy is set up to be driven hard.
Only available in two-door form, just 50 examples of this special edition Megane have been imported to Britain, in one of the two colour choices. Just one option is available, which is a gloss black roof. It's the spiritual successor to the no-compromise Megane Renaultsport R26.R, and has broken that car's Nurburgring lap time record.
Its key rivals are cars like the Focus RS and the Volkswagen Scirocco R, but it aims to trump them by being the most involving and fun to drive, rather than aiming for the most power. It has won many awards for doing just that and handles twisting B-roads as well or better than any other two-wheel-drive car available.
Our verdict on the Renault Megane Renaultsport 265 Trophy
The Megane Renaultsport 265 Trophy is a purpose-built machine that fulfils its intended purpose well. It's focused but avoids compromises that would make it impractical to use every day. The driving experience is like no other machine in its class and serves as a fitting final fling for this generation of the car.
Costs

As a hot hatchback the 265 Trophy steers clear of any claims to be efficient, but for its level of performance it can be quite economical when driven gently. There are more economical fast hatchbacks out there but not by a considerable amount, and none offer the same driving thrills. Residual values for such a limited, capable and yet accessible car are likely to be high. Its emissions are quite respectable and place the car in an affordable road tax band.
Space and practicality

As it's based on the Megane coupe, rather than the five-door hatchback, its practicality is slightly reduced. Even so, open the tailgate and the boot is large, with good scope for stacking luggage if needs be. The rear seats can fold down to create extra space if needed. Rear seat passengers have to negotiate past the bulky front seats but do have adequate legroom once they settle in.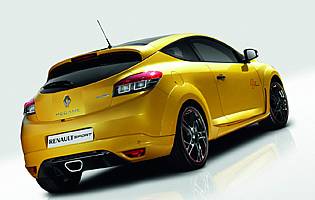 A large, central exhaust dominates the rear styling
Controls and display

There are relatively few functions to control in comparison to some contemporary cars, so a modest set of dials and buttons suffice. The instrument cluster is clear and large, with the highlight being the yellow rev counter on the left of the central speedometer. A small digital display towards the right of the cluster shows useful trip computer information, but it's more practical than prestigious.
Comfort

While this area was not a priority for the development team at Renaultsport, the Trophy 265 acquits itself well. Given its large alloy wheels, low-profile tyres and lowered, stiffened suspension it rides very well, with a high degree of body control at all times. It doesn't shudder, shake or twist, simply absorbing bumps with well-damped, perfectly-sprung suspension. It's firm, but surprisingly comfortable.
Car security

Tinted windows at the rear of the car can help keep prying eyes from seeing inside. As standard the Trophy comes with a keycard, which activates the keyless entry system. As well as an alarm and immobiliser, there is a deadlocking function to prevent the doors being opened even if a window is smashed.
Car safety

The standard electronic stability control is enhanced by traction and understeer control systems. There are airbags to the front, side and rear to offer as much protection as possible in a crash. The Trophy doesn't have the tyre pressure monitor that the standard 250 has.
Driver appeal

Even a short drive on the right kind of road shows this car for what it is, and that's the best handling car in its class. It's fast, agile, wonderfully communicative and more capable than the vast majority of drivers. It functions as more than the sum of its parts and will always entertain. Some drivers may wish it was a bit louder, though.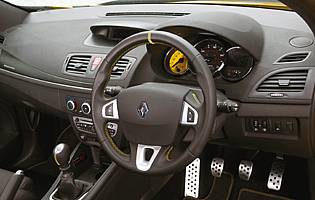 Yellow stitching and a matching rev counter are aggressive
Family car appeal

While the simple cabin is practical in that it would be difficult to knock or scratch anything overly valuable or integral to the car's functions, there are inevitable drawbacks, the first of which is the lack of rear doors. The boot opening is also an impractical shape for inserting and retrieving things like pushchairs. There are two Isofix child seat mounts in the rear, though.
First car appeal

This is an incredibly capable car that demands genuine skill to get the most from it, while offering more than enough performance to cause problems in the hands of inexperienced drivers. It's also very expensive by first car standards, and its relative impracticalities in terms of visibility and parking contribute to a car that would be unsuitable as a first-time buy.
Quality and image

Renault's general quality has been on the up since they teamed up with Nissan several years ago. As a brand, though, it is still seen as being at the lower-quality end of the market. The Renaultsport division, however, is renowned for producing fantastic hot hatchbacks and has a peerless image in the sector. Those seeking luxury will not find this the best option, though.
Accessibility

There are two minor obstacles in getting into the front seats of the two-door Megane. The first is that the doors are long and hence it needs to have a reasonable amount of space either side of it to get the doors open wide enough to enter, and the second is that the bucket seats have large side bolsters. They hold occupants in position beautifully, but inevitably they get in the way of a smooth entrance and exit.
Stereo and ICE (In car entertainment)
The stereo system is quite basic, and lacks any sophisticated touch, instead offering traditional button controls. There is a single CD slot, an auxiliary input for MP3 players and an FM/AM radio. It's not a very powerful unit and nor does it have exceptional scope for adjustability, and it's likely that keen drivers would prefer to listen to the engine instead.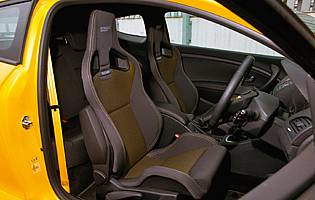 Special Recaro seats hug front occupants perfectly
Colours and trim
This generation of Megane splits opinion, with some admiring its lines and sleek shape, and others highlighting that even the largest wheels can look too small, especially at the rear. The 265 Trophy comes in metallic yellow or black, and with red outlines on the gloss black wheels it looks aggressive. Inside there are Renaultsport touches like a yellow rev counter, but otherwise the interior is quite basic in both look and feel.
Parking
Although the 265 Trophy is fitted with rear parking sensors, it can be difficult to judge exactly where the wheels are. It means that extra care needs to be taken when parking in most types of space or on tight multi-storey car parks. As a two-door, its doors are quite long and sometimes it can prove awkward to get in and out of the car in tighter spaces.
Spare wheel
Emergency tyre repair kit supplied as standard.
Range information
Petrol engine options - 2.0-litre (247bhp and 261bhp). Transmission options: six-speed manual gearbox only. Trim levels: 250, 250 Cup, 265 Trophy.
Alternative cars
Volkswagen Scirocco R A classier interior than the Megane, but less tactile to drive
Ford Focus RS The most powerful car in the sector is also very well equipped
Mini John Cooper Works Small and powerful, the range-topping Mini is lots of fun
Mazda 3 MPS Outrageous turbocharged engine and attractive styling
Over 1,200 more car reviews online
All the reports since 1990 are available on this site, just search by make and model below.
Other products & services
Related information
February 2012