BMW 1 Series 116i Sport
November 2011
Less radical in the looks department but still a distinctive sight on the road
Ratings
Overall rating
Value for money
Costs
Space and practicality
Controls and display
Comfort
Car security
Car safety
Likes
Mature evolution of once radical styling
Balanced performance across the range
Rear occupant space now improved
Economy and emissions figures to rival much larger cars
Gripes
Rear view could be better
Large wheels and sports suspension combination can struggle on urban roads
Loses its sparkle when in eco driving mode
Exterior design will still split opinion
A controversial car when it was first launched, its looks didn't appeal to everyone. Crucially, though, the 1 Series was BMW's first foray in recent years into the compact car market. At this semi-premium level BMW was keen to complete against Audi and Mercedes. This second generation car aims to attract a broader customer base with its toned down looks and greater focus on economy and emissions performance.
This second generation 1 Series has grown slightly over its predecessor but BMW's use of lightweight construction materials has ensured that it's lost, not gained, weight. This helps to further the car's eco-themed cause, as does its enhanced range of petrol and diesel engines.
In recent years BMW has become well known for its frugal and clean engines -petrol and diesel. 1 Series buyers can choose from an expanding range of units, and their low CO2 performance should make them especially attractive to company car drivers. Furthering the car's green credentials is a switchable driving mode offering an eco mode to conserve energy along with regular modes and an engine stop-start function.
As a five-door hatch this second-gen 1 Series offers buyers a credible alternative to a family hatch if you want o move up the premium ladder. You'll pay more for the experience but for others, notably downsizers, the car's cabin ambience and overall look and feel is similar to a larger and more expensive BMW. As such, the move shouldn't be viewed as a compromise.
The car's slight increase in size solves one of the age old 1 Series issues - a lack of space. This time around the car is more accommodating, and there's now a genuine prospect of rear seat occupants feeling comfortable on longer journeys. Boot space is also reasonable, although it's good to see that the car still boasts a relatively compact footprint - it's important that it remains city friendly for the many urban motorists the previous model was popular with.
Our verdict on the BMW 1 Series 116i Sport
As a mature evolution of the 1 Series concept, this second-gen car boast s a number of significant and welcome improvements. A little bigger to better accommodate its occupants, it's also more economical and boasts lower emissions across the range. Looks-wise it's now easier on the eye, and the design shares details with BMWs further up the range.
Costs

Once you've specced up your 1 Series to your taste it's going to cost you a few pounds. That said, it's a popular car so future resale values should be strong. The choice of low consumption and CO2 engines should ease fuel and tax bills, while the option of an inclusive pay-up-front servicing plan is another welcome money saving attraction.
Space and practicality

Although not a big car, there's still ample space to accommodate a few adults and their associated clobber. Rear headroom is better than it looks from the outside, too. Boot space is good and cabin oddment storage options are generous.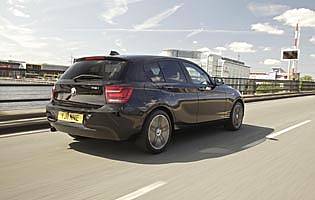 Rear three-quarter view is familiar 1 Series
Controls and display

Boasting a similar layout to the latest 3 Series, the car's various controls and displays should look familiar. Collectively they also work well, while the column stalks and minor switches are where you'd expect to find them. The pedals and manual gear change are both smooth and lightweight in a good way.
Comfort

The cars slight increase in size means that there's more actual and perceived room in the cabin. It makes sharing the cabin with three other adults more enjoyable, while road and wind noise is pleasingly low at all speeds thanks to good insulation and the refined engine range. Supportive, if a little firm, front seats help keep you in place when cornering.
Car security

The 1 Series gets a fairly standard anti-theft package. Naturally it has remote central locking, and the stop/start button still requires the key to be present in the slot. There's ample covered storage inside and items in the boot will be out of sight.
Car safety

As with the rest of BMW's line-up, the 1 Series boasts a good selection of kit, with airbags, traction and stability controls plus anti-lock brakes are all present.Run flat tyres have improved greatly in recent years, and those on the 1 Series offer a good level of protect plus low levels of noise when on the move.
Driver appeal

There's been a subtle shift in the car's driving dynamics over the original 1 Series. With a greater emphasis on economy driving, you've got to proactively select a more sporty driving mode to get the most out of the car. In its default eco mode the 1 Series is easy to drive and encourages you to use a light throttle when possible, while ride comfort is okay in Sport trim but is likely to be more compliant and supple in SE. Driven enthusiastically the 1 Series still entertains, only this time you have to dig a little deeper to enjoy it.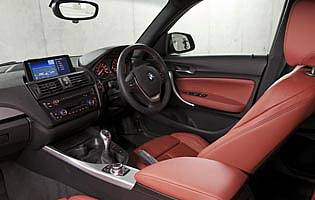 Interior is comfortable, user-friendly and well built
Family car appeal

With its more accommodating cabin the 1 Series is now a better option than before. It's probably suited to a small but growing family, that way when you outgrow it you can move up to an X1 or 3 Series. Boot space is adequate but not outstanding for swallowing large items, and the cabin won't appreciate the presence of sticky fingers or muddy shoes.
First car appeal

Price aside, if chosen with a low power engine there's no reason why a 1 Series couldn't be considered. It wouldn't be a inexpensive choice, which could mean a higher than average insurance premium for a novice driver.
Quality and image

Build quality is up to BMW's usual high standards, although there is a lot of black plastic in the cabin. Brand-wise it's hard to fault BMW and its small car plan. This 1 Series shares some of its looks and cabin design with the latest 3 Series, which is a good association to have. Brand loyalists seeking an engaging car to drive will always be attracted to the 1 SEries' rear-wheel drive layout, too.
Accessibility

In five-door trim the 1 Series offers a sensible compromise regarding access. If it were three-door only, the two big doors can often create problems in tight car parks. There's no such issues here, and access to the boot via the rear hatch is also straightforward.
Stereo and ICE (In car entertainment)
The 1 Series comes with a good quality audio unit as standard, which is easy to operate and is connected to a good-size display screen. Upgrades include a fully-featured navigation system and audio enhancements. Audio performance is good and the Bluetooth phone feature is easy to control. BMW's i-Drive system remains and, thankfully, is now easier to use.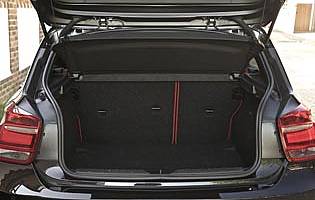 Generous size boot for a car in this class
Colours and trim
The 1 Series looks at its best in the darker, more refined colours and BMW has made plenty of those available in its palette - bright shaded tend to emphasize its radical looks. Interior ambience is equal to that of a 3 Series, as it shares a lot of the cabin materials and switchgear.
Parking
When fitted, parking sensors, help to counter the car's modest rear view. Variable assist steering provides more assistance when you need it - great for parking - and less when you don't - faster roads and motorways. The rear wheel drive layout gives the 1-Series a tight turning circle.
Spare wheel
Fitted with run-flat tyres as standard.
Range information
Petrol engine options - 116i (136bhp); 118i (170bhp). Diesel engine options -116d (116bhp); 118d (143bhp); 120d (184bhp). Transmission options: six-speed manual gearbox, eight-speed automatic transmission with semi-automatic mode on selected models. Trim levels: ES, SE, Sport, Urban.
Alternative cars
Audi A3 Sportback Showing its age but remains a quality alternative
Volkswagen Golf Mainstream choice boasts plenty of class and quality
Volvo C30 Three-door only and a little quirky in execution
Mercedes-Benz C-Class Coupe Three-door only but comes close to the BMW for driving thrills
Over 1,200 more car reviews online
All the reports since 1990 are available on this site, just search by make and model below.
Other products & services
Related information
November 2011