Bentley Continental GT GTC
October 2011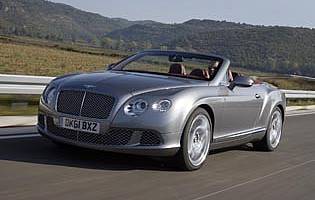 Restyled nose hides a multitude of mechanical changes
Ratings
Overall rating
Value for money
Costs
Space and practicality
Controls and display
Comfort
Car security
Car safety
Likes
Subtle but pleasing exterior changes
High quality interior is up to Bentley's usual standards
Roof-down refinement is impressive
Gutsy and appealing W12 engine
Gripes
Rear room is still modest
Looks still a matter of taste
It's a large car and demands patience when driving around town
Running costs are supercar high
Since its launch the Continental GT coupe has been a runaway success for its maker, Bentley. It was only a matter of time before a drop-top version appeared, and it wasn't long before this was also a popular model. 2012 model year changes to both have brought the cars into line with the flagship Mulsanne style-wise, while numerous under the skin changes claim to have improved ride, handling and comfort.
At first glance the Continental GTC - that's 'C' for convertible - might not seem like a new model at all. Bentley has chosen to implement modest visual changes, although most of the exterior panels are new.. The modest changes also help to maintain the family 'look' too.
The revised Continental GTC benefits from revisions include a higher output engine, the ability run on an E85 as well as regular petrol plus a revised transmission that offers quicker shifts. The mighty W12 unit is also a little cleaner and more fuel efficient, too.
To please keen drivers, the four-wheel drive system has been changed from a 50:50 system to a 40:60 front/rear torque split which is designed to counter understeer and make the car a little more engaging when driven hard. A wider track both front and rear ensures greater stability. Completing the picture is an electronic stability programme that's been adjusted to allow greater freedom for the driver.
The inside of the GTC hasn't escaped, and is also substantially revised. The updated dashboard is more attractive and easier to read and there are new seats that offer increased support as well as more rear legroom. An updated range of infotainment systems also include a high specification Naim system plus a welcome overhaul of the car's sat-nav unit.
Our verdict on the Bentley Continental GT GTC
With all its obvious and hidden updates, Bentley's second-gen Continental GTC is a measured revision of the original car. It remains an engaging mix of luxury, performance and comfort unlike any of its rivals. It's possibly the most usable car in this price bracket and its roof down credentials are also unmatched in this sector.
Costs

Make no mistake, even with improvements to the GTC's engine, the big Bentley will not be a cheap car to run. Predictably, thirst is the key issue, and lots of urban running will see the trip computer decent into single figures. Longer runs at steady speeds will be kinder on your wallet. Factor in insurance and servicing and this is not a car for the faint hearted.
Space and practicality

Despite its size, the GTC is relatively inefficient car when it comes to space. The cabin remains cosy rather than spacious, although there is no shortage of storage spaces in the cabin and the boot is usefully large. And while it might be a four-seater, those in the back will need to be tolerant bunch. Legroom isn't great and you're relying on the cooperation of those in the front to move their seats forward to make you feel comfortable.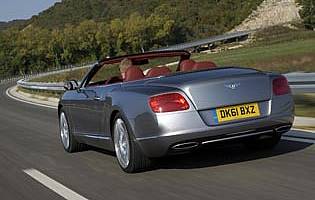 Rear styling influenced by flagship Mulsanne saloon
Controls and display

The car's subtle but revised cabin layout delivers an ambience that's perfectly in keeping with its social standing. The various controls and displays are easy to understand and use. A new touchscreen system handles many of the major functions leaving a less-cluttered facia, and ensures a more positive experience when using the car's sat-nav function.
Comfort

Comfort is high on the list of priorities and the GTC delivers with near-silent driving at low speeds, a surprisingly smooth ride despite the car's big wheels and very supportive seats. Roof-up motoring is akin to that of the coupe, while it's only at very high speeds do you have to raise your voice when the roof is down.
Car security

No question, Bentley's GTC is a desirable car. As such, the standard alarm and immobiliser system should prove sufficient to prevent most thieves. For added peace of mind - and possibly directed by your insurer - it's worth fitting a GPS tracking system to trace the car if it's ever stolen.
Car safety

Don't underestimate the importance of the car's all-wheel drive system. In less than perfect conditions it's as much a safety device as performance enhancement tool - especially on damp winter roads. Elsewhere, standard ESP and ABS systems are backed up by airbags throughout the cabin plus roll-over bars.
Driver appeal

It doesn't take long to appreciate the changes made to the second-gen GTC. The car's sharper handling is most obvious, while its willingness to change direction at speed is impressive given its size. The quicker-acting auto gearbox is a huge plus and the car's mighty W12 never ceases to impress - it's docile around town yet explosive at speed when conditions allow. The all-wheel drive system is no novelty, and works tirelessly to keep everything reigned in. And when you don't want to go fast, the GTC is a polished 'wafter' capable of soaking up the bumps with ease.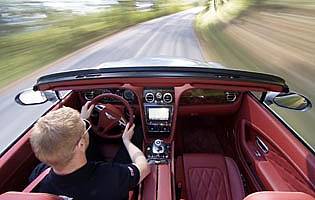 Subtle changes to the car's interior have been cleverly executed
Family car appeal

More so than the GT coupe, the drop-top GTC will be an impractical choice as a family car. It might be able to accommodate a growing family of four, but the car's trim materials and cabin is just too nice to be faced with the grubby hands of unappreciative toddlers. Boot space is reasonable though, which makes the GTC a second car contender if you have the means.
First car appeal

It's hardly a surprise that the GTC will be out of the range of first car buyers, and its performance and costs would be prohibitive for all but the wealthiest of novices
Quality and image

There's no doubt over the car's build quality, thanks in the main to Bentley's impressive attention to detail in the design and construction phase. The GTC feels hand made rather than mass produced, and has the right feel for a luxury car. The status of the GTC is almost as strong, taking the peerless Bentley image and making it more accessible.
Accessibility

There are no complaints for front seat occupants, with access to the GTC a simple affair thanks to its long doors. Getting into the rear is more of a challenge, but the slimmer seat backs help to a degree. You will need to move the front seats forward more than usual, and it usually helps to have the roof down.
Stereo and ICE (In car entertainment)
Out of the box the GTC comes with a high specification audio system plus an overhauled sat-nav unit that's on par with the rest of the sector's offerings. The high-end Naim system will really appeal to audiophiles, as the bespoke system includes a separate amplifier and delivers impressive sound quality.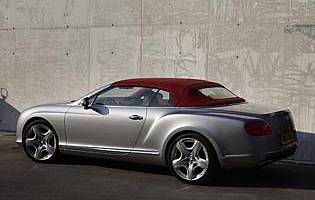 GTC looks good even with the roof up
Colours and trim
Despite the presence of a colour chart, at this end of the spectrum you also have the ability to choose whatever colour you want - at a price. For a big car the Bentley works well with a wide variety of hues, both subtle and bold. Inside there's an equally vast range of trim options available to suit the exacting standards of the owner. And don't forget the ability to match or contrast the car's hood colour, too.
Parking
Visibility isn't ideal from the driving seat with the roof up thanks ot the car's thick rear pillars, but the light steering and parking sensors make parking a straightforward process. The parking camera function is a welcome bonus.
Spare wheel
Space saver spare wheel fitted beneath the boot floor.
Range information
Petrol engine options: 6.0-litre (567bhp). Fitted with six-speed automatic transmission as standard driving all four wheels. No trim levels.
Alternative cars
Aston Martin Virage Volante More performance oriented, attractive image
Ferrari California A different, rapid supercar proposition
Rolls-Royce Phantom Drop Head Coupe Double the price but not always double the fun
Mercedes-Benz SLS AMG Roadster Technically incredible but less luxurious than the Bentley
Over 1,200 more car reviews online
All the reports since 1990 are available on this site, just search by make and model below.
Other products & services
Related information
October 2011