Audi A6 Avant 2.0 TDI SE
September 2011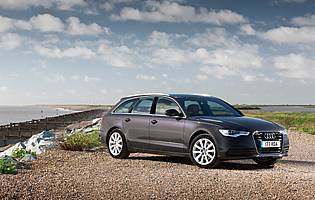 Strong Audi design theme continues in A6 Avant
Ratings
Overall rating
Value for money
Costs
Space and practicality
Controls and display
Comfort
Car security
Car safety
Likes
Slick design throughout, if low key in terms of the exterior
Improvements in efficiency and economy
Cabin is more comfortable, more attractive and better specified
Impressive range of driver assistance and safety systems
Gripes
Some will find it hard to tell new A6 from the previous generation
Boot volume identical to old car
Drivers new to Audi brand may find cabin too complex
CVT transmission still a less desirable option
Following the release of the third generation A6 saloon, Audi has taken the next logical step and followed it up with an Avant version. The estate or 'lifestyle' wagon version has always been a popular bodystyle, and Audi claims it is the best-selling vehicle of its type in this class.
With the latest and previous generation A6 saloons following a very similar design approach, it should come as no surprise to find that the Avant model looks a good deal like its predecessor. This is no bad thing however, because the basic shape of the A6 lends itself well to carrying extra bulk around the back. It could be argued that the Avant is better-looking than the saloon, particularly in S Line specification with larger alloy wheels.
Changes to the make-up of the bodyshell itself are just one method by which Audi has improved efficiency and fuel economy for the latest A6 Avant. 20 per cent of the body surface area is made up of aluminium panels, including the doors, bonnet and bootlid, while high-strength steels are used in the chassis to give strength without a weight penalty. Some models are up to 80kg lighter than the previous equivalent versions.
Mechanically the A6 Avant follows a template familiar from the previous car, with a mix of petrol and diesel options driving the front or all four wheels through a choice of gearboxes. Most importantly to the UK market is the choice of three diesel options, all of which have improved fuel economy by as much as 19%. A range of energy efficiency systems are now included on the A6, with a stop/start system standard on every engine variant.
The A6 Avant also benefits from a vast range of safety system and infotainment options, many of which have already been introduced on the larger A8 saloon. All A6 Avant models come with satellite navigation as standard, while upgraded versions can include a Google search facility and the ability to use the car as a wireless Internet hotspot.
Our verdict on the Audi A6 Avant 2.0 TDI SE
Steady and detailed improvements to both the basic A6 make up and the Avant version itself result in a premium load carrier that is hugely competent, refined and desirable. The broad spread of engine and transmission options gives something for every budget and need, and it still has the space to make the simple task of carrying big loads a cinch.
Costs

While the initial purchase price of the A6 Avant is typical of a premium segment car of this size, the running costs of the 2.0-litre TDI model in particular are very impressive. Fuel economy is significantly improved and C02 emissions are comparable with much smaller cars. Insurance costs will be also be helped by the comprehensive safety equipment.
Space and practicality

By increasing the width and wheelbase of the A6 Avant Audi has released more interior space, particularly in the front. The luggage compartment is almost identical to the outgoing model but offers no increase in space, although the loading lip is fractionally lower than before. Storage in the cabin itself is also good.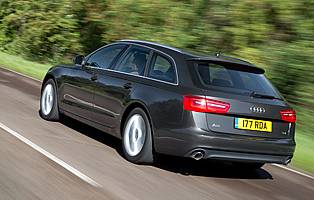 Large tailgate is seamlessly integrated into the overall shape
Controls and display

The A6 Avant builds on the current Audi layout with the MMI system including a large colour screen for many of the information and control displays. The control wheel is very intuitive to use, while the optional touchpad allows the driver to enter navigation destinations by tracing each letter with a finger - requiring much less concentration and hence much safer.
Comfort

This is an area where the A6 Avant performs very well indeed, and the car's occupants will enjoy the refined, tasteful cabin, the impressive ride quality regardless of the wheel size and a high level of infotainment: if specified, the A6 can act as a wireless hotspot so that laptops or mobile phones can enjoy Internet access via the car.
Car security

While the initial purchase price of the A6 Avant is typical of a premium segment car of this size, the running costs of the 2.0-litre TDI model in particular are very impressive. Fuel economy is significantly improved and C02 emissions are comparable with much smaller cars. Insurance costs will be also be helped by the comprehensive safety equipment.
Car safety

From the body structure to advanced electronic systems, the A6 Avant offers a new level of safety for its occupants. Alongside the standard ESP, safety cell and full compliment of airbags, buyers can add lane departure and blind-spot warning systems, pre-safe technology and infra-red cameras for maximum peace of mind.
Driver appeal

Although there has been a great deal of effort expended in making the A6 more efficient, comfort and good dynamics are still a high priority. At all speeds and on all types of road, the A6 Avant delivers a composed and very quiet driving experience. Even the relatively modest four-cylinder diesel unit is refined and remains quiet when extended. The six-speed manual gearbox operates smoothly and allows the engine torque to be easily exploited. The power steering has been switched to an electromechanical system to save fuel, but there is very little feedback lost in comparison with the hydraulic system. All A6 models now come with the Audi Drive Select system which allows the driver to tailor the settings of the steering, throttle and suspension depending on the model. This system now also includes an efficiency setting for maximum economy.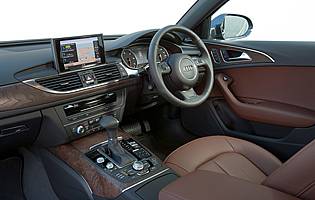 Exceptional quality and smart design inside
Family car appeal

The A6 Avant has plenty of room for passengers and luggage and therefore is an ideal family machine. In particular the wide range of infotainment options should keep the most demanding back seat passengers occupied.
First car appeal

A car at this price point is unlikely to appeal to a new driver unless they are able to afford a premium product for their first car. Although certainly easy enough to drive, a newly-qualified buyer might struggle a little with the numerous electronic systems.
Quality and image

A consistent push for improved quality is sustained in the A6 Avant, and the cabin quality and finish is remarkably similar to that found in the considerably more expensive A8. The standard leather upholstery is a pleasing touch, and a very wide choice of materials is another mark of quality. Audi's image has consistently been moving upmarket, and the A6 feeling even more like a shrunken A8 will do it no harm at all.
Accessibility

Four large doors make for easy access front or rear. Despite being a fraction lower than the outgoing car, passengers do not have to stoop far to slide into the seat. The same goes for the generous boot with a wide tailgate. As well as power assisted opening, the tailgate can also be specified with a clever automatic release operated by merely waving your foot underneath the rear bumper, allowing access to the boot whilst carrying objects in both hands, which is a very clever touch.
Stereo and ICE (In car entertainment)
The standard provision in every A6 Avant is an impressive satellite navigation system and a good quality audio set-up incorporating a CD/tuner and twin SDHC memory card slots for importing audio tracks. Even more tempting are the upgrade Bose or Bang and Olufsen systems which deliver exceptional sound quality.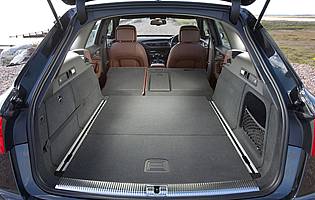 Generous and practical loadspace helps boost the A6 Avant's appeal
Colours and trim
The A6 Avant is best suited to understated metallic shades for the exterior that suit its subtle curves, although it is surprisingly well-suited to being finished in white for a car of this size. Inside there is a refreshingly broad choice of colours and trims, including attractive oak panels which give the A6's cabin a huge lift.
Parking
All A6 Avant models are fitted with Audi Parking System Plus, which has sensors front and rear feeding an on-screen display. This in itself makes parking a straightforward affair, but optional upgrades include a reversing camera or even automated parking.
Spare wheel
Space saver spare wheel fitted beneath the boot floor, full size spare optional.
Range information
Petrol engine options - 3.0-litre (296bhp). Diesel engine options - 2.0-litre (175bhp); 3.0-litre (201bhp and 242bhp) . Transmission options: six-speed manual, seven-speed dual clutch automatic, eight-speed CVT automatic. Trim levels: SE and S line.
Alternative cars
BMW 5 Series Touring More driver-focused, offers most space in class with seats folded
Mercedes-Benz E-Class Estate Excellent cabin and efficient engines, biggest boot with seats up
Volvo V70 Stylish, practical and good to drive
Saab 9-5 Sport Wagon Attractive design with strong economy, engines lack refinement
Over 1,200 more car reviews online
All the reports since 1990 are available on this site, just search by make and model below.
Other products & services
Related information
September 2011