Audi R8 GT Coupe
August 2011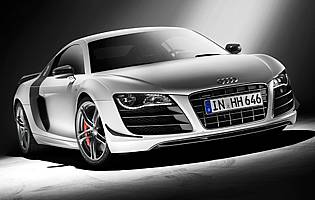 Extra carbonfibre marks out R8 GT
Ratings
Overall rating
Value for money
Costs
Space and practicality
Controls and display
Comfort
Car security
Car safety
Likes
Dramatic looks
Genuinely breathtaking acceleration
Much sharper chassis and quicker responses
High quality interior material and finish
Gripes
Potentially tricky when driven to extremes
Few examples to reach the UK
Inevitably an expensive car to buy and run
Most rivals have been replaced during its lifespan
Audi's first true supercar has expanded in several directions since the original V8 coupe appeared in 2006. A higher-performance V10 version was followed by a Spyder drop-top with both powerplants available, and now the range has been crowned by a stripped-back GT model.
Providing the basis for the R8 GT is the existing V10 model, and in this respect it follows the template for the rest of the range. Audi uses the same aluminium space frame construction process, designed to give huge torsional strength but with the promise of lighter weight than with steel.
In the GT however the pared-back approach is taken a step further and it manages to achieve an overall weight loss of 100kg, a significant amount especially given the car's four-wheel drive configuration. The changes made to achieve this weight loss include thinner glass or polycarbonate in its place, lighter sheet metal and the use of carbonfibre for several panels have all contributed, with further savings in the cabin and with mechanical components.
Despite already being a spectacularly powerful car, Audi has sought to improve that still further by increasing the output of the 5.2-litre V10 engine by approximately six percent. Unlike the other models in the range, the GT comes only in V10 form and solely with the R tronic automated manual gearbox, although it can operate in three different modes.
Further enhancements have been made to the chassis and suspension to fully exploit the extra power, including a retuned ESP system, manually adjustable coilover suspension with a lower ride height and a quicker steering rack.
Our verdict on the Audi R8 GT Coupe
The standard R8 excels because it is a usable supercar with impressive comfort, and the GT takes away some of that comfort in order to deliver a sharper drive. It certainly does just that, with a track-focused approach that provides huge thrills on the road too. Admittedly it will only be for the lucky few, but it is an object to be cherished and enjoyed.
Costs

The most expensive version of the most expensive model in the premium Audi line-up is sure to come with significant running costs. Insurance premiums will be at the top of the scale and the V10 engine has a terrific thirst. At least four-wheel drive helps to spread tyre wear a little.
Space and practicality

The only exterior luggage compartment is the space in the R8's nose with the same 100 litre capacity as the standard coupe versions. Deep rather than wide, it will accept a couple of soft overnight bags.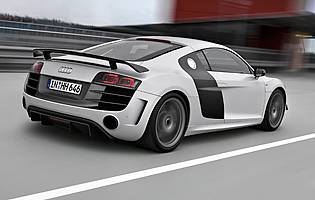 Fixed rear wing replaces electric version to save weight
Controls and display

The GT's controls adhere to traditional norms and will be familiar to Audi drivers. The large colour display projects information with clarity as the brightly lit and stylish dials in the instrument binnacle. The ventilation and audio systems are controlled using a neat interface that's simple to master.
Comfort

Supportive seats, a comfortable and adjustable driving position and a surprisingly spacious cabin all contribute to a pleasant driving experience. When you're not pushing the car hard, wind, road and engine noise is pleasingly minimal, and the optional Sports suspension does an excellent job of soaking up road imperfections. Even though the GT is more focused and dynamic than the rest of the range, it still retains much of the usability that makes the R8 so appealing.
Car security

An alarm with immobiliser, central locking, lockable glovebox and valet key are to be expected on a car this expensive and are absolutely essential.
Car safety

The quattro four-wheel drive system is a real benefit in terms of traction, but to be on the safe side ESP with traction control, anti-slip regulator and a full compliment of braking aids are standard. Tyre pressure monitoring is also present as are driver and passenger front and side airbags.
Driver appeal

Even though this is the ultimate R8 it is still manageable around town thanks to adaptive steering and a tractable low speed nature. The open road is where the full performance of the V10 engine and tremendous grip offered by the rear biased four-wheel drive system come into their own. Superbly responsive in terms of throttle, brake and steering input, it's a huge thrill to drive at speed. Loosening the ESP system to Sport mode reveals the rear bias of the power delivery and the GT can feel surprisingly willing to drift and move around.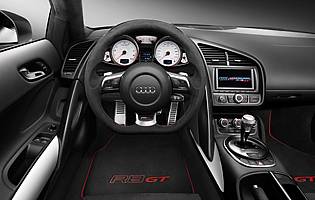 Unique trim and bucket seats standard
Family car appeal

With only two seats and very limited storage the R8 GT just can't perform family duties. It is most definitely a choice for more mature pairings although the front passenger airbag can be deactivated and Isofix points are present for a child seat.
First car appeal

It may appear on the bedroom walls of new drivers but it's highly unlikely to make it to their driveways fort all the obvious performance and cost-related reasons.
Quality and image

The R8 GT is unquestionable one of the most desirable cars money can buy thanks to its distinctive styling, great performance and Audi's constantly rising reputation. The step up from a regular R8 to the GT makes it even more desirable, and its rarity will no doubt boost its image. Quality is excellent, with the car finished impeccably inside and out.
Accessibility

The R8 coupe has relatively long doors so despite the low roof the aperture is still more than adequate. However the standard bucket seats have very high sides which means the driver and passenger have to launch themselves in rather than slide smoothly into place. This is no more than a minor irritation however.
Stereo and ICE (In car entertainment)
A standard fit Bang and Olufsen sound system offers superb sound quality with 12 speakers filling the relatively compact cabin. Audi's integrated sat-nav, audio, multimedia and climate control interface is tried and tested and intuitive to operate. Sat-nav is standard, although the navigation can be a touch slow at times. An upgrade to the advanced system on the new A8 would be welcome.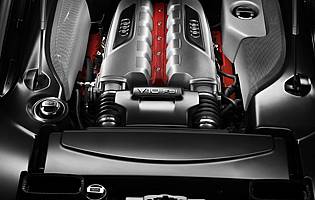 Engine is tweaked to release even more power
Colours and trim
Bold whites and reds sit along side more discreet blacks, greys, blues, browns and silvers in the R8 colour options chart, but the model's deliberately eye catching exterior design means there's little chance of shying away behind the wheel regardless of colour. LED lighting attracts further attention. Inside, leather is naturally the standard finish with or without the sports seat option, and even the dashboard gets a leather lining. Carbon fibre dominates the cabin as there are extra carbon panels included as standard and it helps to lift the appearance still further.
Parking
The R8's parking sensors are absolutely essential, thanks in part to the car's deceptive overhangs, low ride height and poor rear three-quarter vision. The former two attributes are to be expected with such a car, but the over the shoulder view is disappointing. The R8's wide stance is rarely an issue, and the car's power steering offers plenty of low speed assistance.
Spare wheel
Standard fit is a tyre mobility system with an inflation device.
Range information
Petrol engine option - 4.2-litre (414bhp); 5.2-litre (518bhp, 552bhp). Transmission options: six-speed manual gearbox or six-speed R-tronic sequential manual gearbox. Trim levels; Coupe, Spyder, GT.
Alternative cars
Aston Martin V12 Vantage Charm, looks and a thrilling drive, more road-focused
Porsche 911 GT3 RS Benchmark for driving dynamics, cut-glass image, perhaps too common
Ferrari 458 Italia Standard car still a feast for the senses
Lexus LFA Almost twice the price and even more exclusive
Over 1,200 more car reviews online
All the reports since 1990 are available on this site, just search by make and model below.
Other products & services
Related information
August 2011