Vauxhall Ampera electric/1.4 petrol
July 2011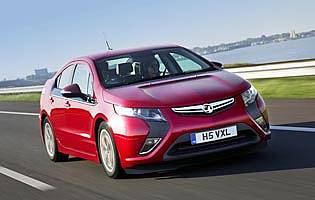 Handsome Ampera looks like nothing else on the road
Ratings
Overall rating
Value for money
Costs
Space and practicality
Controls and display
Comfort
Car security
Car safety
Likes
Modern, stylish design inside and out
Clever technology achieves excellent performance with little effort
Comfortable ride with respectable handling too
Highly economical and very low emissions promise low running costs
Gripes
High purchase price even with government grant included
Only two rear seats at launch although three seat version is planned
Touch pad controls on centre console are sometimes fiddly to use
Unusual engine operation cycle can be distracting
Arguably the most important car to come from Vauxhall in decades, the Ampera is the first mass-produced electric vehicle to come from the firm but is also the first so-called 'range extender' vehicle to come to market. This gives it a range equivalent to a conventional combustion-engined car and should result in a clear market advantage.
Almost all the world's car manufacturers are either already producing or in the process of developing electric cars as an alternative to petrol and diesel power. As a part of an industry-wide attempt to lower carbon dioxide emissions, electric cars have the advantage of zero tailpipe emissions with benefit to the environment and consumers alike. But the key problem with electric vehicles is a lack of range, and Vauxhall's Ampera employs new technology to address this problem.
As well as a typical battery pack and electric motor powertrain, the Ampera uses a 1.4-litre naturally aspirated petrol engine tuned for maximum efficiency, and this dual set-up allows it to operate in several different modes, selected by the driver. In pure electric mode the petrol engine stays off and the Ampera can travel as far as 50 miles or more before the battery becomes drained. At this time the petrol engine kicks in and provides charge to batteries rather than driving the wheels.
In addition, the car can be switched to a petrol-only mode in order to preserve the battery charge for zero emission zones or densely-trafficked areas which suit electric power better. This control allows the driver more scope to use the vehicle just like any other car, and although the battery can be charged by plugging in it is not essential to complete a journey.
Although the use of a petrol engine does mean that the Ampera can only be zero emission for a limited number of miles, the state of tune and the manner of operation means it is still remarkably clean, emitting 40g/km in range-extending mode. Despite the amount of technology, the driver is still able to climb aboard and let the car control the power delivery.
Our verdict on the Vauxhall Ampera electric/1.4 petrol
A remarkable car in many ways, the Ampera succeeds in overcoming the key issue of range in a clever and efficient way. Perhaps more importantly is that it is an impressive car in its own right with good dynamics, attractive design inside and out and decent practicality. The biggest question mark hangs over the price, but it does offer a unique proposition for the moment.
Costs

Ignore the purchase price for a moment and the Ampera should provide exceptionally low running costs. The very low emissions means it qualifies for no vehicle excise duty or London congestion charge as well as very low company car tax. A long journey that empties the petrol tank will require refuelling but over shorter journeys it is possible that the engine will not come in to play at all, while a battery charge from the mains will cost no more than £2.
Space and practicality

The not-insubstantial mass of the battery pack is housed in a T-shaped area between the rear seats, which dictates the four seat layout which is unusual for a car of this class. However, it does lend the Ampera a more coupe-like feel as a result, and the two rear seat passengers fare well as a result.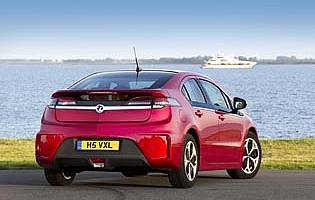 High tail is for aerodynamics but looks distinctive too
Controls and display

With a very different powetrain to most cars it is understandable that the Ampera uses a screen to display the main information as opposed to conventional instruments. It is a clear and attractive display behind the steering wheel, and although a little intimidating at first it is comprehensive and can display different information depending on requirements. One other point of note is the main bank of buttons on the centre console; the virtually flat surface and touch pad buttons can be inconsistent in operation.
Comfort

Key to the Ampera's high comfort levels is the very impressive ride quality. Despite offering a very respectable degree of handling sharpness, the suspension is set softer than most conventional cars and with excellent results. Helped by the silent running in electric mode and supportive seats, it is a very comfortable car.
Car security

An alarm and immobiliser comes as standard, but one additional factor in keeping the car secure is that car thieves might think twice about stealing a car that they don't fully understand.
Car safety

Any worries about the safety of a car with a number of batteries on board can be dispelled: the Ampera is based around a stiff structure designed to keep the batteries out of harm's way and ensure the occupants stay safe. Standard ESP and multiple airbags are included too.
Driver appeal

Anyone expecting big compromises because of the Ampera's drivetrain will be pleasantly surprised by the driving experience. Acceleration is more than adequate whether on electric or petrol power, and although the engine revs almost regardless of what position the accelerator is in, in pure electric mode the silent operation is very satisfying.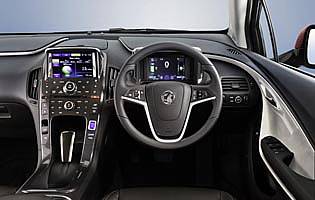 Cabin is refreshingly modern and attractive
Family car appeal

Aside from the lack of a fifth seat, the Ampera could easily be a useful family car. The boot is a reasonable size, all occupants can sit in comfort and the stylish cabin should appeal to all too.
First car appeal

There is some appeal for the Ampera with it being a forward-looking machine with a distinctive appearance, but the initial purchase price will be too much for most new drivers.
Quality and image

Vauxhall has made big strides in terms of quality and the Ampera continues the good work. The cabin feels modern, stylish and robust with a high standard of finish. The Ampera may well transcend the somewhat everyday image of Vauxhall because of its exclusivity, clever technology and exciting design.
Accessibility

With each occupant having a door of their own entry into the Ampera is straightforward despite the relatively low roof. The same goes for the boot although it does have a relatively high sill.
Stereo and ICE (In car entertainment)
The standard fit audio and navigation system has a large screen mounted on the top of the dashboard with a series of touch pad buttons below. With an almost completely flat surface and no delineation of each button, it can be fiddly to achieve the desired response first time. The audio system is of good quality however, and gives excellent sound reproduction.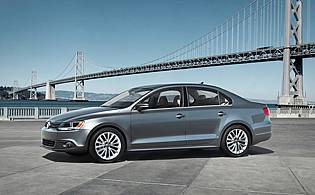 Recharging the Ampera is simple
Colours and trim
With the unusual design of the Ampera which includes dark-coloured detailing, a contrasting colour such as white or silver works extremely well. Body-coloured panel on the interior and flashes of bright trim give the Ampera a bright and fresh feeling to the interior and it has a premium feel as a result.
Parking
With a high waist and tail plus a low nose it can be a little challenging to park the Ampera in terms of visibility, but with parking sensors and light steering it can be slotted into spaces with relative ease.
Spare wheel
Emergency tyre repair kit fitted as standard.
Range information
Petrol engine options - 1.4-litre with electric motors (148bhp). Transmission options: CVT automatic only. No trim levels.
Alternative cars
Nissan Leaf Most credible pure electric rival is very competent
Peugeot iOn City car also on electric but limited use as a family car
BMW 5 Series Highly economical family car in 520d guise but higher emissions compared to Ampera
Toyota Prius
Over 1,200 more car reviews online
All the reports since 1990 are available on this site, just search by make and model below.
Other products & services
Related information
July 2011