Audi S5 Sportback
December 2010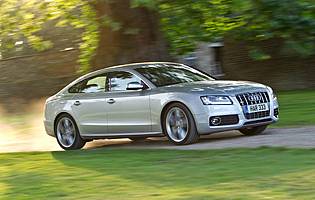 Aggressive additional styling indicates high performance
Ratings
Overall rating
Value for money
Costs
Space and practicality
Controls and display
Comfort
Car security
Car safety
Likes
Sleek, coupe-inspired styling
Excellent interior quality
Powerful engine is also smooth and tractable
Adaptable chassis quickly changes nature of the car
Gripes
Little space advantage over A4 despite additional cost
Ride can be firm on 19-inch alloys
Supercharged V6 is thirsty away from the motorway
Dynamic steering adds weight but not feedback
Audi's ongoing quest to bolster its range with an unprecedented number of vehicles continues to result in the occasional, curious, niche model. The S5 Sportback is an example of just that, a four-seat, five-door, high performance coupe model that takes snippets of inspiration from several other models in the German manufacturer's range.
Audi's A5 has proved another success for the German premium manufacturer; originally launched as large three-door coupe model that sat somewhere between the A4 and A6 saloons a five-door version called the A5 Sportback was introduced shortly afterwards. It features similar coupe lines but with greater access to the rear seats.
Around the time that the A5 Sportback was unveiled, Audi switched the S5 version of the coupe from a 4.2-litre V8 engine to a 3.0-litre supercharged V6 unit, installing the same unit in the five-door version to create the Audi S5 Sportback.
Producing 333bhp and driving all four wheels through Audi's seven-speed S-tronic twin clutch gearbox, Quattro all-wheel drive system and an optional adjustable sports differential, there's clearly a strong focus on sports performance, but at the same time offering a luxurious, executive appeal through the combination of sleek lines, four individual seats and a wrap-around cockpit design. A hatchback rear also provides adequate boot space without compromising the looks.
Naturally, the additions to the S5 model do not end with the engine upgrade. A more aggressive front end, additional external details including the silver finish to the wing mirrors and 19-inch alloy wheels all hint at the high performance status, too. Inside, embossed, leather seats are sculpted to offer greater support and the model is generously equipped.
Our verdict on the Audi S5 Sportback
Although at first appearing to be something of an anomaly, the Audi S5 Sportback does begin to make sense once acquainted. There's no denying that it's a collection of elements from other segments but, crucially, it's a collection of the right elements. As a result, the S5 Sportback offers good looks, great performance, exclusivity and comfort. As a package it's highly attractive - but whether it's worth the additional cost over more traditional models is subjective.
Costs

The S5 Sportback's supercharged V6 unit can be surprisingly economical on a long run, but around town and when driven hard it also has the potential for a costly thirst. The vehicle's initial purchase price reflects the performance and quality and optional extras can push it up considerably. Insurance will be at the higher end of the scale, too. All-in-all, the model requires considerable commitment to upkeep and whether it's worth the additional cost over a more traditional model like the A4 is down to the customer.
Space and practicality

Although access to the rear is slightly hampered by the roofline, passengers in the back have sufficient head and legroom to sit in comfort. Boot space is also sufficient to cope with four adults and is usefully bigger than most of its rivals in this niche sector. The rear seats can be folded to improve load carrying ability, but the sloping rear will limit potential loads.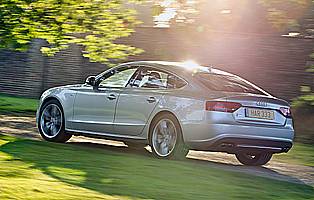 Hatchback rear boosts practicality
Controls and display

Stylish, well-lit dials greet the driver and the informative central screen does an excellent job of conveying information from all of the vehicle's multitude of systems with attractive and contemporary graphics. Audi has done a good job of making the S5 Sportback as adjustable as possible without overloading the centre console with controls. A central rotary button can be use to navigate through many menus selectable using buttons placed around the transmission tunnel. The steering column arrangement remains traditional and even the advanced radar cruise control operation is fool-proof.
Comfort

The S5 Sportback interior is tailored towards comfort with four individual, supportive, well-bolstered seats and a large armrest, separate ventilation controls and built-in cupholders for rear passengers. In the front, the cabin layout is ideal for relaxing during long runs. The 19-inch wheels mean severe bumps can cause some jarring in the cabin even in comfort mode and, in dynamic mode the suspension is much firmer, but the model still offers a high level of luxury for occupants. The silky smooth V6 engine is restrained at cruising speed and wind and road noise are well contained.
Car security

A factory fitted alarm and immobiliser are thankfully standard for such a desirable vehicle and high strength door locks are also fitted. Doors lock automatically once on the move can be locked and unlocked from outside without removing the key from your pocket. Delayed lighting adds an extra layer of personal security. Internal storage is good and items in the boot are hidden from view.
Car safety

A high-strength bodyshell and six airbags provide good core safety, but the Quattro four-wheel drive, excellent brakes, stability control and optional radar cruise control with collision warning add an extra layer of protection.
Driver appeal

The supercharged V6 under the bonnet of the S5 Sportback offers V8 levels of performance along with a distinctive and entertaining soundtrack. As a result, exploiting the model's straight-line performance rarely becomes tiring and overtaking is brutally efficient. Quattro four-wheel drive complete with optional sports differential means excellent cornering performance for a large vehicle, too. Paddle-shift operation for the seven-speed, twin-clutch transmission improves the driving experience further and Audi's Drive Select system allows for selection of comfort or dynamic settings. There's greater response and feel in dynamic mode, particularly from the steering which weights up considerably. The only let down is a slight lack of steering feel, although the sharp response is impressive.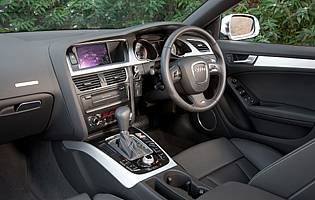 Interior is impeccably built and tailored
Family car appeal

The Audi S5 Sportback could cope as a family car, with enough luggage capacity and room for children and child seats. It's more likely to find use as an executive vehicle however, as the performance aspect and luxurious leather interior is not in keeping with family requirements.
First car appeal

A performance model with a suitably demanding price tag, the Audi S5 Sportback is an unlikely choice of vehicle for the novice driver.
Quality and image

Audi has earned a reputation as a manufacturer of high quality products and deservedly so. The S5 is solidly built inside and out and features high quality material down to the even the smallest details. As a high performance 'S' Quattro model, the S5 Sportback will earn instant respect from car fans and its aggressive styling will demonstrate the additional performance potential to the less clued-up, also.
Accessibility

The extra pair of doors makes a huge difference in terms of gaining access over the S5 coupe model; although it's worth considering that the low roofline means rear passengers do have to duck down when entering. As for the rear, the generous tailgate allows easy access to the well-sized boot.
Stereo and ICE (In car entertainment)
With the upgraded Bang and Olufsen sound system, sound quality is very impressive. A 3D sat-nav system is also available along with the usual executive necessities including Bluetooth telephone connection. An iPod can be plugged in using a cable in the glovebox and is fully integrated while additional slots can read SD cards, alongside the CD-changer and radio options. A large central screen displays the relevant information.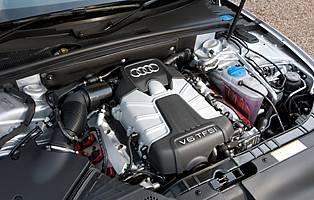 Supercharged V6 engine provides strong performance
Colours and trim
Darker colours suit the executive styling, although the shape carries more extravagant shades such as the pearl effect Sprint Blue very well. Additional body kit, chrome detailing and large alloy wheels mean there's little need to opt for a shouty paint choice. Inside, the S5 is dark and moody but metalwork for the dials and switchgear adds to the upmarket feel and the leather, S5 embossed seats are suitably luxurious.
Parking
The slope of the tailgate provides the driver with a decent view of the rear, aided by the S5's small lip spoiler. The S5 Sportback is a sizeable car however, so the provision of parking sensors is useful. The uprated Parking System Plus provides a colour echo-location map of the surroundings, which makes manoeuvring into restricted spaces considerably easier.
Spare wheel
Space saver spare wheel fitted beneath the boot floor.
Range information
Petrol engine options - 2.0-litre (180bhp and 211bhp); 3.2-litre (265bhp); 3.0-litre (333bhp). Diesel engine options - 2.0-litre (143bhp); 2.0-litre (170bhp); 2.7-litre (190bhp); 3.0-litre (240bhp). Transmission options: Six-speed manual gearbox, eight-speed Multi-tronic automatic CVT gearbox with manual sequential mode, seven-speed S-tronic twin clutch automated gearbox with manual sequential mode. Trim levels: Base, SE, S line, S5.
Alternative cars
Mercedes-Benz CLS V8 CLS 500 offers similar performance but worse economy
Volkswagen Passat CC 3.6 V6 FSI 4MOTION model also boasts four-wheel drive and DSG transmission
BMW 5 Series Gran Turismo 550i V8 is the closest performance match on paper
Jaguar XF 5.0 V8 is a more conventional saloon but equally stylish
Over 1,200 more car reviews online
All the reports since 1990 are available on this site, just search by make and model below.
Other products & services
Related information
December 2010