Citroen C4 1.6 HDi 110 VTR
October 2010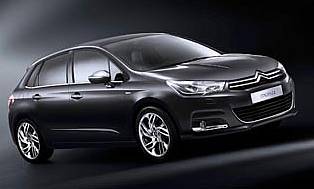 amily 'look' is easy to see in second generation C4
Ratings
Overall rating
Value for money
Costs
Space and practicality
Controls and display
Comfort
Car security
Car safety
Likes
Premium cabin ambience welcome
Frugal diesel engines prove effective
Comfortable driving position
Capacious boot is a surprise in this class
Gripes
Modest rear legroom offsets generous boot space
Semi auto gearbox on selected models lags behind more advanced Direct Shift Gearbox (DSG) of rivals
Flagship diesel model could be more refined at low speeds
Entertainment and navigation features could be more intuitive
This second generation C4 is a subtle but nonetheless important departure for Citroen. Keen to attract buyers seeking more in the way of luxury and a premium ambience, the French car maker has opted to focus more on boosting perceived and actual quality.
The medium size hatchback market is a tough one, and unless you already dominate the sector - Ford, Volkswagen, Vauxhall - attracting buyers can be a challenge. Citroen did well with its first generation C4, introducing buyers to quirky styling and value for money models.
Second time around and the market at large has shifted noticeably towards delivering more in the way of refinement and quality. Keen to follow this trend, Citroen has decided to focus on these attributes with its second generation C4. The result is a car with a cabin boasting an improved build quality and a better choice of materials.
The car's trademark supple ride has been improved, while the bias towards comfort and convenience - sat-nav, panoramic roof, climate control and the like - is most obvious in the options list. Like its rivals, Citroen is also following the burgeoning environmental trend. Engine choice is heavily weighted towards delivering low fuel consumption and CO2 figures, with a sub 100g/km CO2 diesel and engine stop-start a range highlight.
Progress has determined that this C4 is a little bigger than its predecessor, but Citroen has done well to manage the car's weight. Some old C4 traits remain, however, and while the car proudly packs a generously dimensioned boot, rear legroom remains modest for adults.
Our verdict on the Citroen C4 1.6 HDi 110 VTR
While the original car's quirky steering wheel and its numerous controls might have gone - a simplified version greets drivers now - this C4 has retained much of its predecessor's bold looks. The car's cabin exhibits a welcome quality boost, while the driving experience is typically Citroen: a supple ride and slight aloof steering. The newfound focus on frugal motoring is welcome and should help the C4 maintain its place in the family hatch pecking order.
Costs

Although this C4 comes with more equipment and boasts a more premium cabin ambience, running costs should still be in the range of a regular family hatchback. Opt for a diesel variant and you should see tangible savings from enhanced fuel economy and reduced CO2 tax ratings.
Space and practicality

With its generously dimensioned boot, the C4 is one of more practical cars in its class. The rear seats can be folded to boost versatility, but this all comes at the expense of rear seat legroom - adults might complain on long journeys. Elsewhere and the C4's cabin boasts a good spread sensible storage options.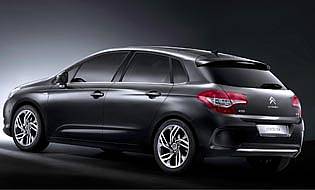 Mature design cues highlight C4's premium aspirations
Controls and display

Citroen's decision to mix digital with analogue instrumentation is a bold one, and it can take a while to acclimatise to the various dials and displays. That said, the potential to show a wealth of information is a big one. The car's steering wheel isn't as 'busy' as its predecessor, which is a good thing and the various controls are easier to locate when on the move. The main colour display is accessible by both front occupants, but there are often too many steps before reaching the function you want.
Comfort

Famous for cars displaying a composed and plush ride, Citroen has gone to great lengths to ensure that the C4 now closer to the luxury end of the scale. Supportive seats, very little cabin noise intrusion and a supple ride all go a long way to reinforcing Citroen's new direction for its family hatchback.
Car security

The usual package of remote central locking and immobiliser are present and, in reality, is all you really need or can expect from a manufacturer. Of equal importance is the need to keep possessions out of sight and, if you so desire, purchase a steering lock as a visible deterrent.
Car safety

Citroen has made great strides in terms of safety provision in recent years, although the car maker chooses to let rival brands hog the limelight. There's nothing puzzling about what you get though, with plenty of cabin airbags and a sophisticated stability control system at your disposal.
Driver appeal

Citroen isn't promoting this C4 as a performance car. Anyone seeking hot hatch or GTI-like behaviour will be disappointed. Instead, the C4's character is heavily biased towards refinement. The car's plush ride, hushed cabin and ease of use dominate the overall experience. This is reinforced by an engine range tuned to deliver enhanced economy and refinement. Only the less than smooth EGS semi auto gearbox disappoints.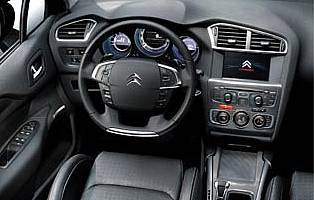 Sombre interior lifted by bright trim accents
Family car appeal

It could be said that a people carrier would be a safer bet for a growing family, but there's no reason to think the C4 isn't up to the task. Its main selling point is its capacious boot, although this does come at the expense of some rear legroom. In keeping with the C4's premium ambience, the C4 is probably better suited to a grown up family rather than coping with toddlers and sticky fingers, however.
First car appeal

An easy car to drive, there's no reason why the C4 cannot be recommended to a novice driver. The car's controls aren't all immediately intuitive but running costs should be modest thanks to the range of frugal engines available.
Quality and image

Keen to boost actual and perceived image quality, Citroen has worked hard to improve the C4's cabin. Softer touch plastics are more obvious, as are brighter trim accents. Buyers have gotten used to Citroen's quirky leanings, and the C4 doesn't disappoint: digital instruments, an unusual steering wheel design and bold styling are obvious examples.
Accessibility

Like so many five-door family hatchbacks, access to the C4's front seats is straightforward. This aiming for the rear seats will have to contend with a noticeable smaller door aperture, although this not an uncommon situation. At the rear the car's tailgate requires little effort to operate, and opens to reveal and low load lip.
Stereo and ICE (In car entertainment)
The C4's standard fit audio unit is a bespoke item that won't appeal to thieves. The mix of fascia and steering wheel located controls aren't all immediately intuitive but practice helps matters. The unit's colour screen lends itself well to the optional sat-nav function, though.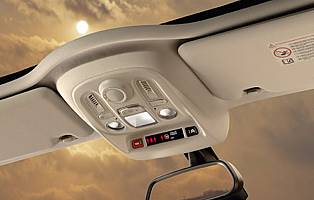 Citroen play premium card with extras like panoramic sunroof
Colours and trim
Bold colours suit the C4 best, as its equally bold looks tend to lose impact when aligned with sombre hues. The car's dark cabin has been designed to impart a more upmarket ambience than before and largely succeeds.
Parking
With its light and accurate steering the C4 is an easy car to pilot at low speeds. Forward visibility is good but rear three-quarter vision could be better. However, the car's parking sensors take the guesswork out of manoeuvring.
Spare wheel
Puncture resistant tyres fitted as standard.
Range information
Petrol engine options - 1.6-litre (120bhp, 154bhp). Diesel engine options - 1.6-litre (90bhp, 110bhp); 2.0-litre (148bhp). Transmission options: five and six-speed manual gearboxes, six-speed EGS gearbox depending on model. Trim levels: VTR, VTR+, Exclusive.
Alternative cars
Ford Focus Benchmark performer - does everything right
Mazda3 Refined alternative lacks the C4'quirky character but does nothing wrong
Volkswagen Golf Solid and refined alternative also boasts super-frugal variant
Vauxhall Astra Accomplished overhaul of a popular model
Over 1,200 more car reviews online
All the reports since 1990 are available on this site, just search by make and model below.
Other products & services
Related information
October 2010