Toyota Auris T Spirit HSD 1.8 VVT-i 5dr
October 2010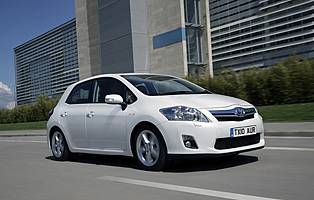 Only the car's blue Toyota badge tells you this is the hybrid version of Toyota's Auris
Ratings
Overall rating
Value for money
Costs
Space and practicality
Controls and display
Comfort
Car security
Car safety
Likes
Good levels of cabin space
Oddment storage is generous
Hybrid Auris drives just like a regular Auris
In the right environment this Auris makes a lot of sense
Gripes
Modest outright performance might prove a disappointment
Firm ride can prove a little uncomfortable around town
Boot space suffers thanks to location of hybrid power system
Interior plastics can't compete with best in class
It was only a matter of time before Toyota produced a hybrid version of its mainstream family hatchback, the Auris. Offering a similar level of performance to that of the Prius, the Japanese car maker believes the more conventional Auris will have a broader appeal.
Outwardly there's little to tell the hybrid Auris apart from its petrol and diesel powered cousins. To the well informed observer the tell-tail sign is the blue Toyota badging - the convention identifying both Lexus and Toyota hybrids.
What you can't see from the outside is the Auris hybrid's potential. Like the Prius it offers owners the ability to make meaningful savings, both financial and environmental. There's no question that the cars sub 95g/km CO2 rating and 70-odd mpg fuel economy are impressive attributes for a family-size hatchback.
Key to its appeal is the fact that it behaves like a regular family car and doesn't look like a futuristic spaceship. It's not all plain sailing, however, as boot space is reduced over the standard Auris thanks to the hybrid's extra hardware.
That aside, driving the Auris hybrid is a straightforward experience, and possibly easier thanks to the car's CVT auto gearbox and games console-like gearshifter. Factor in the typically Toyota heavily assisted steering, a raised driving position and the ability to drive a few hundred metres in battery only mode at low speeds and there's more to this car than meets the eye.
Our verdict on the Toyota Auris T Spirit HSD 1.8 VVT-i 5dr
The appearance of the Auris hybrid is proof that the time to convince mainstream buyers of the merits of green motoring has come. To compare this Auris to an equivalent oil burner would be to miss the point, however. The Auris is best suited for urban journeys and sympathetic, light-footed drivers. Boy racers need not apply.
Costs

The Auris hybrid has been designed with low cost of ownership in mind. With its low fuel consumption and CO2 rating, the car offers owners significant tax savings over that of a conventional petrol powered family hatchback.
Space and practicality

For most of the time the hybrid model performs just as well as conventional Auris. With enough room for a growing family, the car's cabin is a good size and boasts plenty of oddment storage. Where the hybrid car differs is in the boot department. With the hybrid hardware behind the rear seats, load space is significantly reduces to that of a supermini in real terms.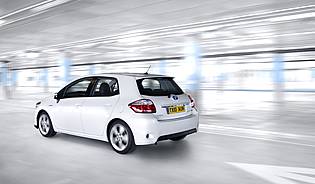 battery-only mode useful for short, low speed driving
Controls and display

This revised second generation Auris boasts a redesigned handbrake, which should please those who found the original item awkward. In hybrid trim the car's stubby auto gearlever is straight out of the Prius and is immediately intuitive. The car's main instruments are, clear and concise, while the extra hybrid-related information - range, performance - is displayed in an easy to understand format.
Comfort

As far as five-door hatchbacks go the Auris offers a good level of space and comfort for occupants. The support seats fore and aft are welcome, and under normal conditions engine and road noise is well suppressed - only hard acceleration will disrupt the otherwise calm cabin ambience.
Car security

Remote central locking and an engine immobiliser are both standard, while selected models offer a completely keyless entry and ignition feature so that you can keep the key in your pocket at all times.
Car safety

Like with the conventional Auris models, the hybrid variant boasts an impressive array of passive and active safety measures, including ABS, EBD, brake assist as well as stability and traction control. Occupants are also protected by seat belt reminders, nine airbags (including knee airbag for the driver), front seats designed to prevent whiplash and two Isofix child seat fittings.
Driver appeal

As with any full hybrid from Toyota the driving experience is a little unusual at first. The ability to drive on electric power alone for short distances at low speed can prove useful, but you soon learn to drive the Auris hybrid in a gentle, considerate way. Your reward for hard acceleration is lots of noise and not much progress as the CVT auto gearbox struggles to keep up with your demands. Moderate acceleration, plenty of anticipation and gentle braking is the way to getting close to the official economy figures. Everything else is pure Auris, from the heavily assisted steering to the car's slightly firm ride.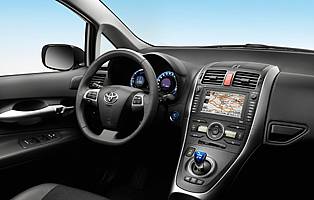 Auris hybrid's cabin near-identical to the standard car
Family car appeal

The regular Auris has been designed with families in mind, and the five-door model is certainly appealing. The car's durable cabin is an obvious plus point, although the hybrid's compromised boot could pose a few problems if you fail to plan ahead.
First car appeal

Just like with a regular Auris, there's no reason why the hybrid model can't be a recommended purchase for a novice driver. It's a safe, practical and reliable choice; all-round visibility is good which makes it relatively simple to park - a distinctive plus for the less experienced driver. With its automatic gearbox and simple controls, the hybrid Auris could be the better choice.
Quality and image

Toyota has a reputation for producing reliable vehicles, and as such many are purchased by the more conservative, older driver, as well as by families. The conservative-looking Auris the lacks visual flair of some rivals but it is modern. It does trump most rivals with its hybrid technology, however.
Accessibility

With its slightly raised front seating position, the five-door Auris is an accessible car. Realistically, there's no compromise when accessing the rear seats either. The boot hatch feels light, and can easily be opened and closed one-handed.
Stereo and ICE (In car entertainment)
The hybrid Auris benefits from an elevated level of specification over the regular models, and its audio offering is above average. Sound quality is good and the essential controls are present on the steering wheel. Bluetooth connectivity, iPod connections and sat-nav are all available.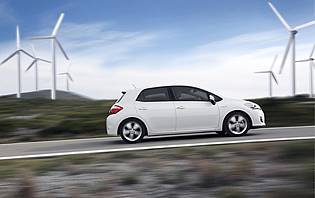 Delivers impressive fuel economy driven smoothly
Colours and trim
The conservatively styled Auris works best if selected in a bold exterior colour, with white a surprisingly good choice. Inside, a decent range of trim levels do much to lift the car's otherwise somber cabin ambience. The interior fabrics and plastics do not feel special, but they are robust and well put together.
Parking
Thanks in part to the elevated driving position, all-round visibility is good and parking is straightforward. Parking sensors are a welcome addition, as is the car's light and accurate steering at low speeds.
Spare wheel
A tyre mobility kit is included as standard.
Range information
Petrol engine options - 1.33-litre (100bhp); 1.6-litre VVT-I (122bhp); 1.8-litre HSD hybrid (98bhp plus electric motor). Diesel engine options - 1.4-litre D-4D 90 (89bhp). Transmission options: five-speed manual gearbox, six-speed manual gearbox, switchable MultiMode automatic gearbox, E-CVT auto for HSD hybrid. Trim levels: T2, TR, SR, T3, T4, T Spirit.
Alternative cars
Volkswagen Golf Sixth generation inherits strong build quality and frugal diesel variants
Ford Focus Benchmark for general motoring duties but lacks innovative hybrid model
Vauxhall Astra Impressive mainstream alternative, but can't match Audis HSD for CO2 rating
Honda Insight Competent alternative hybrid that's cheaper to buy than Auris but quite as efficient
Over 1,200 more car reviews online
All the reports since 1990 are available on this site, just search by make and model below.
Other products & services
Related information
October 2010