Audi A5 RS 5 Coupe
April 2010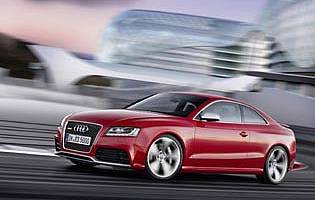 Subtle but effective visual changes help RS 5 stand out from the crowd
Ratings
Overall rating
Value for money
Costs
Space and practicality
Controls and display
Comfort
Car security
Car safety
Likes
Powerful V8 engine is full of character
RS bodykit enhances already attractive looks
Polished ride and handling a welcome leap forward over previous RS variants
High quality cabin up to Audi's usual standard
Gripes
Access to the rear seats could be better - the chunky sports seats don't help
Can sometimes feel too clinical - car requires little effort to travel quickly
Has the potential to be a very noisy car, which doesn't help if you want to be discrete
Running costs will be high for a car with this level of performance
Buoyed by the success of its RS 4 range, Audi has turned up the heat with its RS 5. It's also learned much in recent years, and with the critics now warming to the various S and RS models, it's clear that Audi has rediscovered that ability to make engaging performance models after a long time in the wilderness.
You only get one shot with the RS brand. Audi has been clever not to flood the market, which means there's only one model at a particular time. With the RS 4 making way for the RS 5, evolution of the sub-brand has led to a gradually more polish product.
Using its A5 as the base vehicle, Audi has transformed its popular coupe into a Porsche-baiting high performance car. The firm's S5 previously hinted at the car's potential, but packing a 444bhp V8 the RS 5 moves the game on by a substantial margin.
And this is no straight-line missile. Audi has learnt plenty from the press and customer feedback of its recent offerings, plus there's a lot of evidence to suggest that its engineers have rediscovered how to make a great handling sports car. The RS 5, with its intelligent quattro all-wheel drive system, adjustable suspension and that V8 engine, is a convincing package.
Visually it's a subtle change over the lesser S5, itself a surprisingly restrained performance car. The RS 5's bodykit is modest, although the active boot spoiler does give the game away at speed. Refreshingly, the RS 5 is no one trick pony, and proves to be versatile performance machine. The coupe bodystyle is a practical one, while the car's ability to cover ground rapidly with little effort adds to its all-rounder appeal
Our verdict on the Audi A5 RS 5 Coupe
Far from being a one-trick, straight-line pony, Audi's RS 5 delivers a level of performance that should silence critics of Audi's recent high-end sports cars. The German firm has clearly learnt much in recent years, and RS 5 is offers an exciting, rewarding and engaging experience, plus the ability to play it cool on the commute to work.
Costs

On paper the RS 5 appears to be good value. You certainly do get a lot, what with the car's performance and general feeling of quality. The flipside is that you'll be spending a lot on fuel and road tax.
Space and practicality

Despite the presence of two expertly crafted rear seats, the RS 5 is realistically a two-seater - at least for adults - as head and legroom is modest in the back. Elsewhere there's a reasonable amount of oddment storage up front, while the car's boot is a good size for a compact coupe and access is straightforward.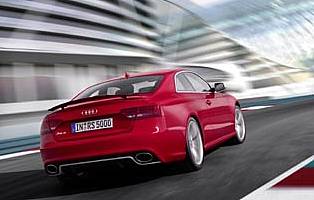 RS 5 will show most rivals a clean pair of heels
Controls and display

Along with building high quality cars, Audi's reputation stretches to its cabin ergonomics. Clear displays and intuitive controls rule in the RS 5, with the large, main colour display proving especially easy to use thanks to Audi's smart MMI rotary controller. On the performance side, the car's steering wheel mounted gear shifters work well and the steering wheel itself is suitably chunky.
Comfort

The RS 5 might be a high performance car but it's also a comfortable one. With its heavily bolstered front seats, front seat occupants are well catered for. Once you're in the back, there's enough room for an average size adult, although you'd want to restrict journeys to short ones. On the road, the car can be quite loud; this is often desirable but sometimes it would be nice to drive around without the V8's macho soundtrack.
Car security

For all the car's performance potential it doesn't stand out that much on the road - until you fully exercise the V8, that is. You should find that the factory fitted approved alarm and immobiliser as fitted as standard to all A5 models, will do a fine job of protecting your pride and joy. For added peace of mind, you could invest in a tracker system.
Car safety

Along with the other aspects of the car, Audi hasn't skimped on the RS 5's safety lit. All the usual items are present - plenty of airbags plus an advanced traction and stability package. Don't forget the car's all-wheel drive system, which is just as useful on a wet, winter road as a trackday activity.
Driver appeal

Having spent many years struggling to produce engaging sports car since the original quattro, the RS 4 showed the first signs of promise. The RS 5 builds on this and delivers an impressive performance. The car's V8 engine is powerful and willing, while the seven-speed dual clutch gearbox is responsive and the ride cleverly balances the need to be firm yet comfortable. Various adaptive systems help to enhance the ride, while the all-wheel drive system allows for a greater rear bias - making the car feel and behave in a more agile way when driven hard.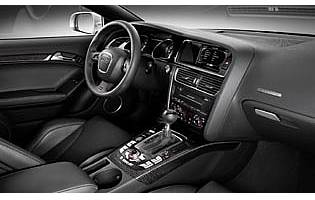 Plush interior is up to Audi's usual high standards
Family car appeal

There's little chance of any A5 variant, let alone the RS 5, taking over as the default car in the family household. It might have a good size boot but access to the rear seats is as you'd expect from a coupe, making them suitable really only for children. Even then, reaching in and belting them in will be awkward.
First car appeal

Unlike the more accessible and affordable regular A5 variants, the RS 5 is a bit special. It's also a bit more powerful and expensive to run, making it less than ideal for the novice driver.
Quality and image

Audi has had the quality thing nailed for some time now. Whatever the car, the cabins are an object lesson in how to build something with substance and a premium ambience. And with its newfound ability to develop engaging performance cars, trading on the quattro name is no longer viewed by the critics as a cynical marketing ploy.
Accessibility

Being a two-door coupe access to the front seats is easy, although the car's big doors could prove troublesome when opened in tight parking spaces. You'll need to be agile to get into the back, though. The RS 5's chunky sports seats don't help matters, as they rob the rear cabin of a little space. At the back the car's boot is a good size, and does much to enhance the Audi's practical side.
Stereo and ICE (In car entertainment)
The standard offering is a good one, with the display and various controls easy to read and use respectively. Sound quality is also good, and the various add-ons - mobile phone, MP3 player, iPod, sat-nav and premium audio upgrade - all work well.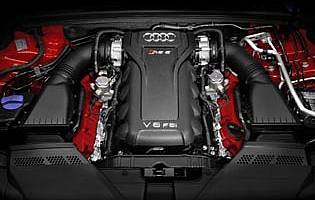 Design shows off the V8 engine - it's worth the effort
Colours and trim
Taking the A5 shape to its logical, performance-orientated conclusion, the RS 5's bodykit is a pleasingly subtle one. Factor in a palette of bold exterior colours and the car's appearance is striking without being brash. Inside it's the usual high quality Audi experience. The dark leather and low roofline combine to make the ambience a sombre on, though.
Parking
With its light but accurate steering at slow speeds plus useful parking sensors, the RS 5 is no more difficult to park than a regular A5. Rear three-quarter visibility could be better, although that's often the case with any low-slung coupe.
Spare wheel
Space saver spare wheel is replaced by a tyre inflation kit.
Range information
Petrol engine options - 1.8-litre turbocharged (160bhp); 2.0-litre (180bhp, 211bhp) 3.2-litre (265bhp) 4.2-litre (349bhp, 444bhp). Diesel engine options - 2.0-litre (168bhp), 2.7-litre (187bhp), 3.0-litre (237bhp). Six-speed manual, seven-speed S-tronic dual clutch and eight-speed Multitronic CVT auto transmission fitted depending on the engine variant along with quattro all-wheel drive for selected models. Trim levels: base, SE, Sport, S line, S5, RS 5.
Alternative cars
BMW 3 Series Coupe In M3 trim the car is rapid but less of an all-weather car than the RS 5
Mercedes-Benz C-Class AMG variant offers plenty of thrills but lacks the Audi's polish on the limit
Nissan GT-R Offers similar performance to the RS 5 but lacks the Audi's outgoing character
Porsche 911 In this company it's the most expensive and least practical, yet is full of character and rewarding to drive hard
Over 1,200 more car reviews online
All the reports since 1990 are available on this site, just search by make and model below.
Other products & services
Related information
April 2010