BMW 3 Series 316d ES Saloon
February 2010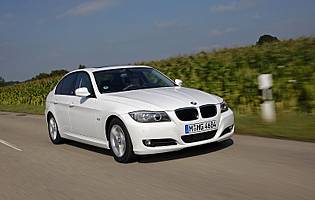 3 Series grille is a common site
Ratings
Overall rating
Value for money
Costs
Space and practicality
Controls and display
Comfort
Car security
Car safety
Likes
Smart exterior still looks good
Extremely impressive fuel economy
Nimble and surefooted handling
Very comfortable ride
Gripes
Rear bench a little cramped compared to some rivals
Specification is modest
Diesel stop-start refinement not yet perfected
Switch gear design is unconventional
As a popular choice with fleet, company car and business drivers, it comes as no surprise that BMW has deemed it necessary to produce a high-economy version of the D-segment 3 Series. Featuring a detuned diesel engine and stop-start technology, it joins the ranks of super-economical rep cars.
It may be getting on in years, but the current generation 3 Series is showing no signs of flagging. Some rivals are only now catching up with its cutting edge design and the comprehensive range of petrol and diesel engine options continue to stand up well in a competitive sector.
A new addition to that range is a detuned version of the 2.0-litre diesel unit. Producing 116bhp it is designed to offer improved fuel economy for high-mileage drivers. The unit has been combined with six-speed manual gearbox featuring a long top gear, low rolling resistance tyres and a stop-start system to shut the engine down when at a standstill.
The resulting package has been employed in a base specification ES model called the 316d, and offers outstanding real world fuel economy. The saloon model features the same practical four-door body as elsewhere in the 3 Series range, making it a tempting proposition for company car drivers and fleet managers.
Inside, the ES specification is basic but not short on equipment with air-con and leather additions included in the neatly styled and attractive interior. Outside, 16-inch alloy wheels and foglights are standard.
Our verdict on the BMW 3 Series 316d ES Saloon
The key elements of sophisticated interior and exterior design, neat handling chassis and excellent build quality are all present and the new element of high efficiency sits well with them. With excellent real world fuel economy, smart looks and great road manners, the 316d is a desirable model even in base ES specification.
Costs

Customers will pay a small premium for the diesel engine and stop-start technology, meaning the 316d remains a more expensive option than some of the models from sub-premium brands. However, the real world fuel economy is extremely impressive and owners will see excellent returns on their investment if covering high miles. The desirable badge should also aid residual values.
Space and practicality

Anyone seeking more practicality can opt for the Touring model, but the saloon model can hold its fair share of luggage. The boot is deep rather than tall but can easily swallow two large suitcases or a bag of golf clubs. The interior also provides several cubbyholes and cup holders to stop things rolling around on the floor. Rear legroom is less impressive than some rivals, but the cabin can hardly be described as camp.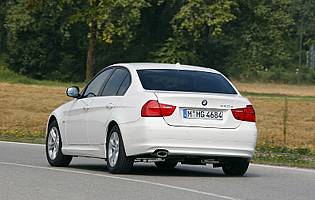 LED lights are standard on the facelifted 3 Series
Controls and display

There's no i-Drive system in the base specification 316d, which may please some drivers who prefer a more traditional set-up. The dials are clear and concise as is the orange central display, but drivers unfamiliar with BMWs may take some time getting used to the different approach to functions such as the windscreen wipers using the column stalks.
Comfort

Extremely refined and with an impressively cosseting ride, the 316d proves highly capable at racking up motorway miles. Air-con is standard and rear passengers benefit from their own central ventilation pod. The stop-start system is reasonably discreet, but can cause some vibration in the cabin as it restarts the diesel unit. Occupants will quickly get used to it, though. The long top gear keeps revs and noise to a minimum on the motorway.
Car security

An electronic vehicle immobiliser, central locking with remote control and a free-wheel lock cylinder should keep the 316d safe from any unwanted attention. The saloon form keeps items in the boot secure.
Car safety

There's no shortage of airbags, structural safety elements or electrical safety systems present on the 316d despite its base model status. Dynamic stability control is standard, too.
Driver appeal

The economical diesel engine may be down on power compared to the rest of the range but the 316d still manages to use its torque to offer respectable performance. The 3 Series' much admired chassis and rear-drive handling remain and the model proves good fun to exploit, although the low rolling resistance tyres do take the edge off grip levels. The taller top gear fails to detract from city performance, but the steering is a little heavy when in town.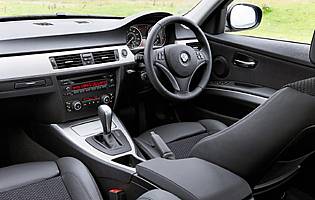 Interior specification is basic but very pleasant
Family car appeal

The 316d would make a smart family car. A strong degree of practicality, sensible running costs and room for five makes it a family friendly vehicle. The smaller boot of the saloon may be the limiting factor.
First car appeal

The 316d would make an unusual choice for a first car, but with its impressive economy it wouldn't necessarily be a poor one. The model is aimed at a mature executive market rather than a youth one, however. A first company car is more like it.
Quality and image

BMW enjoys a consistently strong reputation for build quality amongst other things and inside the 316d ES it's easy to see why. Clearly crafted with precision there are no squeaks rattles or groans inside and the exterior finish is equally impressive. BMW no longer enjoys such a lead in the badge desirability stakes, but it is still one of the world's most respected premium volume manufacturers.
Accessibility

The 3 Series does posses a rather sporty stance but still doesn't represent too much of a climb down when it comes to getting in. The seat bases are very wide and despite the buxom bolsters prove easy to slide into. The midriff support can even be adjusted electronically. The door portals are wide and all four doors open to an extensive angle.
Stereo and ICE (In car entertainment)
The standard CD and radio system offers very reasonable sound quality. Incorporated fully into the central dash assembly it's intuitive to use, with the selection of buttons changing purpose depending on the options available. Additional audio controls on the steering wheel are useful.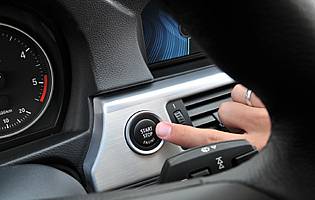 Push button start is standard equipment
Colours and trim
Lighter shades arguably suit the form of the facelifted 3 Series best, allowing its bonnet and side-sill features to be distinguished more easily. A full range of colours is available however, so customers are spoiled for choice. Interior trim is dark with metallic strips on the dash, doors and gearknob breaking up the blacks and dark greys of the dash assembly and seat material. Outside, smaller alloys wheels are one of the few clues to the 316d's fuel efficient status.
Parking
Unusually for a BMW 3 Series, the 316d ES does not benefit from rear parking sensors. However, they shouldn't be missed as the uniform shape is easy to judge and the saloon boot only extends a short distance form the rear window. Thanks to rear-wheel drive the turning circle is excellent.
Spare wheel
Emergency tyre repair kit fitted as standard.
Range information
Petrol engine options - 2.0-litre (143bhp); 2.0-litre (170bhp); 3.0-litre (218bhp); 3.0-litre (272bhp); 3.0-litre (306bhp); 4.0-litre (420bhp). Diesel engine options - 2.0-litre (116bhp); 2.0-litre (143bhp); 2.0-litre (177bhp); 3.0-litre (197bhp); 3.0-litre (254bhp); 3.0-litre (286bhp). Transmission options: six-speed manual gearbox, six-speed automatic gearbox with sequential manual override, seven-speed dual clutch automated manual with automatic and sequential manual modes. Trim levels: ES, SE, SE Business Edition, M Sport, M Sport Business Edition, M3.
Alternative cars
Mercedes-Benz C-Class 220 CDI BlueEFFICIENCY is the most economical option
Audi A4 A4 2.0 TDIE offers similar fuel returns
Vauxhall Insignia Insignia Ecoflex is the eco-specialist model
Volkswagen Passat Bluemotion Passat set the standard in the segment
Over 1,200 more car reviews online
All the reports since 1990 are available on this site, just search by make and model below.
Other products & services
Related information
February 2010