Hyundai Santa Fe 2.2 CRDi 7 seat Auto Premium
December 2009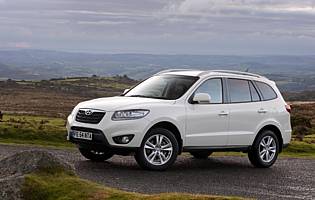 Car has a competent chassis and impressive diesel engine
Ratings
Overall rating
Value for money
Costs
Space and practicality
Controls and display
Comfort
Car security
Car safety
Likes
Sophisticated exterior styling helps lift the Santa Fe's appeal
Ride strikes good balance between minimal roll and bump absorption
Transition from seven-seater layout to load-lugger is quick and easy
Modest price and running costs should appeal to buyers on a budget
Gripes
Hard plastics dominate the cabin
Although convenient, auto gearbox could be more responsive
Badge snobs unlikely to warm to car despite its plus points
Lack of load cover for seven-seat variant
The medium-size SUV has been the exclusive preserve of European car makers for as long as many can remember. Although increasing numbers of buyers are no longer exploiting the full capabilities of such vehicles, the trend for moving further up the premium scale is on the up. That's great if you have deep pockets but what if you want a rounded, affordable SUV? Hyundai hopes you'll choose its revised-for-2010 Santa Fe.
If it's a conventional SUV with few frills that you're after, Hyundai's Santa Fe has always been a prime candidate. In years past the SUV has, despite proving to be an effective off-road tool, a little rough around the edges. This latest variant showed that Hyundai was keen to broaden the car's appeal in the burgeoning lifestyle sector.
A welcome increase in overall refinement immediately raised the Santa Fe's status to a level alongside many European offerings. The same could be said of the car's looks, which delivered a more sophisticated and mature appearance. Last but not least, the Santa Fe's newfound outright performance ensured that even the critics had to take it seriously.
This version, boasting a number of cosmetic and mechanical enhancements, is a welcome step up the ladder in terms of perceived and actual improvements. Key to this Santa Fe's performance is its 2.2-litre diesel engine. Coupled with a new six-speed manual or automatic gearbox, the 4x4 can be driven smoothly or coaxed into accelerating rapidly with little effort. It's also relatively frugal and pleasingly flexible and refined.
Proof that Hyundai has matured as a car maker comes in the shape of the Santa Fe's driving manners and family friendly practicality. Regarding the former, the SUV delivers a car-like experience with little of the annoying pitch and roll associated with the 'soft-roader' genre. And in seven seat mode, the car can accommodate a large passenger contingent or a bulky load - the choice is yours as the rearmost seats conveniently fold flat into the boot floor.
Our verdict on the Hyundai Santa Fe 2.2 CRDi 7 seat Auto Premium
With the traditional mid-size SUV market heavily populated by premium models, it would be fair to think that you need deep pockets for a family-friendly, competent, well-equipped 4x4. Hyundai's Santa Fe is proof that you don't. Sure, other low-cost options exist, but none deliver a rounded experience like the Hyundai. Modest ownership costs, good looks, a stunning diesel engine and a versatile cabin all add up to something special.
Costs

In real terms the Santa Fe, or any medium size SUV, will cost more than an average family hatchback. For some the benefits of something like the Santa Fe will, obviously, outweigh the negatives. That said, be prepared to spend more time at the filling station and with your insurance company, for example.
Space and practicality

In seven-seat guise the Santa Fe offers the best of both worlds: plenty of cabin space and the flexibility to carry people or their belongings. That rearmost pair of seats fold into the boot floor and further extend the car's carrying capacity. Up the front, oddment storage space is generous: door bins, centre armrest and glove box offering ample capacity.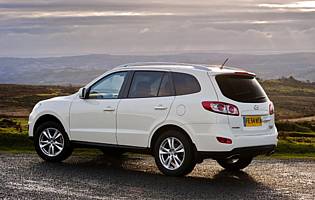 Tailgate opens to reveal and large and versatile loadspace
Controls and display

There's nothing flash about the Santa Fe's interior - everything is laid out in a sensible fashion. Controls and displays are intuitive and clear respectively, while the steering offers a good balance of assistance and feedback. The foot operated parking brake might take some getting used to, though.
Comfort

Aside form the slightly firm ride on poorly surfaced roads, the Santa Fe offers a composed and refined experience. The diesel engine proves a little vocal when pushed hard, but otherwise the cabin remains a tranquil environment. The car's spacious interior means that there's no chance of rubbing elbows with fellow occupants.
Car security

Any SUV is a desirable object for thieves and the Santa Fe will be no different. The usual remote central locking and immobiliser package is, frankly, all you'll need, as it should thwart all but the most determined criminal. With plenty of cabin storage areas belongings can be kept out of sight. You might rue the absence of a load cover for the seven-seat car, though.
Car safety

There's no shortage of kit in the Santa Fe; there are airbags everywhere and the inclusion of anti-lock brakes plus stability control should keep you out of trouble. The car's intelligent all-wheel drive can be locked in four-wheel drive mode - essential for very slippery conditions.
Driver appeal

For an SUV, the Santa Fe rides surprisingly well on road. Pitch and roll is well contained, while the car's agile nature puts it ahead of many rivals. Some might find the car's ride a little firm on poor surfaces and rough ground - assuming you venture off-road at all. Key to the car's performance is this punchy 2.2-litre diesel engine. Its torquey nature and high output ensure rapid acceleration, effortless overtaking and relaxed cruising.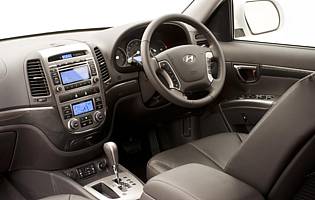 Solid build quality and refinement shame more expensive rivals
Family car appeal

In five-seat guise the big Hyundai strikes a good balance between space and seats. If you find yourself transporting more people on a regular basis, the seven-seat version might be more useful. Access to the third row is acceptable, while those extra seats fold flat into the floor when not in use. Elsewhere in the cabin, the various materials appear durable and there's plenty of oddment storage options.
First car appeal

If as a novice you're presented with the Santa Fe there's no need to worry. All the major controls are straightforward, with the auto gearbox option saving you an extra layer of worry. The car's lofty driving position ensures good all-round visibility, although its size will take some getting used to.
Quality and image

In the small car world Hyundai is well respected but there's still some way to go for the company to gain widespread acceptance in the mid-size SUV market. Land Rover's Freelander might dominate but the Santa Fe trumps it on price - if only the badge snobs would realise this. Boasting a generous five year warranty and solid build quality, there's no excuse to not having it on your shopping list.
Accessibility

For an SUV cabin access is surprisingly good. Ground clearance is par for the class but getting in and out should pose few problems for anyone -even to the third row of seats. All the doors open wide, while the sizeable tailgate requires little effort to open and close.
Stereo and ICE (In car entertainment)
No complaints here as Hyundai has long since realised that a solid performance by the audio unit is a key attraction. An easy to use unit, the Santa Fe's combined radio and CD player also boasts an aux in socket and can be had with a USB connection for iPods - the menus system proves easy to navigate.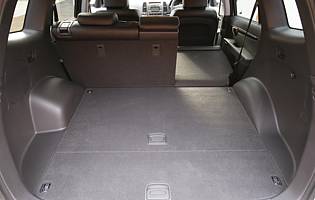 Third row of seats folds into boot floor for convenience
Colours and trim
To compliment the car's sophisticated appearance, subdued metallic colours are the order of the day. This way you can help boost the premium aspirations of Hyundai's mid-size SUV. Inside the Santa Fe it's a little sombre, but the plastics look and feel hard - missing the premium mark a little.
Parking
Despite its size the Santa Fe isn't a difficult car to manoeuvre. The rear parking sensors are accurate, although the steering could do with more assistance at low speeds. The car's lofty driving position does afford you a good view fore and aft, however.
Spare wheel
Conventional tyre fitted as standard.
Range information
Diesel engine options - 2.2-litre (194bhp). Transmission options: six-speed manual or automatic gearbox depending on model. Trim levels: Style, Premium.
Alternative cars
Kia Sorento Similar concept and boasts a softer ride
Ford Kuga More polished performer but the trade off is the asking price and only five seats
Nissan Qashqai More a soft-roader than genuine 4x4 but a popular and acclaimed alternative family car
Mitsubishi Outlander Family-focused and capable 4x4 - cabin lacks 'wow' factor of some rivals
Over 1,200 more car reviews online
All the reports since 1990 are available on this site, just search by make and model below.
Other products & services
Related information
December 2009