Audi A5 2.0 TFSi Sportback
September 2009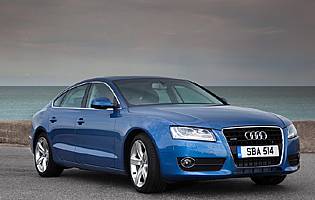 Familiar Audi nose fronts distinctive body shape
Ratings
Overall rating
Value for money
Costs
Space and practicality
Controls and display
Comfort
Car security
Car safety
Likes
Flexible and powerful engine
Attractive exterior styling
Fine ride and handling balance
High quality cabin
Gripes
Saloon rivals beat it for style
Cheaper A6 Avant is better value and more spacious
Expensive options
Falls behind on driving pleasure
Premium German marque Audi has introduced a third model in its A5 range with the new the Sportback model. Adding a five-door variant alongside the coupe and cabriolet models makes for a more practical range, as well as bringing in extra customers that want the stylish exterior but need the space.
Audi's success has always been based around premium values rather than practicality, but spinning off five-door models from already-desirable models such as the smaller A3 has already proved to be a successful tactic, broadening the range and making it a viable option for a greater number of buyers.
With the A5 Sportback Audi is going up against a number of coupes with two extra doors; a growing segment as buyers look for greater individuality within a car that is still practical enough to use everyday. One key difference with the A5 Sportback over its rivals is the hatchback at the rear, which gives boot space on a par with an A4 Avant model.
Rather than being a chopped-down version of an existing saloon, the A5 benefits from a new chassis, designed with improved handling in mind. The front axle is moved forward to improve weight distribution while the front suspension is a new multi-link arrangement, which promises improved responses and wheel control. The rear suspension is also revised, while quattro models benefit from a 40/60 front to rear power split, with the aim of improving balance.
As with many Audi vehicles, the A5 Sportback is available in a huge range of configurations taking in two and four-wheel drive, petrol and diesel models plus three different types of transmission. Within that there are models which benefit from start/stop technology, offering high levels of economy despite their size.
Our verdict on the Audi A5 2.0 TFSi Sportback
The A5 Sportback fills a small but significant niche in the Audi range and, although it is deliberately pitched towards business users, it offers something a little different for the private buyers. Handsome to look at and good to drive, the A5 Sportback has few compromises and would undoubtedly be an attractive and useful car to own.
Costs

Running costs are very dependent on engine and transmission combinations, but the entry-level petrol model offers very reasonable running costs for the price and class of car.
Space and practicality

Although access to the rear is slightly hampered, passengers in the back have sufficient head and legroom to sit in comfort. Boot space is also sufficient to cope with four adults and is usefully bigger than most of its rivals in this small sector.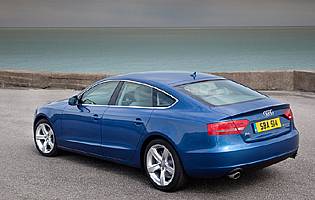 Rear view shows mix of coupe and hatchback features
Controls and display

The layout of the A5's cabin is superb, with a clear and attractive design and logical layout. The Multi Media Interface makes it easy to access the vehicle's systems, while attractive conventional controls are used for simpler adjustments. The instruments are equally attractive, with a simple and clear design.
Comfort

The A5 is comfortable car in which to travel, whether sat in the front or the back. The seats are heavily bolstered, offering impressive support and comfort over long periods. Refinement is also high, meaning little wind or road noise reaching the cabin. The suspension is also adept at soaking up road imperfections and reducing disturbance in the cabin.
Car security

A factory fitted approved alarm and immobiliser is fitted as standard to all A5 models, while the high strength door locks contribute to its status as one of the most secure vehicles available.
Car safety

With a brand-new high strength bodyshell, six airbags and tailored seat design, the A5 Sportback has a wealth of passive safety systems, but the grip and security offered by the combination of strong brakes, optional four-wheel drive and standard fit ESP makes avoiding an accident easier.
Driver appeal

The key to the A5 Sportback's driving appeal is the impressive engine range and the excellent refinement. The 2.0 TFSi engine may be the entry-level power unit but it impresses with its fuss-free power delivery and overall refinement. It also offers athletic performance when required. To drive, the A5 is comfortable and refined and, although when pressed it may not be as responsive as some of its rivals, it is capable and secure and will satisfy the vast majority of owners.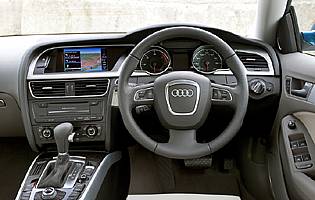 Usual high quality Audi cabin is present
Family car appeal

The A5 Sportback could be a family machine, with enough luggage capacity and room for children and child seats. It's also more stylish than the average family wagon, so it may appeal more strongly to the children as well as the adults.
First car appeal

Although easy to drive, the newly-qualified driver is unlikely to be interested in a car of this class and the purchase price is likely to be outside of their means.
Quality and image

The A5 is suffused with quality, through its elegant design and good materials. The quality of construction is also high, emphasising its robust feel. The A5's image is also strong, as Audi maintains its reputation for producing quality cars that are attractive and modern.
Accessibility

The extra pair of doors make a huge difference in terms of gaining access over the coupe model, although its worth considering that the low roofline means rear passengers do have to duck down when entering. As for the rear, the generous tailgate allows easy access to the well-sized boot.
Stereo and ICE (In car entertainment)
Even base models are fitted with MP3-compatible single CD/tuner with a colour screen and ten speakers. The upgraded Bang and Olufsen system adds a further four speakers and delivers highly impressive sound quality, while options such as TV reception and DAB digital radio systems create a wide choice.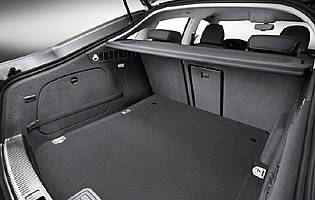 Tailgate opens to reveal generous boot
Colours and trim
This is one area where Audi excels, and the A5 is no different. Although not best suited to the brighter shades on offer, it has a great deal of presence particularly in darker colours, which show off its curved flanks. Inside, the trim is of a high quality with optional leather and aluminium inserts adding yet more quality.
Parking
All bar the entry-level Sportback models are fitted with parking sensors, but all versions are relatively easy to park. The slope of the tailgate allows you to see the car's extremities, and the light power-steering at slow speeds makes life easy.
Spare wheel
Space saver spare wheel fitted beneath the boot floor.
Range information
Petrol engine options - 2.0-litre (180bhp and 211bhp); 3.2-litre (265bhp). Diesel engine options - 2.0-litre (170bhp); 2.7-litre (190bhp); 3.0-litre (240bhp). transmission options: Six-speed manual gearbox, six-speed Multi-tronic clutchless manual gearbox with auto mode, seven-speed S-tronic clutchless manual gearbox with auto mode. Trim levels: SE, S line.
Alternative cars
Mercedes-Benz CLS Suave and sophisticated, good to drive if not practical
Volkswagen Passat CC Handsome, good value and good to drive
BMW 5 Series Gran Turismo Similar take on the theme, better to drive
Lexus GS Conventional saloon is well-equipped but lacks enthusiasm
Over 1,200 more car reviews online
All the reports since 1990 are available on this site, just search by make and model below.
Other products & services
Related information
September 2009