Audi A4 allroad quattro 3.0 TDI
July 2009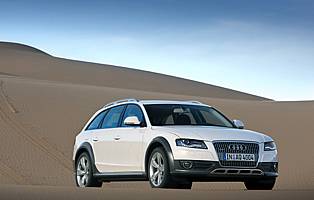 A4 allroad's exterior stays loyal to the popular A4 Avant
Ratings
Overall rating
Value for money
Costs
Space and practicality
Controls and display
Comfort
Car security
Car safety
Likes
Stylish exterior avoids the stereotypical SUV 'look'
The same high standards of build quality as other Audi cars
Powerful diesel engines are the best option for economical motoring
A4 Avant donor car is practical and versatile
Gripes
A premium product that might be wasted on low demanding users
Is there room in the Audi range for two allroad variants?
Handling remains balanced but not as sharp as conventional A4 Avant
A similarly priced regular SUV would be more capable on rough terrain
Famous for inventing new models to plug niches in the wider market, Audi's A4 allroad is essentially a mini version of its much loved A6 allroad. Not a full-blown SUV but a step up form a conventional estate car, the A4 allroad aims to bridge the gap between the two sectors for the minority who will likely buy one.
Some might be puzzled by the presence of only one bodystyle, but there's a reason for this. The infinitely more practical Avant variant lends itself better to the perception that the allroad is more of a lifestyle vehicle than a motorway hack for business users.
In reality the A4 allroad, complete with practical Avant body, is perfectly positioned between the larger SUV set and regular estate and hatchback models. Buyers turned off by the former - too big, too thirsty, to compromised in the handling department - are likely to opt for the A4 allroad as an intelligent compromise.
With its quattro four-wheel drive system, slightly raised ride height and strategically positioned exterior 'bash proof' panels, the A4 allroad carefully balances the need to offer enhanced off-road performance with the desire to maintain Audi's trademark clean exterior design cues.
Such a balance ensures that the car never shouts ""SUV"" or will look out of place in the office car park. In fact, it would be fair to say that the exterior modifications do more to cultivate an appealing lifestyle image that's more subtle than most 4x4s. Of course, inside it's all familiar A4 architecture, which should please Audi fans.
Our verdict on the Audi A4 allroad quattro 3.0 TDI
The cynics will no doubt view Audi's A4 allroad as something of a novelty item. What they fail to understand is that the car appeals to buyers who would otherwise be dissatisfied with a conventional SUV or regular estate car. The current crop of lower cost crossovers - Skoda Yeti, for example - aren't in the same league image-wise. Strangely, then, the A4 allroad has a niche all to its own.
Costs

Not your average company car, this A4 allroad will cost you more to purchase than a regular diesel A4. It's obviously a bit more special, and you're likely to add a few more options to it the point of sale given its premium status. That said, opting for one of the two diesel variants will help lessen the fuel and tax bills, while dealer visits should be only of the scheduled type.
Space and practicality

The allroad is essentially the same deal as a conventional Avant, which makes this A4 a pleasingly practical and versatile compact executive holdall. With the ability to fold the rear seats for increased load space, the allroad promises to be an intelligent compromise between compact SUV and estate car. Elsewhere, the car's cabin boasts plenty of oddment space and good size glovebox.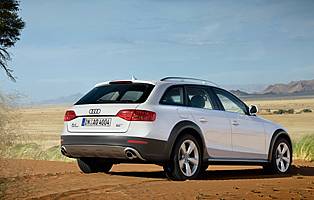 Avant-only bodystyle option perfectly suited to positioning
Controls and display

An object lesson in how to do it, the A4 allroad's various controls and displays prove clear and easy to read whatever time of day or night. The central console's dominant display is easy to see when on the move, Audi's main rotary control is immediately intuitive and the steering, gearshift and column stalks are straightforward to understand and use
Comfort

With more cabin room the previously, rubbing elbows is no longer a regular occurrence. Headroom in the back is now acceptable and, overall, road, wind and tyre noise is largely absent from the cabin when you're on the move. And despite the car's suspension biased slightly towards rougher terrain, ride comfort on Tarmac is no worse than in a standard A4.
Car security

The saloon bodystyle will always be the best anti-theft deterrent, but this Avant offers the next best level of protection thanks to a sturdy retractable load cover. As for the rest of the car, it's no different from any other A4: remote locking and a robust anti-theft package focused on keeping undesirables out.
Car safety

There's nothing to worry about here, which is partly down to the array of electronic stability controls and the full compliment of airbags dotted around the cabin. There's also the small matter of the A4 allroad's all-wheel driver system which, apart from proving useful in a muddy field, is likely to just as useful when you're traversing wet, leaf-strewn country roads in the middle of winter.
Driver appeal

Boasting a host of incremental if not quantum leap improvements over its predecessor, this A4 range proves to be a more mature and accomplished performer on the road. Despite the slightly raised ride height, handling hasn't suffered. This extra height is welcome when off road, as it gives you the ability to tackle rougher terrain with relative ease. The inclusion of all-wheel drive and a trio of impressive engines also helps.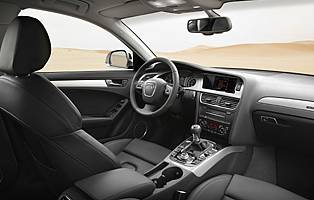 Familiar A4 interior is well built if a little sombre
Family car appeal

Audi does offer conventional SUVs large and small, but if you don't want to go down the high-rise hatch route the A4 allroad won't disgrace itself. There's less room than in, say, a Q5 but there are fewer ride and handling sacrifices. You might want to seriously consider your choice of upholstery though, as the plush leather options are unlikely to sit well with boisterous toddlers.
First car appeal

Despite the car's perceived and actually premium value, there's no reason why it can't be driven by a novice. The allroad is an easy car to control, and is hardly the high performance flagship in the range. Good forward visibility should put most first timers at ease.
Quality and image

For some this is becoming a trifle repetitive but it's fair to say that the A4 allroad is built to the same high standard as all modern Audis. It's something that does much to attract buyers to the brand, as does the car maker's bold, successful image.
Accessibility

Modest size increases across the board have ensured that access and egress is marginally better than before, especially for rear seat occupants. As you'd expect, access to the rear is straight forward, and the fractionally greater ride height also makes life a little easier.
Stereo and ICE (In car entertainment)
We're now familiar with this generation's excellent control layout and audio performance. The dominant screen displays settings and options for the high sound system plus secondary functions - phone, ventilation and car settings. The standard system features a MP3 compatible CD player, while colour sat-nav and iPod connectivity are just two options.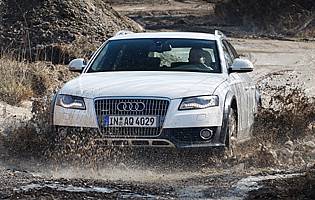 A4 allroad is perfectly at home away from Tarmac roads
Colours and trim
In keeping with the rest of the Audi range, the A4 allroad looks especially good in the darker, more mature colour options. This also bodes well when considering the car's add-on 'bash-proof' plastic protectors, which contrast nicely with the car's otherwise premium image.
Parking
The estate bodystyle makes life easier when it comes to parking, and is much better than the sometimes harder to judge saloon form when reversing. Parking sensors help, while the car's steering boasting a high level of assistance makes light work of complex manoeuvres.
Spare wheel
Space saver fitted as standard.
Range information
Petrol engine options - 2.0-litre (211bhp). Diesel engine options - 2.0-litre TDI (170bhp); 3.0-litre (240bhp). Transmission options: seven-speed S tronic DSG semi-auto and six-speed manual gearbox (2.0 TDI only). Trim levels: dependant on engine choice.
Alternative cars
Land Rover Freelander 2 Critically acclaimed conventional, compact premium sector SUV
BMW X3 Executive soft-roader offers more thrills on road than off
Subaru Legacy Outback Closest to A4 allroad but lacks the Audi's premium aura
Volvo XC70 Swedish alternative is as adept off road and boasts a brighter cabin ambience
Over 1,200 more car reviews online
All the reports since 1990 are available on this site, just search by make and model below.
Other products & services
Related information
July 2009