Audi Q7 3.0 TDI Clean Diesel SE
May 2009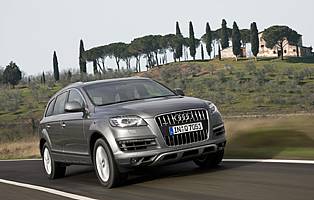 Exterior offers a subtle yet classy improvement
Ratings
Overall rating
Value for money
Costs
Space and practicality
Controls and display
Comfort
Car security
Car safety
Likes
Excellent level of cabin build quality
Choice of third row of seats or more space is a useful addition
Lofty driving position is most welcome
Cabin build quality is excellent
Gripes
A big car and can prove cumbersome around town
Petrol line-up is an extravagant luxury
Adult passengers might struggle accessing the third row of seats
Clean Diesel premium might be hard to justify for some
A big car by anyone's standards, Audi's Q7 premium SUV is a little cleaner since its launch in 2006. Large SUVs haven't always been on the right side of public opinion but Audi has cleaned up the Q7's act, along with tweaking its appearance.
The seven-seat SUV is not something for everyone. With the extra space comes a larger footprint. Audi's Q7 is hardly a small model, but that's the trade off for being a flexible and practical holdall. Only this holdall is more Gucci than high street. AS you'd expect, refinement is a big part of this big 4x4.
With size comes responsibility - not something the super-large 4x4s have been known for in the past. Now, with talk centring on fuel economy and CO2 emissions, everybody has to be seen to do their bit. Audi's approach has been to make the Q7 more efficient, but without compromising its underlying abilities.
With most European markets heavily focused on diesel for cars like the Q7, it's good to see more than just incremental improvements. Power and economy are up while emissions are down - there are similar improvements for the petrol units. Through a programme of steady improvement and the application of energy recovery systems, the Q7's engines go a long way to silencing critics of the premium SUV sector.
In an interesting technology-related twist, Audi has gone one better with its already popular 3.0-litre TDI unit. By offering a second engine badged 'Clean Diesel' this model boasts ultra-low harmful NOx particulate levels - the substance American law makers are clean on reducing. At launch, Audi's claims of the Q7 being the class leader in this area were more than mere hype. With Europe's concentration on CO2 levels it's debatable whether NOx reduction technology will take off, though. And the Clean Diesel model also commands a small price premium.
Our verdict on the Audi Q7 3.0 TDI Clean Diesel SE
The Clean Diesel variant is a smart move from Audi. Enhancing the Q7's green credentials should earn the car and its maker a little more respect. There's a chance the technology could gain traction outside North America, but don't hold your breath. In the meantime, the regular Q7s offer welcome reductions in all the keys areas without the extra price premium. And with the subtle visual tweaks they all look better, too.
Costs

This is not bargain motoring territory; the Q7 in any guise works out to be an expensive purchase. That said, being sensible with the cost options and opting for a diesel engine will take the sting out of writing the cheque. Running costs will be considerable but that's to be expected. Only you know if selecting the Clean Diesel variant (and it's price premium) makes financial sense, though.
Space and practicality

The Q7 will happily accommodate seven people, although the rearmost row of seats is best suited to children. Space in the first two rows is better and more car-like. That third row can be folded into the boot floor to create a five-seat estate car if required. There is enough storage areas dotted around the cabin to make it feel like a family-friendly conveyance, too.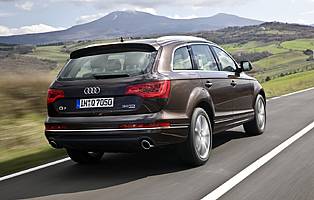 Revised tailgate/lights a welcome lift to the Q7's rear view
Controls and display

This is where the Q7 - and all modern Audis - score highly. The Q7's instruments and controls are easy to read and intuitive respectively. The now familiar MMI controller takes only a few minutes to master, while supplementary controls on the steering wheel are a welcome addition. The main colour screen is at the right angle for viewing on the move.
Comfort

In typical Audi fashion the Q7 breezes through this category. Supportive seats, a cabin does a good job of insulating occupants from road and engine noise, plus plenty of room for all occupants ensures a near-class leading performance.
Car security

Despite the Q7's obvious size you can feel safe that it's should remain where you parked it the night before. Like anything in the price category, the Q7 comes with a comprehensive antitheft package. Although you might also want to invest in a tracking device for added peace of mind, assuming your insurance company hasn't made it a condition of your policy.
Car safety

Audi takes safety very serious, so it's no surprise to learn that the cabin is full of airbags, fore and aft. Also onboard are numerous electronic traction and stability aids This is, of course, on top of the Q7's quattro four-wheel drive system, which offers plenty of grip in slippery conditions and the ability to adapt to changing off-road conditions with no intervention from the driver.
Driver appeal

It's always a surprise to find how well the Q7 drives. Despite its size it is an agile beast; capable of big speeds and able to carry most of through corners with little effort. The standard air suspension works well on and off-road - an environment the Q7 is capable of tackling without any problem. The engines help, with the diesels dominating the scene. The V8 is mammoth powerhouse, while the V6 units cope better than expected. The Clean Diesel unit behaves no differently to the regular six-cylinder motor.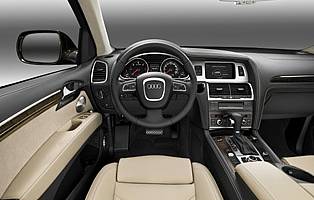 Q7's fascia leads where others follow
Family car appeal

Even if you don't use all three rows of seats, you've got an enormous boot space for carrying shopping or activity gear when the third row is folded flat. The cabin is quite luxurious, highlighting its unsuitability when in contact with small children. It is a great go-anywhere machine for the more mature family unit, though.
First car appeal

The Q7 is not a car that's likely to suit the first time driver. Not only is it on the large side but also a pricey car to own. It's an easy car to drive, but squeezing it down narrow city streets might prove too much for some.
Quality and image

Like the rest of the Audi range, the Q7 is impeccably built inside and out. The Q7's interior feels much like that of an A6, which itself is something that rivals the best from the other German marques. Audi appears incapable of doing wrong, with its steady stream of desirable new models.
Accessibility

You are required to step up into the Q7, but it's only a small step and the situation is much the same with all other premium, full-size SUVs. Exiting the car is the same story, although its air suspension can help by lowering it a little. Access to the Q7's boot is straightforward; the tailgate opens wide to reveal a large boot, while accessing the third row is okay so long as you're an agile person.
Stereo and ICE (In car entertainment)
With the colour infotainment screen dominating the car's upper fascia, it's easy to see the various audio functions when on the move. Audi's MMI controller remains one of the better efforts in luxury cars, and the major audio controls ones are duplicated on the steering wheel. Sound quality is good, and there are plenty of upgrade options, including an impressive sat-nav system and hard disc music 'jukebox'.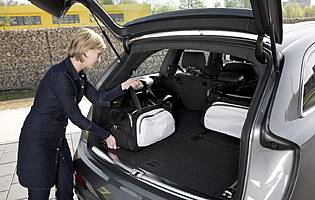 Fold the third row of seats flat and gain a vast loadspace
Colours and trim
Being at the luxury end of the scale, sombre colours work best. They also help flatter the Q7's size. Chrome highlights and the new grille add some glamour. Although a number of lighter trim and upholstery options are offered, the Q7's cabin remains a sombre one.
Parking
It might be a big car but the job of parking is rarely difficult, thanks largely to light power steering and generous-size exterior mirrors. The parking sensors also help, as does the optional reversing camera - displayed in the fascia screen.
Spare wheel
Spare wheel fitted as standard.
Range information
Petrol engine options - 3.6-litre (280bhp); 4.2-litre (350bhp). Diesel engine options - 3.0-litre -regular and Clean Diesel (240bhp); 4.2-litre (340bhp); 6.0-litre (500bhp). Transmission options: six-speed auto gearbox. Trim levels: base, SE, S line.
Alternative cars
Volvo XC90 More at home on road - great cabin ambience
BMW X5 The on-road benchmark, although starting to show its age
Mercedes-Benz GL-Class Big Mercedes is a solid all-rounder but big for town use
Land Rover Discovery 3 Outstanding off road but beaten by the Q7 on road
Over 1,200 more car reviews online
All the reports since 1990 are available on this site, just search by make and model below.
Other products & services
Related information
May 2009