Citroen C3 Picasso 1.6 VTi Exclusive
April 2009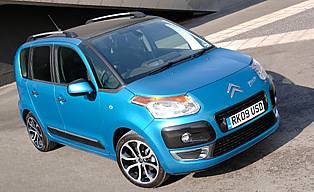 Funky styling is typical of Citroen
Ratings
Overall rating
Value for money
Costs
Space and practicality
Controls and display
Comfort
Car security
Car safety
Likes
Funky styling
Very capable chassis
Extremely spacious interior
Excellent visibility
Gripes
Hand brake lever positioned very low
1.4-litre petrol engine lacking in pulling power
Five-speed manual gearbox only
Wide gear-lever surround impacts on driver's knee room
Following the great success of its Picasso MPV formula when applied to the medium sized family hatchbacks, Citroen has pulled the same move on its compact C3 model. A roomier family vehicle but with a similar footprint to the space-efficient C3 hatch, the C3 Picasso is intended to be a practical compact MPV for urban families.
First applied to the Xsara model and subsequently the C4, Citroen's Picasso line followed the trend for manufacturers to take existing family hatchback platforms and make them more family friendly by introducing a larger, more spacious and often better-equipped body. Having had a great deal of success with those two models, Citroen has applied the same formula to the compact C3 hatchback, resulting in a compact SUV model called the C3 Picasso.
Building on a new platform has allowed Citroen to offer a model that's visually distinct from the original C3. Bolder in terms of its design, the C3 Picasso boasts some key attributes that show plenty of thought has been put into the model. A tall body with five large doors offers excellent access, a new wrap-around windscreen design with slim-line A-pillars leads to excellent visibility and individually adjustable rear seats make for a highly practical interior.
The tall and spacious body means the C3 Picasso is able to offer impressive head and legroom for rear passengers, but easily folded, flush rear seats means the model also has excellent potential as load carrier. Citroen is extremely proud of the C3 Picasso's storage space, which easily out-performs much of the competition. Under-floor storage and pull-out drawers increase practicality even further.
Three trim levels are available, all of which offer the same basic level of practicality and spaciousness. Exterior styling improvements and interior additions such as a rechargeable torch and fold-flat food trays appear as the trim level rises. Two petrol and two power outputs of the same diesel engine are offered, all matched to a five-speed manual transmission geared for ease of use around town.
Our verdict on the Citroen C3 Picasso 1.6 VTi Exclusive
Delivering in terms of the well-considered, highly practical and spacious interior plus an impressive chassis with enjoyable handling characteristics, the C3 Picasso is another excellent MPV effort from Citroen. The range is left a little limited through the lack of an automatic transmission option and the use of a short-geared five-speed transmission that's less at home on the motorway, but for town and A-road-driving, the C3 Picasso is highly capable.
Costs

A range of compact and fuel efficient engines ought to help achieve very reasonable fuel consumption and although the C3 Picasso is priced slightly higher than some of its competitors, it still represents strong value for money. Insurance costs ought to prove reasonable, too.
Space and practicality

Incredibly spacious, folding the rear seats flat means the Citroen C3 Picasso can happily be used as a small van. Rear seats can be slid forward and back or folded individually to accommodate combinations of luggage and passengers and storage is well catered for with under-floor compartments in the front and the boot. The glovebox is very small, however. On the Exclusive model, practicality even extends to a self-charging torch included in the boot.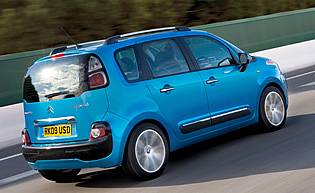 A boxy rear is very accommodating
Controls and display

The C3 Picasso features standard Citroen controls, which are sensibly laid out and functional. A steering wheel adjustable for height and reach makes it easy to get comfortable for the driver, however, the handbrake is placed awkwardly close to the floor and, although the gear lever is conveniently positioned, its surround impacts on the driver's knee space. A digital instrument binnacle is centrally mounted and works well, although it might benefit from being angled towards the driver. The large speedometer readout is great.
Comfort

A roomy interior is the C3 Picasso's main asset when it comes to comfort. Seats are shapely and their individually adjustable nature makes it easy for all to get comfortable. The Citroen staple of an extremely smooth ride is also a benefit in this area. Equipment levels for the Exclusive model include dual zone climate control, rear sun blinds and cruise control plus electric rear windows. VT and VTR+ are still well adorned, however, with a scented air-freshener and electric front windows. Air-con is not standard for the base model, however.
Car security

Remote central locking is standard, complete with deadlocks. Child locks are present on the rear doors, and all can be locked simultaneously at the flick of a switch.
Car safety

ABS with brake assist is standard equipment across the range and driver and passenger front airbags are standard. Side and curtain airbags are present on the upper trim levels. ESP is available as an option. Isofix points are present on the outer rear seats, but perhaps the biggest safety feature is the wraparound windscreen that improves visibility.
Driver appeal

The C3 Picasso is a surprisingly enjoyable car to drive. Despite its tall body, the suspension copes admirably in reducing body roll and the chassis feels taught and surefooted. Responsive steering with plenty of feedback, a precise gear change and progressive brakes mean the model could give sportier hatchbacks a run for their money. It doesn't need to be driven fast to be appreciated either. The wrap around screen design means visibility is excellent - useful around town. Gear ratios are short and best suited to town driving, which means smaller engined model can be buzzy on the motorway. The 1.6 in diesel in petrol forms is better capable out of town.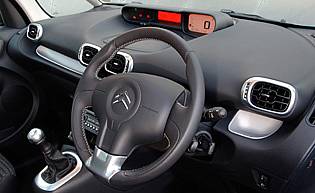 Central instrument display is a nice feature
Family car appeal

High on family appeal, the C3 Picasso makes for an adaptable, practical, economical and smart family car. Capable of serving as a sole vehicle, particularly for those who don't venture onto the motorway often, or as a second car to compliment something more capable at long distance cruising, it's a very versatile model. A child friendly interior, including a fold down mirror for watching the back seats, should prove more than capable of dealing with family life.
First car appeal

The C3 Picasso would not make a bad choice as a first car and, with its individual styling, may well be popular with younger drivers. That said, Citroen is not short of more traditional small hatchbacks, which may meet young drivers needs without the additional expenditure.
Quality and image

Noted for its innovative and often quirky styling, Citroen has pulled off another coup with the C3 Picasso model. Bold and assertive styling brings some excitement to an otherwise flagging segment. Citroen has gone a long way towards addressing reliability and quality issues that have plagued it in the past. The C3 Picasso feels well put together and material quality is acceptable.
Accessibility

The C3 Picasso scores highly for accessibility. A tall body with well proportioned passenger doors and a decent floor height makes it very easy to exit and enter. The boot door is huge, aiding access to the copious rear.
Stereo and ICE (In car entertainment)
A MP3 compatible CD player and radio set up is standard across the range. Sound quality is acceptable and standard steering wheel mounted controls make it easier to operate than when using the buttons on the centre console, which are a little on the small and fiddly side. An auxiliary socket allows an external device to be plugged in and a multi-function trip computer is useful.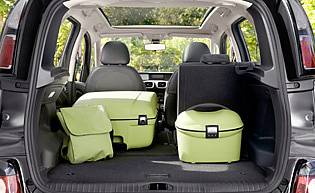 Large boot can handle lots of luggage
Colours and trim
Citroen has broken up the larger areas of plastic with light-coloured, textured inserts that make the C3 Picasso's interior easier on the eye. The uppermost Exclusive trim level benefits from additional leather for the steering wheel as well as chrome inside and out. 16-inch alloy wheels are also present, as are body-coloured bumpers. Lesser specification models are far from spartan however, with a decent level of equipment and interior detailing across the range.
Parking
Excellent visibility combined with huge mirrors and the C3 Picasso's boxy shape means parking is a breeze with or without the parking sensors that are standard on the Exclusive trim level.
Spare wheel
Space saver fitted as standard.
Range information
Petrol engine options - 1.4-litre (95bhp); 1.6-litre (120bhp). Diesel engine options - 1.6-litre (90bhp); 1.6-litre (110bhp). Transmission options: five-speed manual gearbox. Trim levels: VT, VTR+, Exclusive.
Alternative cars
Kia Soul Spacious, distinctive and reasonably priced
Vauxhall Meriva Tall body makes for a spacious interior
Nissan Note Practical small car with economical engine choices
Renault Grand Modus Less attractive visually, but spacious inside
Over 1,200 more car reviews online
All the reports since 1990 are available on this site, just search by make and model below.
Other products & services
Related information
April 2009