Vauxhall Astra 1.7 CDTi Ecoflex Design
April 2009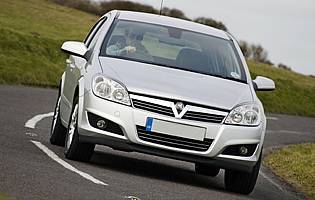 The Astra still looks sharp despite its age
Ratings
Overall rating
Value for money
Costs
Space and practicality
Controls and display
Comfort
Car security
Car safety
Likes
Design still looks sharp despite age
Solid feel to interior
Excellent ride despite firmer suspension
Excellent fuel economy
Gripes
Shiny interior not to all tastes
Diesel unit a little noisy on start-up
Boot access is impeded by narrow opening
Awkward entry to rear seats thanks to unusually-shaped doors
The Astra is no spring chicken, but that has not prevented Vauxhall from introducing an eco-friendly variant to maximise the model's fuel efficiency before it is replaced by the next generation model. Benefitting from a raft of technical revisions, the Astra Ecoflex aims to offer even more cost effective motoring.
The vast majority of manufacturers are now producing stand alone high efficiency variants of their popular models in order to lessen their, and their customers, impact on the environment. For the customer this has the additional benefit of saving money in fuel costs and road tax, should they cover enough miles to warrant the premium that most manufacturers ask for their high efficiency models.
Vauxhall is no different in this respect, particularly in the way it has gone about achieving the improvements in fuel consumption and emissions of its Astra Ecoflex model. Using a more powerful 108bhp version of Vauxhall's 1.7-litre diesel engine to turn over an increased final gear ratio has allowed the company to drop the revs at speed, saving fuel. The engine idle speed has also been lowered to prevent fuel wastage.
Further modifications include lower suspension than the standard models, a modified front bumper that features different air intakes, a drag reducing panel beneath the engine, low rolling resistance tyres and even improved efficiency from the steering pump. These improvements add up to significant fuel savings that are easily achieved in real world driving. Vauxhall states a combined figure of 62.8mpg.
Available as an additional engine choice across the range, the Ecoflex is available as a three-door Sport Hatch, five-door hatchback or estate. Drivers can still pick from within the long line-up regular trim levels, meaning there's no need to sacrifice equipment in order to benefit from the greater efficiency, either.
Our verdict on the Vauxhall Astra 1.7 CDTi Ecoflex Design
The fact that Vauxhall has managed to eek out additional real world economy from the Astra is impressive, but to do it in a manner that improves the driving experience is a real boon. The Ecoflex will deliver genuine financial benefits to drivers who cover enough miles to warrant the premium. The same flaws afflict it as the rest of the range, but the positives have been improved further.
Costs

Running costs for the Astra were already extremely competitive, but the addition of the Ecoflex engine option makes it an even more tempting proposition with high real world economy and a very low tax rating. The Astra has been designed from the outset so that superficial damage caused in minor accidents can be quickly and inexpensively remedied. Robust build quality means servicing should also be highly cost effective.
Space and practicality

The Astra boasts fine interior volume figures but is disappointing in practice. It can swallow large loads but only if you can squeeze them through the narrow rear opening. Seats fold down easily but don't go completely flat. Similarly, the rear doors are awkward to use but once inside, rear seat passengers have a respectable amount of space and excellent headroom. Front seat passengers are even better served, with the high roof making the cabin feel nice and roomy, and there's a reasonable amount of storage upfront.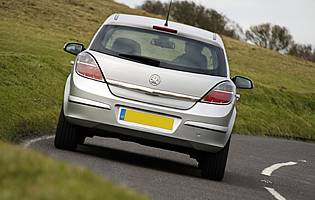 A narrow boot door can restrict access
Controls and display

Excellent clarity for the instrumentation is an Astra trademark. Tactile materials and chunky, solid switches and levers are a pleasure to use, too. The compact and thick-rimmed steering wheel is highly adjustable making it easy to find a natural driving position. The gear lever is perfectly positioned and has a short and sporty throw, while the pedals are nicely weighted.
Comfort

Seats feature particularly good lateral support, but smaller drivers who like to sit high up may find it difficult to get sufficient elevation to see the front of the bonnet clearly. A pollen and particle filter is a standard item and will enhance the Astra's comfort for many allergy sufferers. Noise and vibration levels are low except at start-up, when the diesel unit can be a little 'clattery'.
Car security

Remote central locking is a standard feature, operated via a foldaway key. It incorporates an Auto Lock system which re-locks the vehicle five minutes after the doors are unlocked without being opened and Speedlock, which locks doors at speeds over seven mph. Keyless entry and keyless start systems are optional extras.
Car safety

Front, side and full size curtain airbags are standard, and the model naturally features ABS. In the event of an accident, doors are programmed to unlock and options such as tyre monitoring are available. ESP is standard on the Design trim level, along with auto lights and wipers, which allow drivers to concentrate on the road.
Driver appeal

Well balanced and holding the road extremely well, the Astra is a particularly pleasant car to drive. The Ecoflex variant's suspension has been lowered to aid streamlining, which also benefits the responsiveness of the model. The ride quality is not unduly hampered, retaining its ability to glide along smoothly. Weighty steering and a slick and short gear change make this eco-friendly model extremely rewarding to drive.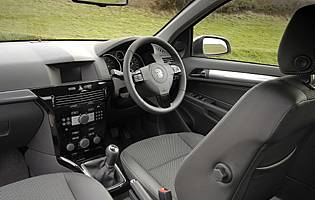 Interiors are solid and comfortable
Family car appeal

Family transport will be high on the list of roles for the Astra, and it is more than capable. Apart from the accessibility issues it caters well for family life with a spacious interior, good level of safety and a degree of flexibility. The rear will continue to accommodate kids as they grow, and the ride qualities and fuel efficiency of the Ecoflex will benefits families as a whole.
First car appeal

Though probably just beyond the reach of most first-time buyers, modest insurance and repair costs mean that the Astra has some appeal. In Ecoflex form it's extremely cost effective to run, heightening its young driver appeal. Responsive and reassuring handling characteristics make it a good choice for less experienced drivers, too.
Quality and image

The Astra has been available in this body style since 2005, but still looks fresh thanks to its distinctive and angular styling. One of the UK's best-selling models they are not an uncommon site, but still have a respectable level of kerb appeal thanks to high power versions like the VXR. Quality is very good for a car built in such numbers and reasonably priced. Inside and out there's solid build and material quality is also high.
Accessibility

Gaining access to the Astra's rear load space is made difficult by the narrow boot door and a pronounced sill that means shopping or suitcases need to be lifted over. The rakish angle of the rear doors also looks dynamic, but hampers back-seat passengers gaining quick access. Access to the front is considerably less troublesome.
Stereo and ICE (In car entertainment)
An MP3 compatible CD player with an auxiliary input is standard for the Design trim level, but stereo upgrades are available. Where present, the CD70 menu-based sat-nav system is compact and user-friendly with a minimum of extra buttons present. Bluetooth is also available as an option, while sound system controls are included on the steering wheel as standard. Sound quality from the system is good, aided by a generally quiet interior.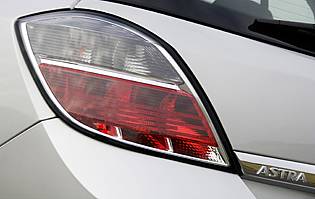 Angular light unit adds style
Colours and trim
For a car in a sector where young drivers might come looking, it's strange to see that the majority of the colours available for the Astra are less than vibrant. Silvers and greys make up most of the palette, and the Astra is a model that looks good in light metallic shades. Some deeper reds and blues are available. Inside, the piano black plastics around the console may be a little shiny for some, but the Design trim level does feature some classy leather touches and metallic effect door trim.
Parking
The Astra's compact size and wrap around rear windscreen makes it an easy vehicle to park, even where sensors are not present. A decent turning circle also aids tight manoeuvres.
Spare wheel
Space saver spare wheel fitted as standard.
Range information
Petrol engine options - 1.4-litre (90bhp); 1.6-litre (115bhp); 1.6-litre (177bhp); 1.8-litre (138bhp); 2.0-litre (236bhp). Diesel engine options - 1.7-litre (98bhp); 1.7-litre (108bhp); 1.9-litre (118bhp); 1.9-litre 148bhp). Transmission options: five-speed manual gearbox, six-speed manual gearbox, four-speed automatic gearbox, five-speed Easytronic clutchless manual gearbox, six-speed automatic gearbox. Trim levels: Expression, Life, Club, Active, Active Plus, Design, Elite, SXi, SRi, VXR.
Alternative cars
Ford Focus Econetic diesel offers similar appeal
Toyota Auris Reliable, sensible, less enjoyable to drive
Volkswagen Golf Smart new Golf is extremely refined
Peugeot 308 Value for money with economic diesels
Over 1,200 more car reviews online
All the reports since 1990 are available on this site, just search by make and model below.
Other products & services
Related information
April 2009