Citroen C1 1.0i VTR 3dr
May 2009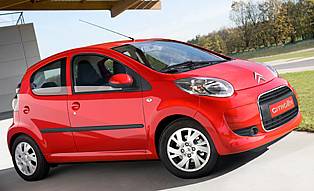 Refreshed Citroen C1's exterior is a bold look
Ratings
Overall rating
Value for money
Costs
Space and practicality
Controls and display
Comfort
Car security
Car safety
Likes
Modest running costs
Decent safety provision for such a small car
Genuine alternative to similarly priced used small car
Fun to drive and to good to look at
Gripes
Peugeot's 107 and Toyota's Aygo are stiff competition
Engine can sound gruff when pushed hard
Driving position lacks much in the way of fine adjustment
Cabin does only average job of isolating you from noise
There was a time when budget cars were pretty grim contraptions. Devoid of any refinement, technical competence and equipment, they were hair shirts on wheels. These days the situation is much improved. Small, city-centric cars are more plentiful, polished and able. One such example is Citroen's C1.
If the C1 looks vaguely familiar that's because it shares much of its looks and contents with Peugeot's 107 and Toyota's Aygo. The differences are, admittedly, small but they centre on looks, equipment and engine choice. Obviously, the final variable is price.
This is a refreshed version of the C1 that first appeared in 2005. The exterior changes aren't huge, and amount to a new nose more in keeping with the similar treatment actioned by Peugeot and its 107. The result is bolder appearance when looking straight at the C1. There's no point designing a conservative-looking car in this sector given the youth orientated demographic, which makes the C1's appearance perfectly acceptable.
Looks aren't everything, though. Fortunately the C1 goes as well as it looks. The core engine, a 68bhp, 1.0-litre petrol unit is a solid performer. Frugal, willing and boasting low emission, it's all you'll need. IN fact, it makes the diesel option look decidedly overqualified for the job as well as more expensive.
And excessive cost is not a charge you could level against the C1. For many its low price tag and the potential for further reductions at the dealership all prove attractive. It comes with a modest but reasonable amount of standard kit and, is likely to cost next to nothing to run over the course of a few years.
Our verdict on the Citroen C1 1.0i VTR 3dr
In three door form (there is also a five-door option) Citroen's C1 offers the best of everything if you're seeking out a dependable, low cost city car. Fun and easy to drive, surprisingly refined, spacious for something this small and stylish, there's little need to venture further afield if you want the support of a mainstream car maker and a wide network of dealers.
Costs

With its low asking price and frugal engine line-up you won't be breaking the bank with a C1 purchase. Insurance, road fund licence, servicing and fuel costs should be low. You will have to do an awful lot of miles in the diesel variant to make it pay, which is contradictory to the concept of a city car.
Space and practicality

The small space covered by that nifty glass tailgate is capable of swallowing a fair bit - 130 litres. Up front there's not a lot of storage space by larger car standards but the situation matches the car's frugal approach to motoring. More anti-theft friendly covered spaces would have been nice.
bold colours suit the C1
Controls and display

Basic information is clearly displayed in an oversize main dial. The model dependent extra rev counter is nice to have but hardly necessary. All the other main controls work as you'd expect, although with the ventilation controls it's a little style over function.
Comfort

Citroen has struck gold in the comfort department. The C1's attractive-looking seats are surprisingly comfortable, while urban driving duties rarely elicit enough engine and road noise for it to be a problem. Furthermore, occupants never feel cramped. All of which is impressive for such a small, inexpensive car.
Car security

Don't expect too much in the way of security on such a low cost cars such as the C1. Unlike VTR owners, VT owners don't get remote central locking, although all cars come with an immobiliser. For peace of mind you might want to add a visual deterrent such as a steering lock to ward away the casual thief.
Car safety

It's rare for city cars to mirror their larger counterparts in this department and the C1 is no different. It would wrong to be overly critical, though. At least the basics are covered - twin front airbags and ABS. VTR buyers gain side airbags, while the same car can be had with ESP for extra money.
Driver appeal

It's fair to say that, on paper, the C1's performance doesn't look that great. In petrol form - by far the most popular over the diesel variant - it's not a car for traffic light sprints. It does feel sprightly, though that's likely down to the car's low weight. A willing urban companion, the C1 is agile and responsive at low speeds. Motorway jaunts are possible but the engine can sound distracting after a while.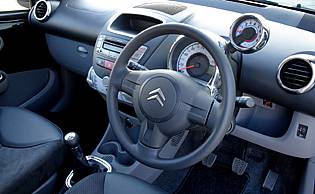 What you see is what you get - the C1 is basic but functional
Family car appeal

For a quick trip to the shops it would more sense to use the C1 than a large MPV or 4x4, although that's where the benefits end. In reality the C1 is too small for a growing family and, in three-door form, access to the rear seats is limited for belting in small children quickly. And that's before considering the car's small boot.
First car appeal

Where do you start with a car like the C1? Of course it's an ideal motor for a novice; it also allows many newly-qualified motorists to consider a brand new vehicle, with all reassurance that entails, instead of a used car that might be a riskier proposition. That it's easy to drive and park is more than a bonus.
Quality and image

Considering the car's asking price there's very little to complain about here. Sure, the interior plastic feel hard, but this budget motoring. What's not in dispute is the good the C1 has done for Citroen's image. The funky, jolly-looking city has shown that the French firm is in touch with cost-conscious buyers.
Accessibility

In three-door form the C1 allows exceptional levels of access to the front seats. The door is big and opens wide, which might prove an issue in tight car parks, though. Rear access is a little more involved, although it's straightforward for regular, agile person. The C1's tailgate isn't heavy, thanks to its one-piece construction.
Stereo and ICE (In car entertainment)
One element of this C1 that's sure to be a hit with insurers is the car's fully integrated audio unit. It might be basic, but it does a fine job - especially when engine noise dominates. It does possess a line in socket for MP3 players, though.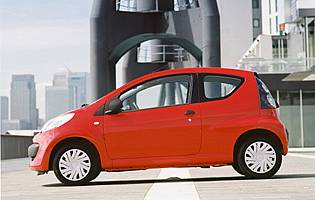 In three-door form the C1 looks perfectly in proportion
Colours and trim
With a car this jolly, only bright colours will do. Bold hues suit the C1's character down to the ground. Especially with the larger contrasting nose design on this refreshed car. On the inside there's less evidence of a wild existence, though. Plastic dominates the cabin, but at least it's not dark like some German rivals' cars.
Parking
Give up all hope if you think you won't be able to park a C1. With its light and accurate steering, good all-round visibility and tiny turning circle, it's exceptionally easy to park and manoeuvre in small places.
Spare wheel
A steel spare wheel is provided.
Range information
Petrol engines - 1.0-litre (68bhp). Diesel engines - 1.4-litre HDi (55bhp). Transmission option is five-speed manual gearbox. Trim levels: VT, VTR.
Alternative cars
Kia Picanto Great fun, great value and larger than rivals
Hyundai i10 Great value, good looking and fun to drive and own
Chevrolet Matiz Mechanical simplicity and tiny engine make for low running costs
Nissan Pixo Budget four-door Nissan is spacious, refined and competent
Over 1,200 more car reviews online
All the reports since 1990 are available on this site, just search by make and model below.
Other products & services
Related information
May 2009