Citroen C4 1.6HDi 16V 110hp SX 5dr
June 2009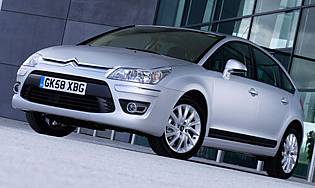 Change in appearance is largely limited to a subtle change in the C4's nose
Ratings
Overall rating
Value for money
Costs
Space and practicality
Controls and display
Comfort
Car security
Car safety
Likes
Refined and competent driving experience
Good choice of engines and trim levels
Build quality is a welcome step up over previous Citroens
Modest exterior revisions add a mature edge to the C4's appearance
Gripes
The unusual two-spoke steering wheel can prove tiring to hold on long journeys
Centre-mounted digital display requires some acclimatisation time
A number of the much-vaunted technological advances are optional extras
Elevated driving position doesn't mix well with enthusiastic driving
There's no question that the past few years have been kind to Citroen. From operating in the design wilderness with past models, cars like the C4 have proven to the cynics that flair hadn't completely deserted the French car maker.
In its refreshed 'phase two' stage, this C4 presents itself as a refined and mature family hatch - although one with more design flair than most rivals. From inception the departure from the older Xsara was immediately noticeable, and this revised car continues the trend with its bold nose design and sweeping roofline.
More substantial changes have taken place under the bonnet, with Citroen utilising BMW joint venture 1.6 petrol engines to help reduce fuel consumption and CO2 levels. In practice these units deliver a greater level of refinement, while keeping the keen driver entertained on twisty roads. The economy angle is important though, and it's good to see such improvements on a mass-market family car.
And essentially that's it for the changes - not that the economy savings are small beer. Inside the C4, Citroen fans with a keen eye might spot a subtle improvement in the already good levels of material and build quality. For those with some spare cash, there's an all signing-all dancing multimedia unit available, boasting a hard disc music storage facility, sat-nav, Bluetooth phone connection and premium audio component.
Ultimately the C4, in five-door form at least, offers buyers seeking a practical family hatch something different from the mainstream offerings from the likes of Ford, Volkswagen and Vauxhall. Style-wise the C4 cuts a bold dash when on the move, and Citroen's motorsport links help add some extra credibility.
Our verdict on the Citroen C4 1.6HDi 16V 110hp SX 5dr
It's a case of the same but better with this second generation C4 hatchback. The faux coupe three-door model might appear more glamorous, but it's this five-door variant that is likely to be the more plentiful now and in the future. All the familiar Citroen trademarks from the past are present - fluid ride, offbeat styling, slightly quirky switchgear - along with a healthy does of value for money and practicality.
Costs

Key to keeping the cost down is that most of the clever stuff - adaptive lights, lane departure warning, fancy stereo and sat-nav - is on the options list. Servicing and repair costs are unlikely to be steep either. And opting for a diesel if you travel a lot should help save money at the pump.
Space and practicality

Four adults can be accommodated in reasonable comfort ain the C4, and there's enough room for mobile phones, maps and the like in the car's various oddment storage areas. With family duties in mind, even the C4's boot is a decent size and boasts a low load lip, which should please anyone tasked with transporting the weekly shop. The back seats fold, making light work of carrying large or bulky items.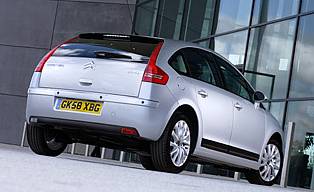 Unconventional rounded rear remains a C4 trademark
Controls and display

Unlike in other cars, the C4's wheel consists of a fixed centre and a moving rim. Citroen believes this approach allows a more successful deployment of the airbag and a greater number of supplementary controls (stereo, cruise control, general navigation buttons) to be within easier reach of the driver. Although initial a little strange, you soon get used to it. The car's main central display works well, the lesser displays (ventilation, audio/sat-nav) are a less coherent mix of colour and monochrome.
Comfort

Mechanical refinement is impressive, and shows itself in the form of minimal engine and road noise. The car's supple ride also plays a significant role; likewise the car's seats, which are supportive. The driver is also well catered for, as the driving position boasts plenty of adjustment.
Car security

Standard on the C4 is remote central locking and automatic locking of doors and boot when the car is in motion, plus the predictable appearance of an immobiliser. Laminated side glass is available depending on the model, which can help thwart a thief's effort to gain entry.
Car safety

Six airbag come as standard along with ABS, electronic brakeforce distribution (EBA) and electronic brake assist (EBA). The firm's much-lauded Lane Departure Warning System (LDWS) and directional xenon headlamps are options, despite the firm being keen to trumpet their benefits.
Driver appeal

In recent years Citroen has left its cousin Peugeot to pursue the performance market. As a result, the ride and handling properties of Citroens lean more towards the comfort end of the spectrum As such, the C4 feels more mature than its Xsara predecessor. The C4 is nothing if not willing when it comes to challenging B-roads, though. Feedback from the steering may be lacking, but the overall experience is an entertaining and enjoyable one. Predictably the diesel engines deliver the most real world performance.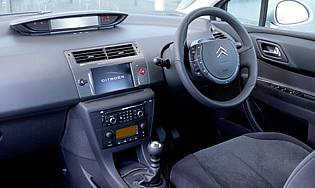 Cabin ambience is now more refined thanks to use of high quality materials
Family car appeal

The C4 is more than up to the task if you're not a fan of the people carrier genre. What you lack in terms of ingenious cubbyholes you gain in terms of a car that won't pitch and roll at the slightest hint of a corner. The C4's boot is a good size and children or teens won't find issue with the car's rear legroom.
First car appeal

Aside from the car's 'quirky' steering wheel, there's little chance of a novice driver finding fault with the C4. Visibility is good and the major controls require little effort to operate smoothly. The low power petrol and diesel models would be the obvious choice for anyone with one eye on insurance premiums.
Quality and image

This C4 is the first product to have benefited fully from Citroen's concerted efforts to raise the quality bar. Build quality is noticeably better than the old Xsara and refinement rivals that of VW's Golf and Ford's Focus. The combination of a genuinely fresh design and the presence of clever technology in the C4 has been designed to show the car and the brand in a more positive light.
Accessibility

In five-door form front seat occupants will have little trouble gaining access. The seating position is slightly raised - a ploy to help improve access and egress and boost visibility for the driver. By virtue of the five-door format, rear seat occupants aren't afforded the same, generous levels of access, but only the very tall or infirm will find this a problem.
Stereo and ICE (In car entertainment)
The standard unit is positioned high up on the fascia and the main controls are logically laid out, although supplementary steering wheel controls are less intuitive. A combined audio, telephone and sat-nav system is available boasting hard disc music storage. The units various controls could be less complicated, though.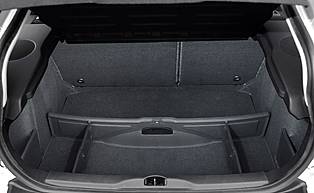 Spacious boot includes extra security-friendly compartments
Colours and trim
Dark hues fail to accentuate the car's many curves and clever exterior details, making lighter shades the way to go. Inside, the bulk of the car's plastic is of the black variety, which gives the Citroen an almost VW Golf-like ambience. For a family car the light coloured optional leather doesn't look that durable - black is a better choice.
Parking
The C4, in five-door form, is an easy car to park. Visibility is good, although the car's windscreen pillars are on the large side Extra help can be sought by opting for the optional parking sensors, which are available for the front and rear.
Spare wheel
Standard spare wheel included.
Range information
Petrol engines - 1.4-litre (90bhp); 1.6-litre (120bhp). Diesel engines - 1.6-litre HDi (110bhp); 2.0-litre HDi (138bhp/143bhp). Transmission options are five and six-speed manual gearboxes, depending on engine variant, plus six-speed automated manual. Automatic gearbox is offered with the 138bhp 2.0-litre diesel and 1.6-litre, 120bhp petrol engine. Trim levels: LX, SX, VTR Plus, Exclusive.
Alternative cars
Peugeot 308 Better than older 307 but not as good as all-conquering Focus
Mazda 3 Good value for money and enjoyable to drive
Vauxhall Astra Impressive all-rounder and visually appealing
Ford Focus Popular and stylish, it's the keen driver's choice
Over 1,200 more car reviews online
All the reports since 1990 are available on this site, just search by make and model below.
Other products & services
Related information
June 2009