Citroen C4 Coupe 1.6 16v THP VTS
May 2009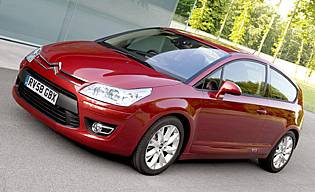 Composed and enjoyable to drive
Ratings
Overall rating
Value for money
Costs
Space and practicality
Controls and display
Comfort
Car security
Car safety
Likes
Good choice of standard kit across the range
Enhanced and more efficient engines improve the driving experience
Exterior styling revisions are a welcome improvement
Build quality is much improved over previous models
Gripes
Flagship sporting car isn't that sporty
Centre-mounted digital display takes some getting used to
Some of the publicised innovative tech features are cost options
The two-spoke steering wheel can prove tiring to hold on long journeys
It wasn't that long ago that French car maker Citroen found itself at a design dead end. The cars had become predictable while build quality wasn't the firm's strong point. Recent years have seen Citroen's fortunes take a welcome turn for the better. Its C4 was the catalyst for this change, and this restyled car offers just that bit more of everything.
When you have a car that's as distinctive as the C4, it's hard to make any major changes without altering the basic proposition. With that in mind, it's not hard to understand why Citroen took the path of least resistance with its update programme. The mid-life refresh is, from the outside, just that.
Subtle changes to the car's nose to reflect the company's new corporate image have led to a deeper grille section and a dash more brightwork around the edges. It's no coincidence that the changes mirror those found on the company's ultra-successful World Rally Car.
What you can't see are the changes under the skin, specifically under the bonnet. In common with so many car makers, Citroen has increased its focus on lower CO2 emitting and more economical engines. A partnership with BMW has resulted in a range of improved petrol engines, boasting gains in performance but not at the expense of economy.
Improvements to the diesel line-up have yielded similar improvements, with the overall changes leading to a more enjoyable driving experience and a few extra pennies in the bank account to boot. Factor in Citroen's continued assertion that its automated EGS gearbox can make savings a manual 'box cannot, and it's clear the company remains keen to find ways of making the ownership that bit different.
Our verdict on the Citroen C4 Coupe 1.6 16v THP VTS
At first glance you'll struggle to see the changes made to Citroen's C4 range. Subtle cosmetic tweaks hid the fact that changes to the engine line-up are the rear story here. The C4 has always been a pleasant car to drive, and this second-gen model thanks to the new BMW co-developed petrol units is now much better. And in reality the Coupe is just a three-door hatch, but to admit such takes all the fun away.
Costs

With this second generation C4 and its revised engine line-up, economy and emissions reductions should make a difference to your monthly finances. The car itself won't break the bank either, and there are always deals to be done at Citroen outlets.
Space and practicality

The C4's deep and wide boot is a welcome aid when transporting large items. The rear seats easily split and fold to expand the loading area. In the cabin oddment storage space is generous, although the glovebox could be a little bigger. And in three-door form accessing the rear seats is a straightforward operation.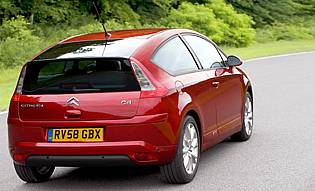 Rear more about style than outright practicality
Controls and display

Citroen's newfound flair can be found in the cabin, as it opted for a left-field approach to the main controls and instruments. The central speedometer and steering wheel with its fixed boss and plethora of controls can take some getting used to - especially the latter. There is some logic to it all, though in a Citroen-centric sort of way.
Comfort

Citroen has a reputation for producing cars with plush, supportive seats and fluid ride, and the C4 doesn't disappoint. At regular speeds the car's cabin is hushed - especially with the turbo petrol motors onboard. There's also enough cabin space so that you're not rubbing elbows with fellow occupants.
Car security

It's unlikely that something like the C4 will feature on a thief's shopping list, but it's good to know that the basics - remote locking, immobiliser - are covered. Anti-hijack locking is also present, although another useful feature, laminated side glass, isn't standard across the range.
Car safety

Citroen rarely shouts about its safety achievements, but like all modern cars its C4 is as well equipped as the main competition. Airbags are plentiful in the cabin, while the various electronic aids provide welcome reassurance. Some things, like the much vaunted Lane Departure Warning System, aren't present on every car, although its value is debatable.
Driver appeal

The C4, despite its racy looks in Coupe form, was never intended to be an out-and-out racer. That said, brisk progress is possible and enjoyable. Steering feel could be better but the car's brakes are very good, as is the ride quality on rough surfaces. The 1.6 turbo petrol engine delivers a smooth stream of power and never sounds gruff, while the manual gearshift is feels accurate.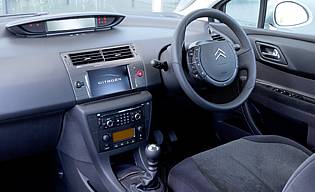 unusual at first but soon feels intuitive
Family car appeal

The C4 Coupe is hardly an ideal choice as a family car. Relatively speaking, access to the rear isn't that great - the five-door hatch would be more suitable. At a push you could get by, though. At least the car's boot is a good size for shopping and other family clutter.
First car appeal

There's no reason why a novice wouldn't be able to cope with the C4. The various controls are light and accurate, although the car's 'quirky' steering wheel might look a little strange. Low power cars are unlikely to intimidate, but the others have a habit of building up speed without you realising it.
Quality and image

The arrival of the C4 showed the world that, contrary to popular opinion, Citroen hadn't lost its flair for design and innovation. The C4 was the first to have benefited fully from such efforts. Build quality is good and refinement rivals that of VW's Golf and Ford's Focus. Well publicised motorsport successes have done much to raise the maker's overall profile, too.
Accessibility

Front seat occupants will have little trouble gaining access to the Coupe. The seating position is slightly raised - a ploy to help improve access and egress and boost visibility for the driver. You need to flip forward the front seat to gain access to the rear and, so long as you're agile it should pose a major problem. The car's tailgate is heavy though, and requires a little effort to raise and lower.
Stereo and ICE (In car entertainment)
Despite the car's space-age fascia and display, the default setting here is a conventional radio and CD combination. The unit's positioned halfway up the fascia makes it easy to use and the main controls are logically laid out. On offer is a full feature sat-nav, Bluetooth phone connection and hard disc music storage system, which works well.
subtle new look adds a welcome extra level of refinement
Colours and trim
Bold colours best suit this C4 Coupe; it would be a shame to hide the car's pretty exterior under the cloak of something dull or sombre. Inside, the bulk of the car's plastic is of the black variety, which gives the Citroen an almost VW-like ambience. Carbon-effect detailing on sporty models works well, while light trim won't be much good if you have children.
Parking
Easy to park and manoeuvre in small spaces, the C4's light power steering and an easy to modulate throttle are welcome features. The car's windscreen pillars are on the large side and the vie rearwards in the Coupe could be better - parking sensors are most useful.
Spare wheel
Standard spare wheel included.
Range information
Petrol engines - 1.4-litre (90bhp); 1.6-litre (110bhp); 1.6-litre VTI (120bhp); 1.6-litre THP (150bhp). Diesel engines - 1.6-litre HDi (92/110bhp); 2.0-litre HDi (140bhp). Transmission options are five and six-speed manual gearboxes and depending on engine variant, a six-speed semi-auto EGS gearbox. Trim levels: VTR, VTR Plus, VTS.
Alternative cars
Peugeot 308 Offers similar levels of refinement but the focus isn't on an engaging drive
Mazda 3 Restyled Japanese hatch is well built and good value
Ford Focus Popular for a reason - the Focus is the keen driver's choice
Vauxhall Astra No wallflower in the style stakes, plus good to drive and own
Over 1,200 more car reviews online
All the reports since 1990 are available on this site, just search by make and model below.
Other products & services
Related information
May 2009