Citroen C2 1.4 Rhythm Stop and Start
November 2008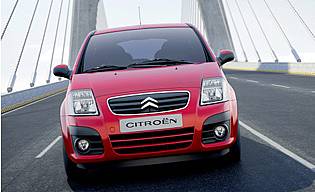 A new bumper graces the front end
Ratings
Overall rating
Value for money
Costs
Space and practicality
Controls and display
Comfort
Car security
Car safety
Likes
Efficient Stop and Start saves money
Distinctive and attractive looks
Surprisingly frisky and enjoyable driving experience
Excellent value for money
Gripes
Interior quality slightly questionable
Stop and Start system a little unrefined
1.4-litre unit quite grumbley
Digital instruments not to all tastes
Citroen has plenty of experience when it comes to cost effective small cars, so it's no surprise that the compact C2 has proved to be one of its best selling models in recent years. Recent revisions to the trim level line-up and exterior design are intended to freshen up the C2, while the Stop and Start system continues to appeal to cash-conscious car buyers.
Small and stylish, the Citroen C2 has quickly become a familiar sight around UK towns. Appealing to buyers who need a compact and cost-effective car for city driving it has been a popular choice young first time car buyers and couples, plus more mature drivers who no longer need a larger vehicle for family duties.
Its distinctive looks have been refreshed to give the model a more statuesque appearance. A new front grille is more stylish, while a chunky one-piece front bumper gives the model a more masculine and sporty stance. The trim level line-up has also been revised; cut down to four models for simplicity with an impressive range of seven engine choices and two transmissions to choose from.
The Stop and Start is only available with the 90bhp 1.4-litre petrol unit and Sensodrive automated manual transmission. When activated, the system automatically shuts down the engine when the car comes to a halt, restarting it when the throttle is applied. The system rings more fuel economy out of the reasonably sprightly engine with minimal inconvenience.
Only available in middling Rhythm trim level, the Stop and Start equipped model never-the-less comes with a very reasonable amount of equipment, including the addition of automatic wipers and headlights and, like the rest of the C2 range, a useful split tailgate and funky digital dashboard display.
Our verdict on the Citroen C2 1.4 Rhythm Stop and Start
A neat little package, the Citroen C2 Rhythm Stop and Start is highly effective at combining sensible running costs, ease of use around town and a stylish exterior. Its size limitations mean it's not the most practical hatchback out there, but it's ideally suited to city use and the 1.4-litre petrol unit means it's not lost when it comes to the motorway, either.
Costs

The low running costs are the key to the C2 Rhythm Stop and Start's appeal, and for those who regularly drive around town or face a stop-start commute it's a very sensible choice. Insurance ratings are low and there's a considerable amount of equipment included in the competitive purchase price. Residual values have been known to suffer with Citroen models, however.
Space and practicality

The C2's four-seat layout makes the most use of the available space. It also makes the small boot almost irrelevant - one or both rear seats can fold to make even more room available. The split rear tailgate is a useful addition, while there are enough cabin storage areas to make the C2 a viable everyday car for anyone with a busy life and a lot of clutter.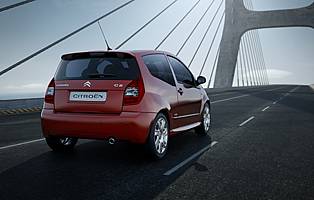 Flat rear is easy to park
Controls and display

Featuring a rather funky digital display the C2 Rhythm Stop and Start communicates well with the driver. 'Black panel' light time illumination is a nice touch and the compact interior means the important controls are never very far away. There's a button on the centre console that lights up when Stop and Start is activated, although visual indication in the binnacle would be useful. The steering is light and the brakes very sharp, while the transmission controls are self explanatory with useful manual shift paddles located behind the wheel.
Comfort

Comfortable in a basic sense, the C2 has supportive and adjustable seats and a pleasant ride that errs on the firm side but pays off in responsiveness. The engine can be a little grumbley but is far from intrusive and road noise is kept to an acceptable level. A lack of refinement from the combination of Sensodrive and Stop and Start can be wearisome after a while, but automatic air-conditioning, electric windows and mirrors and automatic wipers and headlights help make up for it. The steering column is also height and reach adjustable.
Car security

Although immobilised, the C2 Rhythm Stop and Start lacks an actual alarm. Doors and boot automatically lock once the car is in motion though, and remote central locking is standard.
Car safety

The C2 Rhythm Stop and Start does not feature ESP, but does benefit from both ABS and EBD. Seat belt pretensioners are standard as are twin front and side airbags. Hazard lights flash automatically in the event of emergency braking and crumple zones have been built into the body.
Driver appeal

A 1.4-litre petrol engine in a car this small is always going to offer a reasonable amount of fun, and the C2's limited body roll and sprightly handling mean it's an enjoyable little car to drive. Around town it's light and easy with a quick pick-up from the engine. The Sensodrive system takes a little getting used to, as changes need to be pre-empted with a throttle lift to avoid lurching progress. Combined with the Stop and Start system this can need to a lack of refinement, particularly in traffic. On the open road the pause between changes can be dealt with by using the excellent wheel mounted paddle shift.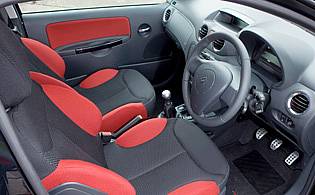 Interiors are comfortable and adjustable
Family car appeal

As a second car the C2 scores highly, but it's too small to be a main family car in its own right. Limited access to the two small rear seats and a very cramped boot with a full capacity of four makes it a little impractical for some family outing.
First car appeal

An ideal choice, the C2 Stop and start makes a great first car. It's cheap to buy and run, features decent equipment, is easy to drive and park and is practical and versatile enough for a couple to use as their only car.
Quality and image

The general standard of the C2 interior is high, but it's not the best available. Some of the plastics feel a little hard but there are no sharp edges to worry about. The odd rattle is noticeable over rougher surfaces, but it's a far from unpleasant place to be. The production of some better quality cars of late has seen Citroen claw back some confidence from buyers and it's well regarded as a producer of excellent small cars.
Accessibility

A tall body means tall doors, which limits the amount of stooping required to entire and exit, but as a small car and with a low ride height it's not a case of simply sliding in. The rear seats are only suitable for small children, an issue compounded by the limited access to the rear.
Stereo and ICE (In car entertainment)
The standard fit combined radio and CD unit delivers a good performance and is undemanding to use. Steering column-mounted remote controls also make life easier for the driver.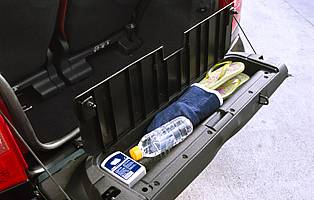 Split tailgate is a useful feature
Colours and trim
Trim levels have been simplified meaning that most models benefit from an improvement equipment. There's a wide palette of colours available for the model, but the C2's shape makes it very sensitive to colour choice, so choose carefully. A new radiator grille and chunky front bumper have given the C2 a more impressive appearance and the Stop and Start model gets an aluminium effect trim for the centre console.
Parking
The C2's compact proportions, with a flat rear and short bonnet mean it's a breeze to park. High levels of steering assistance, good visibility and a neat turning circle also help. Even nervous parkers should find it a very simple car to park.
Spare wheel
Steel spare wheel fitted beneath the boot floor.
Range information
Petrol engines - 1.1-litre (61bhp); 1.4-litre (75bhp and 90bhp); 1.6-litre (110bhp and 125bhp). Diesel engines - 1.4-litre (70bhp); 1.6-litre (110bhp). Transmission options: Five-speed manual or five-speed Sensodrive automated manual. Trim levels: Vibe, Rhythm, VTR, VTS.
Alternative cars
Mazda 2 Frugal and available as five-door
Fiat Panda Good value and decent small petrol and diesel engines
Seat Ibiza Ecomotive Extremely frugal and better on motorway
Volkswagen Polo Polo Bluemotion is cost conscious and attractive
Over 1,200 more car reviews online
All the reports since 1990 are available on this site, just search by make and model below.
Other products & services
Related information
November 2008