Audi Q5 2.0 TDI SE
November 2008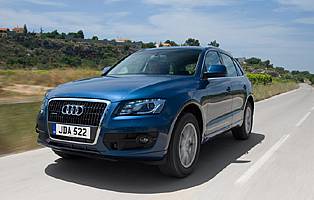 The Q5 shares traditional Audi styling cues
Ratings
Overall rating
Value for money
Costs
Space and practicality
Controls and display
Comfort
Car security
Car safety
Likes
Manageable size but lots of road presence
Usual excellent Audi build quality
Wonderfully refined on-road experience
2.0 diesel engine is smooth and progressive
Gripes
Expensive once options are added
Narrow rear bench
Annoying footrest position in manual version
Fussy centre console feels over-laden
Large SUVs are declining in popularity but drivers having fallen for the charms of four-wheel drive and high-rise driving positions. As a result, manufacturers are introducing smaller SUVs that are less conspicuous but equally pleasant to drive. The Q5 is Audi's first compact SUV incorporating elements from both its road cars and large Q7 SUV.
The compact SUV segment is growing rapidly, with several manufacturers having recently ventured into an arena in which they had not previously had a presence. Audi's Q5 is part of the German manufacturer's ongoing project to bring 40 models to market and is the first compact SUV in its history.
Considerably smaller than the seven-seater Q7 SUV, the Q5 is designed to be easier to use around town and to leave a smaller environmental footprint but not lack the presence or the benefits of SUV driving. Combining the lofty position, Quattro four-wheel drive and long body of the Q7 with the sleek interior and responsive driving position of the Audi car range, the model fills an important gap in the line-up.
Powered by a choice of 2.0-litre TFSI petrol, 2.0-litre TDI or 3.0-litre TDI diesel engines, the Q5 range is certainly not underpowered. The 2.0-litre diesel is likely to be the most popular choice in the UK market. It is the only choice available with a manual six-speed gearbox; the others featuring the first twin-clutch unit in the segment in the shape of the seven-speed S-Tronic.
A showcase for some high level equipment, the Q5 features an intelligent ESP system that can detect additional risks such as a laden roof rack or a loose surface under-wheel. Audi Drive Select also allows the driver to fine-tune the driving and handling characteristics, although the system can be relied on to automatically offer the best set-up in tune with the driving conditions.
Our verdict on the Audi Q5 2.0 TDI SE
An attractive executive compact SUV that offers an excellent combination of practicality, safety and ease of use, the Q5 is a fine example of what the segment has to offer. Its premium pricing will be the restricting factor for many otherwise keen customers, but there's little denying its position as a premium product. Well-crafted and extremely refined, it's a pleasure to drive.
Costs

Basic prices for the Q5 are not cheap and adding options can quickly see the purchase price escalate. Insurance should not be too expensive and fuel efficiency has been maximised to reduce running costs. Impressive residual values have also been predicted, ensuring a reasonable return.
Space and practicality

There's no shortage of head or leg room in the Q5 but, because of the narrow interior and the transmission tunnel that bulges from the floor, the rear bench is unlikely to seat three adults in comfort. The boot is large and adaptable with folding and sliding rear seats and the model's four-wheel drive and impressive towing capacity offer greater practicality, too.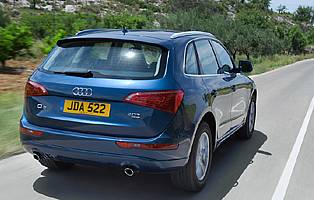 A wide boot door aids practicality
Controls and display

The Q5 adopts the traditional Audi approach to the controls layout, which is mostly intuitive and easy to use. Dials are large and figures easy to read on the colour screens. If specified with the Audi MMI system the centre console and transmission tunnel has the potential to get a little clustered with buttons, knobs and controls, but once familiar with the various functions it quickly becomes second nature. Light steering and a slick gear change are bonuses. However, for the manual model, the raised footrest next to the clutch pedal can be annoying.
Comfort

Comfort is one of the Q5's aces, offering a cosseting ride that's extremely refined even in the diesel engined models. A well equipped interior, including climate control air-con, means both front and rear occupants should be able to get comfortable. Seats are supportive and well-cushioned, with the exception of the thin centre rear seat, which is firmer than the others.
Car security

Naturally, for a prestige vehicle such as the Q5, a Category one approved alarm and immobiliser are standard. Items kept in the boot can be shielded from view with a rolling parcel shelf and there's additional covered storage in the cabin.
Car safety

The Q5 is big on both passive and active safety with copious airbags and collapsible elements to the body. Even more advanced is the intelligent ESP that can adjust to on and off-road driving and sense when the roof rails are loaded and the risk of roll-over is increased. Hill descent also enables safe descending. Auto-dimming headlights are another area of safety innovation.
Driver appeal

Although not a sporty vehicle, the Q5 drives with a great deal of assurance and competence in a variety of conditions. There's limited body roll, excellent grip from the Quattro four-wheel drive system and responsive steering and brakes. The 2.0 TDI unit is extremely impressive, delivering progressive and lag-free performance. Although more suited to the road than the track, the Q5 is reasonably capable off-road, too.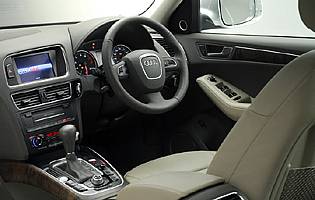 Interiors are luxurious and well crafted
Family car appeal

The Q5 would make an excellent family vehicle while doubling as a suitably upmarket business drive. The rear will comfortably seat three children and there's room for plenty of luggage. Strong safety features will also make it a popular choice among parents.
First car appeal

The Q5 will be too expensive and large for the vast majority of young drivers and first time new car buyers.
Quality and image

Audi's stock has been on the rise for some time, with the German manufacturer considered among the best for build quality and driving dynamics. The Q5 ought to continue that trend with its near faultless execution. Considerably smaller than the eco-baiting Q7 it's also a less contentious choice for drivers worried about the image of SUVs. Exterior and interior build qualities are superb and the vehicle has both kerb appeal and road presence.
Accessibility

The Q5 has few issues with accessibility, with a tall body, large doors and impressive ride height. The full width rear tailgate, which opens and closes automatically if specified, also allows generous ingress for the boot.
Stereo and ICE (In car entertainment)
Music fans can upgrade the single slot CD player and radio system to Audi MMI system with sat-nav, reversing camera and a comprehensive music system with space for thousands of songs on a hard drive. There's also the option of iPod connectivity and SD card readers. It's not cheap, but it is an impressive system and easy to navigate using central and wheel-mounted controls. Sound quality is great through the standard 10-speaker system, but there's a Bang and Olufsen upgrade for aficionados. The picture on the colour screen is crystal clear.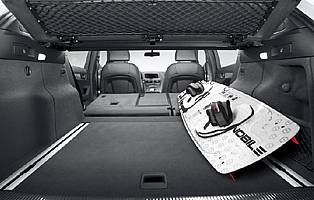 Practicality is a key element
Colours and trim
As with the majority of Audi's models, the executive stylings lend themselves to blacks and silvers in terms of exterior colour choices. Body coloured bumpers and mirrors plus aluminium exterior trim are standard kit on the SE. Inside, high quality leather is present and a choice of wood or metallic effect trim is available across the range.
Parking
The Q5 is not a small vehicle, but it is a very manageable shape and has a good turning circle. Parking sensors are standard and obviously help as does the optional rear view camera. Visibility is good thanks to the large windows and high driving position, and the mirrors are a good size and fold in.
Spare wheel
Space saver fitted as standard.
Range information
Petrol engine options - 2.0-litre (208bhp). Diesel engine options - 2.0-litre (167bhp); 3.0-litre (236bhp). Transmission options: six-speed manual gearbox, seven-speed S-Tronic twin clutch automatic gearbox with manual over-ride. Trim levels: Standard, SE, S-Line.
Alternative cars
BMW X3 Desirable badge but less impressive on road
Volvo XC60 Attractive exterior and strong diesel engines
Volkswagen Tiguan Competent on-road, strong build quality
Nissan Qashqai Similarly car-like handling, much cheaper
Over 1,200 more car reviews online
All the reports since 1990 are available on this site, just search by make and model below.
Other products & services
Related information
November 2008