Audi A6 Allroad 3.0 TDI quattro
June 2009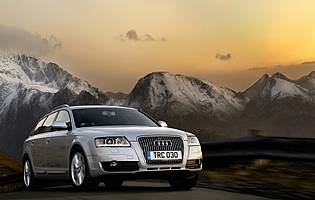 Subtle exterior changes have helped enhance the allroad's already handsome looks
Ratings
Overall rating
Value for money
Costs
Space and practicality
Controls and display
Comfort
Car security
Car safety
Likes
Purposeful-looking exterior blends premium character with rugged design cues
Extra ride height of air suspension and all-wheel drive
Smooth and efficient diesel engine line-up
Practical, luxurious and spacious cabin
Gripes
Some tempting options should be standard on a car of this standing
Cabin won't stand up well to the rough and tumble of true off-road life
On-road ride quality not quite as good as regular A6 Avant
Despite adjustable ride height, off-road potential is limited
There are niche products, and then there's something like Audi's allroad. In reality, there really isn't much else like the German maker's rough-tough A6 Avant alternative. And if you're a cynic, be prepare to be disappointed - the allroad actually makes a lot of sense.
This is the second-generation allroad, the first was an offshoot of the previous generation A6. Obviously no fluke, the car's popularity warranted further investment by Audi, which is why it continues on the back of the larger and improved A6 you see here.
On the back of a mid-life refresh, this A6 allroad gains a few subtle exterior changes, although the purely cosmetic tweaks do little to detract from the car's underlying performance. Straddling the class line between executive estate and premium SUV, the allroad attempts to offer the best of both worlds for buyer who find the latter to be overkill - they won't be venturing off-road enough to justify the inherent compromises associated with proper SUVs.
And it's in this area that the allroad scores so highly. At its core it is a premium estate car, with all the luxury connotations associated with such a vehicle. The added value element essentially takes a perfectly reasonable A6 Avant, raises its ride height slightly, adds air suspension (with different user switchable height settings), all-wheel drive plus subtle but effective protective body cladding.
The end result is a better than average tow car, a premium estate capable of taking to the beaten track once in a while and a car capable of dealing with the worst the weather could throw at it. And all the while, you get to sit in the lap of leather-line luxury. If it's true that people who buy SUVs rarely exploit their capabilities, the allroad allows you to ditch the high-rise driving position and roll-heaving ride without any real compromise.
Our verdict on the Audi A6 Allroad 3.0 TDI quattro
Audi has done well in recent years by identifying gaps, or niches, in the market and plugging them. The A6 allroad is one example; it's more premium estate than SUV, yet boasts all-wheel drive, adjustable suspension, a bash-proof exterior and a raised ride height. With no SUV-like compromised to battle with, the allroad proves itself to be a great all-weather, premium holdall.
Costs

With the allroad based on the A6 Avant, you can expect similar running costs. It's a premium class car so don't think routine servicing will be a bargain. That said, the diesel variants are frugal machines and Audi's reliability track record is good.
Space and practicality

With the allroad available only as an estate, its practical nature should be immediately obvious. In an everyday context it's difficult to find fault. Although the allroad might not be the largest estate in this premium sector, what it does it does very well. Treating front and rear passengers equally in terms of space, the allroad's cabin is impressive. For a premium car oddment space is also impressive. At the rear, the loadspace is accommodating and versatile. Load dividers can be used to keep things from moving, while with the rear seats folded, the flat space is great for transporting bikes or other activity paraphernalia.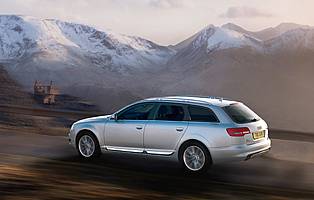 Avant body might not be class leading for space but it's practical versatile
Controls and display

A constant in recent years, Audi's various cars all boast exceptional levels of quality when it comes to the controls and displays. The allroad, like the A6, is possibly the benchmark of the German maker's line-up. Clear dials and logically placed controls dominate the fascia, while the MMI rotary controller and large colour display makes navigating the audio system, ventilation, plus navigation and phone where fitted nothing short of a pleasure.
Comfort

There's no question that the plush environment of the allroad is a huge attraction. It's easy to make comparisons with conventional premium SUVs, thanks to the generous application of leather and tasteful cabin trim. And the cabin itself is one of the most accommodating in its class - both for front and rear seat occupants. Another plus is the car's hushed ride. Whatever the engine, road surface, or speed you're travelling at, very little noise enters the cabin.
Car security

With all the important bases covered, this premium estate should be covered for most eventualities. With remote central locking, alarm and immobiliser standard equipment, peace of mind is covered. If you want a higher level of protection, a tracking device and the associated subscription costs is another option.
Car safety

There's no cause for complaint here, with a full compliment of airbags present throughout the cabin. Anti-lock brakes and a clever array of electronic stability aids are also standard. Don't dismiss the all-wheel drive system as merely a marketing gimmick - in slippery conditions it could be a lifesaver.
Driver appeal

Despite the allroad's raised suspension the car handles well. Buyers moving across from the A6 will notice only a small difference. In truth the A6 and allroad family are trumped by BMW in the keen driver stakes, although this generation of A6 has succeeded in closing the gap. For maximum financial enjoyment the car's diesel line-up is the way to go, with the 3.0-litre diesel unit surprisingly competent. On the road the allroad feels smooth and refined. That its all-wheel drive system and increased ride height allows you to leave Tarmac roads for the trail with confidence is an added bonus.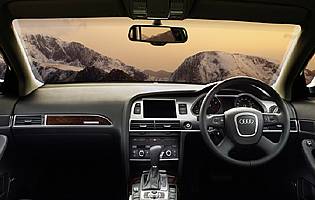 High quality interior is easily the class leader
Family car appeal

If conventional sports utility vehicles - even the premium ones - lack appeal or are perceived to be cumbersome and costly to run, Audi's allroad offers a more measured and civilised alternative. More estate car than full-blown 4x4, the allroad is a fully featured premium activity holdall. With all-wheel drive and a raised ride height it can cope with mildly rough terrain with surprising ease at the weekend and not look out of place in the office car park during the week. It's also a convincing tow car, while the load area will swallow most things with little effort.
First car appeal

There's little point in recommending the allroad as a first car: it's expensive and large by novice driver standards. It's not a slow car either, which might make it an intimidating experience for some. If, however, money isn't an issue, the allroad is not hard to drive - light steering, good visibility and an auto gearbox will make driving easier.
Quality and image

Benchmarked by the industry and praised by critics in equal measure, Audi interiors have become famous for their fit and finish. The allroad is no different, and just like the regular A6 it offers a pleasing combination of excellent fit, finish and choice of materials. And with an increasing number of models and sky-high demand, Audi products are on the shopping lists of a lot of people.
Accessibility

There's a subtle increase in ride height over the regular A6, and it's most welcome when it comes to getting in or out of the allroad's cabin. Everything else is pure A6 though, with the front doors opening wide and the back doors offering a reasonably-sized aperture. At the rear the car's extra height makes loading and unloading that little bit easier.
Stereo and ICE (In car entertainment)
Unlike in the dim and distant past, Audi vehicles come with a decent audio unit as standard. In the case of the allroad the performance is as you would expect of a car in this price bracket. Also, there are a number of optional upgrades such as enhanced audio and sat-nav unit - the latter being the latest version with a 3D 'bird view' option plus an integrated music 'jukebox' feature.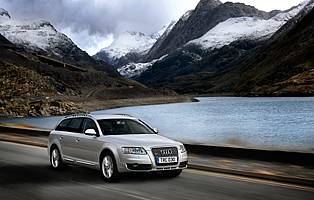 Allroad's ability to tackle moderately rough terrain is impressive
Colours and trim
As with all Audis the allroad looks best in modest metallic shades. Although the rougher and tougher cousin of the sedate A6 Avant, the allroad is no less refined, and deserves a similarly tasteful treatment - even the allroad's extended arches and rubbing strips look classy. Inside it's pure A6, with fit and finish far exceeding that of its closest rivals, while the choice of materials is first rate.
Parking
Although a big car even by modern standards, the allroad isn't difficult to park. At low speeds the car's steering requires very little effort, the exterior mirrors are a good size and all-round visibility is more than acceptable. Obviously, parking sensors make life a lot easier, and you can monitor you're progress on the car's main screen for good measure.
Spare wheel
Space saver fitted as standard.
Range information
Petrol engine options - 3.0-litre (290bhp). Diesel engine options - 2.7-litre (190bhp); 3.0-litre (240bhp). Transmission options: six-speed automatic gearbox, plus optional six-speed manual for 3.0-litre diesel. Trim levels: no specific trim levels.
Alternative cars
BMW X3 Compact premium SUV majors on on-road refinement
Subaru Legacy Outback Outback is more affordable, lacks clever suspension but copes well with obstacles
Land Rover Freelander 2 Popular Freelander offers best compromise of the compact SUVs - good on and off road
Volvo XC70 Closest in concept to allroad but lags behind in the dynamics department
Over 1,200 more car reviews online
All the reports since 1990 are available on this site, just search by make and model below.
Other products & services
Related information
June 2009