Hyundai i800 2.5 CRDi
July 2008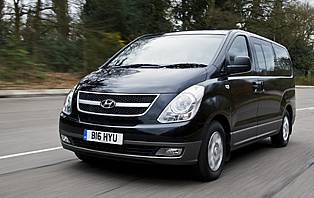 Purposeful-looking i800 is a good all-rounder
Ratings
Overall rating
Value for money
Costs
Space and practicality
Controls and display
Comfort
Car security
Car safety
Likes
Refined and responsive driving experience
Impressive performance from diesel engine
Spacious and versatile cabin
Excellent value for money
Gripes
Badge snobs will likely give the i800 a wide berth, which is a shame
Driving position needs fine tuning - relationship between seat and throttle pedal not always ideal
Despite car-like character, the i800's size might preclude it from some car parks and other venues
Sizeable tailgate requires a hefty push to close
If you're in the market for a large people carrier, suddenly all the various seveN-seat car-based options aren't really options. When you need space for eight people, even if it is only occasionally, you have to divert your attention away from the Ford's and Vauxhalls of this world. And there's a good chance your gaze will fall on Hyundai's i800.
Eight-seat people carriers aren't exactly two-a-penny. There is a good reason, though - not everyone needs something the size of a van. However if you do need something adept at carrying both people and, say, their luggage on a regular basis, you're often stuck with a converted van with windows and seats.
Light commercial vehicles have come a long way in recent years, but you could never really class them as desirable. Hyundai's i800 is better than this, and its surprising car-like character is something of a relief. It's more of a blessing in disguise, especially if you are going to be driving the i800 for the equivalent of a working day.
With the i800 being something of a niche vehicle - even in the world of full-size MPVs - there's a fair chance that it will be bought and put to work in the executive hire world. Its ability to carry seven passengers in comfort plus a substantial amount of luggage ensures that its size is actually an asset on the demanding 'airport run' circuit.
And life inside the i800 is good for the driver, too. Up front the i800's fascia couldn't be more car-like, making it easy to get comfortable behind the wheel. Supportive seats, a high quality audio unit and high-level manual gearshift all help banish any comparisons with rival van-like offerings. That the big Hyundai drives with the sophistication of a car-derived MPV is the icing on the cake.
Our verdict on the Hyundai i800 2.5 CRDi
Compromise used to be the watchword when considering a really big people carrier; you needed the space but all manufacturers could offer were vans with windows and seats. Things have moved one, and when buyers are used to car-like refinement they expect consistency across the motoring spectrum. And that's exactly what Hyundai's i800 delivers. On price nothing comes close, while it's also fair to say more expensive rivals could be seen as overrated.
Costs

The diesel-only i800 shouldn't cost much more than a large family estate car to run, with the upside being that it's a more practical and spacious proposition. Hyundai offers a generous five-year warranty and reliability is rarely an issue, ensuring that trips to the dealership should be of the scheduled kind. The sole equipment grade is also generous, thus reducing the need to dip into the admittedly very short options list.
Space and practicality

What can you say? Hyundai's i800 offers the best of both worlds. As one of a rare breed - a full-size MPV with the ability to transport passengers and their luggage - the trade-off for owning such a large vehicle is its versatile character. Seats can be folded and moved to create different seating arrangements while the load area is big enough to accommodate suitcases or just the weekly shop. Inside, storage compartments abound, making the i800 a great family vehicle if only on a very grand scale.
large tailgate hides a spacious cabin but requires some effort to close
Controls and display

There's a certain feeling of familiarity with the i800's cabin. If you've sat in the smaller i30 hatchback the larger Hyundai's fascia borrows much in the way of design and layout. As such the i800 experience is a good one: everything works well and is close to hand. The high mounted manual gearlever is also welcome, as is the clarity of main dials.
Comfort

Once inside the i800's cabin there's little to separate it from that of a car-derived people carrier. Plush upholstery, solid cabin materials and, obviously, plenty of room for occupants to stretch out in are the headline attributes. The i800 is also a reasonably quiet car. Motorway journeys are undertaken at noise levels more akin to conventional family hatchbacks, for instance.
Car security

With an open and exposed cabin, it's good that the covered storage areas are so accommodating. Sadly, there isn't a cover for the rear loadspace behind the third row of seats. That aside, you do get remote central locking plus an alarm an immobiliser package as standard. A low cost steering wheel lock would make a useful deterrent for the casual thief.
Car safety

For all the Hyundai's pleasing attributes, it's a shame that it couldn't stretch to front side airbags - twin front airbags are standard, though. Predictably this is where the big Hyundai's commercial tendencies show through, but at least you do get ESP as standard, which is welcome on such a large vehicle as it's big, heavy and carries a lot of momentum.
Driver appeal

Unusually, the i800 behaves in a surprisingly enjoyable car-like manner. The sole engine option (2.5-litre diesel) is willing and refined, plus its 168 horsepower figure is more than capable of maintaining a brisk motorway cruise or more challenging cross-country sprint. With a combination of direct and confidence-inspiring steering plus rear-wheel drive, the i800 feels stable and nimble despite its size. It also delivers a smooth ride around town, making it ideal for executive hire duties where passenger comfort is the main priority.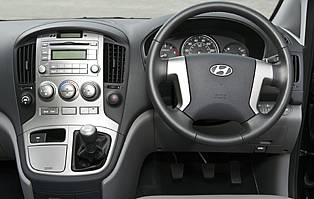 Car-like fascia is the first hint that the i800 drives more like a family hatch than an MPV
Family car appeal

If you have a large family or routinely accommodate other family's children, the i800 will be a great asset. Being an eight-seater will be a deal breaker in itself for some, and if you factor in the numerous seat or load variations plus the car's modest price it will be hard to find something as versatile for similar money. Topping it all off are thei800's numerous storage options and modest running costs thanks to a generous warranty and sole diesel option.
First car appeal

There's no question that all the i800's various controls are easy to use. And while it would be fair to say the driving experience is very car-like, making the leap from newly qualified driver to i800 pilot might be too much for some. The parking sensors will no doubt help but, unless you have to drive it, a smaller car would be a more sensible option for a while.
Quality and image

Even Hyundai's fiercest supporters will agree that the brand has suffered over the years. Low cost and low quality cars used to be the norm, so there's a Skoda-like battle at present to convince buyers that new products are better. And in material terms the various new products are much better - often challenging European rivals on everything from quality to driving characteristics.
Accessibility

There are two ways of assessing the i800 - its high-rise design can prove an obstacle for some, or its high-rise and spacious cabin makes transporting people and belongings easy. It's true that you need to step up into the i800's cabin, but unless you are very young or infirm it's unlike to pose a major problem. The car's tailgate opens to reveal a surprising amount of space, but it does require a hefty pull to close it.
Stereo and ICE (In car entertainment)
Standard fit is a good quality audio unit. This combined radio and CD player is easy to use and, conveniently, located high up in the i800's fascia. Sound quality is more than acceptable, but there's no scope to add a built-in sat-nav unit - you're better off with a cheaper aftermarket item, anyway - unless your dealer is offering a made to fit solution at the point of sale.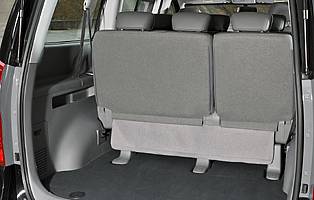 It may have eight seats but Hyundai's i800 also has enough room for shopping or luggage - or both
Colours and trim
All the various exterior colour choices do a fine job painting the i800 in a positive light. It's a big vehicle but is largely flattered by the various hues available. Inside the i800 it's more akin to one of Hyundai's regular cars - there's a lot of grey plastic but the quality is good. And for what could be a working vehicle, the car's seats are made from attractive yet durable materials.
Parking
Despite the i800's size there's no need to get into a sweat about parking it. The Hyundai's car-like controls ensure that little effort is required to reverse or parallel park. Rear parking sensors do much to make the guesswork out of any manoeuvres, although tight car parks will pose problems purely because of the i800's dimensions.
Spare wheel
Full size spare wheel fitted as standard.
Range information
Diesel engine options - 2.5-litre (168bhp). Transmission options: five-speed manual gearbox. Trim levels: single trim level.
Alternative cars
Volkswagen Caravelle Closest rival is more costly and lacks the i800's on-road manners
Ford Galaxy Most civilised and car-like here, but lacks the i800's extra cubic inches
Mercedes-Benz Viano Plush Viano isn't cheap, but is a solid all-rounder
Chrysler Grand Voyager Angular Voyager builds on past successes, but cabin quality is below par in this company
Over 1,200 more car reviews online
All the reports since 1990 are available on this site, just search by make and model below.
Other products & services
Related information
July 2008