Bentley Continental Flying Spur
May 2008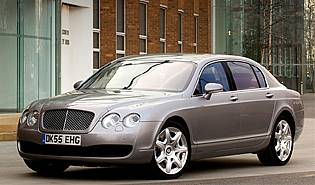 The Bentley characteristics are obvious from the front
Ratings
Overall rating
Value for money
Costs
Space and practicality
Controls and display
Comfort
Car security
Car safety
Likes
Extremely comfortable
Hugely powerful and effortlessly quick
Seamless gear changes
Lacks cumbersome feel of some large cars
Gripes
Very high fuel consumption
Lacking the exterior grandeur of some similarly priced vehicles
Finely tuned exhaust note can be intrusive
Size can make finding suitable parking spaces difficult
When it comes to Bentley's four-door executive the saloon the figures largely speak for themselves. A quoted top speed of nearly 200mph, a 6.0-litre W12 formation engine, 0-60mph acceleration of less than nine seconds and a purchase price in excess of GBP100,000 add up to a vehicle that's big in everyway.
Bentley's fastest four-door, the Continental Flying Spur, is a product of the Crewe based manufacturer's ownership by Volkswagen. A saloon version of the two-door coupe Continental GT, the Flying Spur actually shares a platform and a considerable amount of equipment with Volkswagen's own Phaeton model - also available with a W12 engine, albeit less powerful. Regardless, Bentley has put a lot of effort into making the model its own. The exterior similarities between it and the rest of the Bentley range are obvious, and the interior features bespoke reminders of the Bentley heritage, despite some obvious part sharing in places.
The traditional values of sumptuous ride quality and tremendous outright speed remain in full. Using constantly adjustable air suspension means the Continental Flying Spur wafts over bumps despite its weight, and the 6.0-litre engine, which produces a minimum of 552bhp, ensures that the model reaches cruising speed as quickly as it does smoothly and minimises the number of gear-changes required as the road goes up.
Unlike some of the more expensive models in Bentley's range, the Continental Flying Spur is not short of competitors. The premium manufacturers all have high powered, large executive saloons on offer and although you have to go right to the top of the list to find the versions that can match the Continental Flying Spur's effortless grace and delivery of power, some are considerably cheaper. Four-door GTs are in the pipeline from sportscar manufacturers such as Porsche and Aston Martin, too.
The model's discreet styling means that it is able blend in when required, while still offering a great deal of presence on the road. Drivers can appreciates the combination of luxury, heritage and modern technology offered by Continental Flying Spur, but without turning heads when not required. As a car to be discreetly chauffeured in, it's very proficient.
Our verdict on the Bentley Continental Flying Spur
Seemingly competing across two sectors, the Bentley Continental Flying Spur has the performance and build quality of a prestige car, but the more subdued presence of a premium executive saloon. A relatively additional small investment would see drivers of less exclusive brands go up in the world, while stately car drivers can downgrade in price without losing the badge or luxury appeal. It's a good choice for those who like to drive, and to be driven.
Costs

The Continental Flying Spur is not a cheap vehicle in any sense. A very high purchase price combined with a huge thirst from the W12 engine will equate to large bills. The car's high performance will also lead to large insurance premiums.
Space and practicality

As spacious a car as you're likely to find, the Continental Flying Spur offers almost excessive levels of head and legroom for driver and passengers. Seating is restricted to four if opting for the full-length rear console, if not specified then the central rear passenger's legs will straddle the transmission tunnel. The boot is simply huge; long, wide and deep.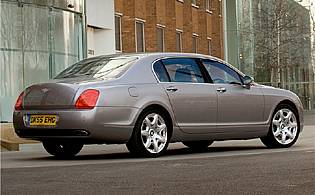 Bulbous rear end hides a massive boot
Controls and display

A remarkably easy car to drive considering its bulk and performance, the Continental Flying Spur has been designed to make life as relaxed as possible for all occupants. To this end, the controls are all conveniently placed and feature quality craftsmanship. An electronic parking brake and hill start assist combined with the light steering and seamless automatic gear changes make it relatively simple to manoeuvre. The mixture of analogue and digital displays are well presented and concise.
Comfort

Being a passenger in the Flying Spur is very much like flying first class, but the driver's needs are also equally well catered for. An executive level of equipment, massaging seats and a spacious and well-appointed cabin make it a pleasure to sit in. Refinement is impeccable; the exhaust note is often the only intrusive sound.
Car security

The Continental Flying Spur is a particularly secure vehicle thanks to an impressive alarm and immobiliser system featuring exterior and interior monitoring and a tilt alarm. Keyless entry and ignition is also standard, and a tracking system can be specified incase it is stolen.
Car safety

The Continental Flying Spur's size provides the most obvious form of safety, but huge brakes front and rear mean it has stopping power to match its acceleration in an emergency. Traction control is present and the air suspension with electronic dampers allows for stable and safe cornering. Inside, there are six airbags for additional safety.
Driver appeal

Phenomenally fast and able to corner with a nimbleness that defies its bulk, the Continental Flying Spur is as relaxing to drive as it is to be chauffeured in. The real appeal lies in straight-line speed, and the huge engine's ability to drag the car up hills without breaking a sweat or dropping a gear never gets tiresome. The car handles and corners more confidently if the sports suspension mode is selected, however, as it fails to get flustered in standard mode, it's rare that the driver feels the compulsion to select it.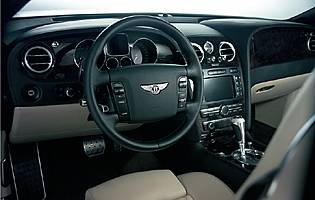 Interiors are sumptuous and expertly crafted
Family car appeal

The Continental Flying Spur would certainly make for a comfortable family car and has the space to deal with children and family luggage requirements, but it's hardly a car designed to be run on a family budget and is more suited to chauffeuring adults.
First car appeal

All but the most confident of novice drivers will find the Bentley Continental Flying Spur intimidating to drive due to its tremendous performance and considerable size. Few will be in a position to afford the purchase price and running costs either.
Quality and image

The quality is never in question, with near faultless manufacturing and a solid, weighty feel to the whole affair. The Bentley image is one with much appeal, but the Continental Flying Spur is a less obvious car than some. Some drivers may appreciate the less showy nature of the car, but others might want something with more visual presence for the money.
Accessibility

Few cars offer such ease off entry and exit, with four huge doors and a galactic level of legroom in the rear. The boot, with its auto opening and closing mechanism, is equally un-strenuous to use.
Stereo and ICE (In car entertainment)
The highly equipped Continental Flying Spur gets a high quality sound system with a six-disc changer. The down side is a seemingly outdated sat-nav system that offers only basic graphics and a limited postcode search function.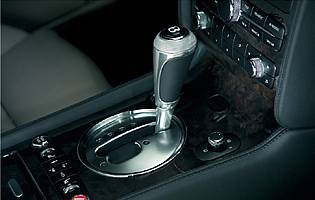 Bentley badging is on show all around the vehicle
Colours and trim
With 16 exterior and 17 interior colour options available, there is no shortage of ways to personalise the model. Its discreet styling means it's better suited to more subtle colours. Inside, the leather trimmed interiors with chrome effects are neatly crafted. Some parts appear to be from Volkswagen, but the interior is Bentley where it counts.
Parking
A reversing camera, good turning circle and impressive visibility makes the Continental relatively simple to manoeuvre when parking, however, its much larger than average size means it can be difficult to find spaces that will accommodate its girth, and the excess often spills into car park gangways.
Spare wheel
Tyre sealant repair kit or optional space-saver spare.
Range information
Petrol engine options - 6.0-litre (552bhp). Transmission options: six-speed automatic gearbox with sequential manual mode and column mounted paddle shift, permanent all-wheel drive. Trim levels: Single trim level, options available.
Alternative cars
Mercedes-Benz S-Class S63 AMG offers even more performance
BMW 7 Series 760i is as discreet and packs a punch
Volkswagen Phaeton Shared lineage means similar build-quality
Maserati Quattroporte Quite literally a four-door, but with sports car heritage
Over 1,200 more car reviews online
All the reports since 1990 are available on this site, just search by make and model below.
Other products & services
Related information
May 2008