Audi A3 Cabriolet 1.8 TFSI S Line
April 2008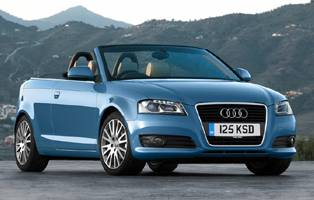 A3 offers roof down motoring for the first time
Ratings
Overall rating
Value for money
Costs
Space and practicality
Controls and display
Comfort
Car security
Car safety
Likes
Looks great with roof down
Less buffeting and scuttle shake than some rivals
Fast roof mechanism
Good boot space
Gripes
Less impressive looks with roof up
Awkward boot door makes access difficult
Limited space for rear passengers
Hood only fully automatic on higher spec models
For the first time Audi has developed its compact hatchback A3 into cabriolet form. Designed to compete with offerings from both premium and volume producers, the A3 Cabriolet has shunned the current trend for folding metal roofs in favour of a canvas version. Audi believes its roof offers no less refinement, but saves on space and weight.
Although top down motoring is nothing new to Audi, this is the first time the manufacturer has re-engineered its compact hatchback to offer a cabriolet alternative. While many manufacturers have opted for folding hard tops on their convertible models, Audi clearly feels assured enough of its position as a premium manufacturer to offer the A3 Cabriolet with a Z-folding canvas roof. As well as having less of an impact on space and therefore practicality the canvas roof is also lighter, meaning the A3 Cabriolet can offer more impressive performance, handling and fuel consumption than it otherwise might have.
Starting with a well specified base version featuring a semi-automatic hood - the clasps must be released manually before using the retract button - the A3 Cabriolet is also available in two higher specification versions with lowered suspension and additional options. On the Sport and S Line models, the roof can go from fully closed to fully open in nine seconds and can be opened while on the move.
While the A3 Cabriolet is clearly in its element during top-down summer motoring, the model has also been designed to function as a comfortable everyday car. This is where a metal roof can make a lot of difference, so Audi claims to have paid extra attention to ensuring there is no loss of refinement inside the A3 Cabriolet. The company's own research suggests that the increase in noise inside the cabriolet model is as little as one decibel more than in its three-door hatchback counterpart.
Unlike the hatchback, the rear bench will only accommodate two passengers, but the boot is an impressive size and folding rear seats offer up more load space. From the outside, the model is still very clearly an A3 and the folding roof is incorporated without compromising Audi's trademark understated style.
Our verdict on the Audi A3 Cabriolet 1.8 TFSI S Line
A well-planned, well-built and good-looking cabriolet model, the A3 Cabriolet brings plenty to the sector. It loses very little to the hatchback in terms of driving experience, and the loss of practicality has been avoided as much possible although the hatchback still makes a more sensible family option. The differing trim levels and impressive engine line-up offers plenty of scope for potential buyers.
Costs

The TFSI engines have been engineered to be fuel efficient as well as powerful. Both CO2 emissions and mpg figures are impressive as a result. Purchase prices reflect the Audi's premium status, but excellent build quality means return visits to the dealer should be infrequent assuming that the roof mechanism proves sturdy.
Space and practicality

Despite the access issues posed by the awkward boot door, the A3 has a remarkably spacious boot. The rear bench folds flat to offer additional room and the roof does not impact on the size as it's stored on top of the boot. As is often the case, the rear seats can only be considered for occasional use unless for older children. Legroom is restricted if not tight, and getting small children in and out of child seats would quickly become tiresome. However, the A3 cabriolet will seat four adults four short periods in relative comfort.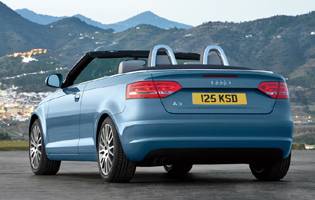 A canvas roof has less impact on space and weight
Controls and display

Neat and efficient, the A3 Cabriolet's controls and instruments are very well designed. The S line also benefits from and additional info display. The steering is very light at low speed, but firms up naturally as the pace increases. Pedals are well spaced and the gear change is weighty and direct. The centre console will be familiar to A3 drivers. It lacks flair but has an executive look and feel about it.
Comfort

Sculpted seats offer a high degree of comfort for front passengers particularly, while the two moulded rear seats are also padded and supportive. Dual-zone climate control is present on the S Line model, but opt for fresh air and there'll be little buffeting with the roof down. The deflector does a good job of cutting out what's present, but it fails to become obtrusive until the 60mph mark. Roof up, the A3 cabriolet is very refined, helped by the extra sound deadening in the S Line roof. The 1.8-litre petrol engine is very quiet, too.
Car security

The canvas roof is suitably reinforced so as to prevent making life easy for burglars, but the A3 features a Thatcham category one alarm and immobiliser to be on the safe side. The contents of the boot are completely concealed from view and, naturally, there's remote central locking.
Car safety

Twin roll over hoops are immediately evident in the rear, but less so are the reinforced structure and high-strength materials Audi uses in the A3 Cabriolet's construction. Head and thorax airbags protect driver and front passengers, while all occupants benefit from supports in the front, rear and side of the car. ESP including ABS and EDB is present, as are ventilated disc brakes on all four wheels.
Driver appeal

Boasting lowered suspension, the S-Line model offers a more focussed drive than the standard version. The chassis offers a responsive drive with minimal scuttle shake and it can cope easily with a vigorous workout. With the roof down the chassis remains admirably tight and ride quality is good in both modes. The fizzy 1.8-litre petrol is a potent engine that provides plenty of potential for spirited driving. Even with the traction and stability control running, it's possible to spin the wheels, which adds an additional element of fun to the driving experience.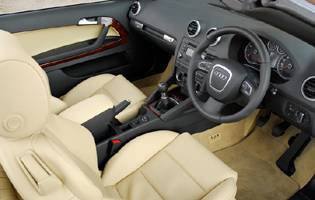 Auto boxes are also available on most versions
Family car appeal

Children love cabriolets, but unfortunately they're rarely practical as family cars in their own right. The A3 Cabriolet would certainly compliment a more practical choice on the driveway and would serve well as a second family car, but its primary market is likely to be the childless thirty-something. It makes useful concessions to practicality, but it would almost certainly be a compromise.
First car appeal

The ease of use, fun factor and neat styling of the A3 Cabriolet will definitely appeal to younger drivers, but the model is more expensive than some of its rivals. Smaller, cheaper and equally fun cabriolets and coupe cabriolets are out there in plentiful supply.
Quality and image

The A3 convertible inherits sound build quality and an upmarket image from the hatchback. Customers will not feel short-changed in terms of materials, and it's easy to understand why car-buyers are willing to pay the premium for a model that features this much quality. The A3 hatchback is by no means an unappealing compact car, and the A3 cabriolet goes a step further in upping the kerb appeal. As is often the way, it looks better with the roof down.
Accessibility

Access to the front seats is trouble free, but the rear pair can be awkward to stoop in and out of with the roof up. While a degree of compromise is to be expected in terms of rear seat access, the inconveniently shaped letter-box boot door could quickly mean that retrieving shopping becomes a chore.
Stereo and ICE (In car entertainment)
The standard sound system is upgraded to a Concert version for the Sport trim level and above. The sound quality is certainly very good, and the Radio and MP3 compatible CD unit is powerful enough to still be heard clearly when driving with the roof down. Additional in-car entertainment will be found in the cost options column, but Sport and S Line buyers will get an extra info display in the instrument binnacle.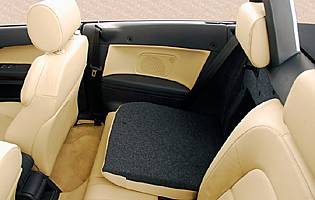 Rear seats fold for additional luggage space
Colours and trim
Cabriolets are rarely designed for introverts, and the A3 Cabriolet is no exception. Some bold colour choices are available for the exterior, and there's also a refreshingly lively line-up of interior colour choices. The top of the range S Line version has a darker interior however, with black part-leather, S Line embossed upholstery, black leather handbrake and gear knob trim, black roof lining and brushed aluminium inserts. It also gets larger 18-inch wheels and revised bumpers.
Parking
The rear window in the A3 Cabriolet's collapsible canvas roof is surprisingly large and as such the cabriolet version doesn't lose too much in rear visibility compared to the hatchback. Decent side windows also help when it comes to visibility and, although not perfect, it could be considerably worse. The A3's compact size means it shouldn't be a struggle to find suitably sized spaces.
Spare wheel
Space saver spare wheel fitted as standard.
Range information
Petrol engine options - 1.8-litre (158bhp); 2.0-litre (197bhp). Diesel engine options - 1.9-litre (103bhp); 2.0-litre (138bhp). Transmission options: Six-speed manual gearbox or six-speed S tronic twin clutch gearbox. 1.9-litre diesel - five-speed manual gearbox only. Trim levels: Standard, Sport, S Line.
Alternative cars
BMW 1 Series Convertible Less pretty but with comparable build quality
Ford Focus CC Pininfarina styling, Ford pricing
Volkswagen Eos Expensive, but with impressive metal folding roof
Vauxhall Astra TwinTop Fun and stylish with clever tin-top
Over 1,200 more car reviews online
All the reports since 1990 are available on this site, just search by make and model below.
Other products & services
Related information
April 2008