BMW 1 Series Convertible 120i SE
March 2008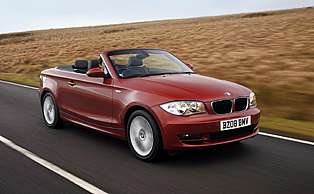 BMW's designers have done a good job with the 1 Series Convertible
Ratings
Overall rating
Value for money
Costs
Space and practicality
Controls and display
Comfort
Car security
Car safety
Likes
Drop-top conversion works well
Good choice of engines - petrol and diesel
High quality cabin
Spacious boot, even with the roof down
Gripes
Not the Ultimate Driving Machine BMW would have you believe
Fabric folding roof susceptible to damage; not as robust as a metal item
Modest standard equipment levels on lower cost variants
Larger optional alloy wheels impair ride quality
With most of the premium niches filled, makers of executive cars have turned their attention to other areas. In the case of BMW it has focused on the compact convertible market. It's not alone, but the German maker's reputation for producing capable and quality cars is likely to strengthen its hand in the face of determined competition.
BMW's basis for its compact convertible, the 1 Series, was met with mixed reactions when first launched. It's fair to say that, like the 5, 6 and 7 Series before it, the 1 Series boasted controversial looks. With more variants available - three, five-door, coupe and convertible - public opinion appears to have softened.
Of all the cars, probably the three-door hatch and this drop-top prove the most appealing visually. In the case of the latter, opting for a body colour to complement the roof improves matters enormously. Fortunately the car looks good with the hood up as well as down, which is not often the case. And with the roof down the little 1 Series does look stylish.
BMW's decision to go with a fabric and not a metal roof does have its advantages. Style-wise there's no awkward-looking boxy rear end required to store bulky metal panels. Then there's the weight advantage, which also helps improves a car's handling and ultimately the driver enjoyment.
Overall, though, the 1 Series Convertible isn't the sharpest of the range. The driving experience is a little muted - blame the car's lack of fixed metal roof. However, the car's target audience is unlikely to complain, with one of the primary reasons for ownership being looks and desirability.
Our verdict on the BMW 1 Series Convertible 120i SE
An enjoyable and, no question, desirable proposition, BMW's 1 Series Convertible is a welcome addition to the line-up. A comprehensive engine range, including a diesel and BMW's stop-start function on selected models, should ensure broad appeal and sensible running costs. Rear-wheel drive is unusual at this level but keen drivers will welcome its inclusion. Overall, a desirable package.
Costs

Sporting the familiar BMW badge, the 1 Series Convertible will always command a price premium - new or used. You might also have to spend a bit extra for a few choice options. As for running costs, insurance aside, fuel economy and CO2 ratings are very good, which should translate into costs more akin to that of a run of the mill family hatch.
Space and practicality

The 1 Series Convertible is not designed to meet the needs of a demanding family. It will, however, cope well as a second car or transport for singletons and couples. Roof up, boot space is good but won't win prizes for swallowing pushchairs. Roof down the space available is acceptable. Inside, it's much like any other 1 Series: good size glove box, door pockets and arm rest.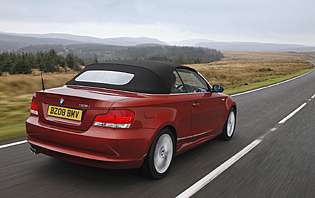 Roof up the 1 Series Convertible is an attractive proposition
Controls and display

As with other BMWs, the 1 Series range boasts clear and intuitive controls and displays. Everything works with the precision you'd expect from a premium car maker. Under most conditions the various displays are still easy to read with the roof down.
Comfort

Cabin room isn't an issue despite the car's compact size, and the seats - standard or sport - prove supportive. Roof down refinement is impressive, even at motorway speeds. It's rare that you'll have to raise your voice. Roof up motoring is little different to driving a regular coupe.
Car security

You can have all the bells and whistles associated with alarms and immobilisers, but a thief will always find a way into a fabric roof convertible if armed with something sharp. Insurance and company car policies often reflect this, but occurrences are rare - assuming you don't leave personal belongings in plain sight.
Car safety

With sturdy rear head restraints in place, rollover protection appears suitable - often a worry with convertibles. Elsewhere you get all the usual kit associated with small BMWs: anti-lock brakes and electronic stability control. Airbags aren't in short supply either.
Driver appeal

The rear-wheel drive 1 Series Convertible - unusual in this sector - is a pleasing car to drive. Although not quite as sharp as its tin-top relatives - blame the absence of a roof and extra weight - it can be hustled along for fun at a decent pace. The six-cylinder cars sound nice, but even the more affordable four-pot engines do a good job. On the daily commute the car copes well with poorly surfaced roads.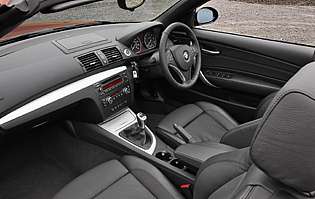 Familiar 1 Series cabin and better than average build quality
Family car appeal

In a word, no - unless this was a second or third car in the family. It's too small and just not practical enough to be the sole means of transport in a household.
First car appeal

Purchase price aside, there's little that would put off a novice driver. Sticking to the less powerful four-cylinder cars would be a sensible decision. Parking and general driving duties should pose no problems.
Quality and image

BMW can do no wrong if fans of the marque can be believed. The aspirational qualities of the various models are well documented, and the small convertible market is a potentially lucrative one. The car itself is well built - all 1 Series variants received a slew of important upgrades soon after launch.
Accessibility

Roof up or down it's easy to get in and out of the 1 Series Convertible. Despite the car's compact dimensions the cabin never feels cramped for two adults, while the car's doors open wide - a mixed blessing in a tight car park. At the rear the boot opens to reveal surprisingly spacious load area. This is reduced with the roof down but access remains straightforward.
Stereo and ICE (In car entertainment)
Standard fit is a perfectly acceptable radio and CD unit. Sound quality with the roof up or down is very good, and the unit's controls are intuitive. Moving up the scale, optional choices include CD disc changers and sat-nav. The latter rises from the top of the fascia and boasts a colour screen. As you would expect, steering wheel audio controls and MP3 player compatibility also feature.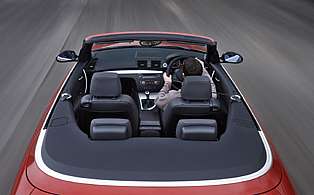 Roof down motoring is refined and enjoyable
Colours and trim
As with any BMW large or small, the 1 Series Convertible looks best in sombre, mature colours such as the stereotypical silver. Metallic shades are essential, and not just to maintain solid residual values. Inside, the car's predominantly dark cabin benefits from strategically placed light coloured trim accents.
Parking
The 1 Series Convertible isn't a big car, and coupled with its light steering at low speeds it's an easy car to park in terms of the effort required by the driver. Visibility-wise reverse parking is hindered a little by the car's roof and thick rear pillars - a trait common to many convertibles. Matters are improved with the roof down, however.
Spare wheel
Run flat tyres fitted as standard.
Range information
Petrol engine options - 118i (143bhp); 120i (170bhp); 125i (218bhp); 135i (306bhp). Diesel engine options - 120d (177bhp). Transmission options: six-speed manual gearbox, plus six-speed auto gearbox offered as a cost option. Trim levels: ES, SE, M Sport.
Alternative cars
Ford Focus CC Less expensive but equally less prestigious; comes with metal roof, though
Vauxhall Astra TwinTop Like the Focus, a more affordable car for the masses
Volkswagen Eos Most premium-feeling of the assembled opposition
Mini Convertible Small, desirable and also comes with a fabric roof
Over 1,200 more car reviews online
All the reports since 1990 are available on this site, just search by make and model below.
Other products & services
Related information
March 2008