Audi A8 2.8
September 2007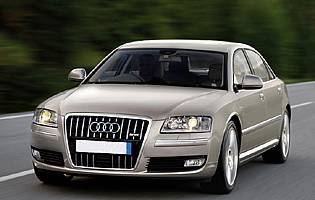 Subtle revisions include a one-piece grille
Ratings
Overall rating
Value for money
Costs
Space and practicality
Controls and display
Comfort
Car security
Car safety
Likes
Smart, attractive and ageless design
2.8 version is efficient and enjoyable
Cabin is a delight to use and to look at
Superb standard of comfort and refinement
Gripes
Servicing costs are likely to be high
High insurance grouping
Size can make A8 difficult to park
Third rear seat would increase practicality
The Audi A8 has succeeded in the premium executive class like no other Audi before it, offering a seductive blend of style, luxury and performance. Despite new rivals in the sector the A8 has remained popular, yet Audi has introduced a revised version designed to keep it at the top of the class.
At first glance the revised A8 looks little different from the original, retaining the taut lines and discreet, muscular styling that contrasts sharply with some of the more challenging efforts from rival manufacturers. There are external changes however, but these are limited to a single-frame grille, LED tail-lights and new door mirrors. New exterior and interior colours give greater choice to buyers, but clearly the A8 needed few adjustments to keep it looking fresh.
Elsewhere the A8 has undergone a series of refinements to improve performance in all areas. The suspension and steering have undergone minor changes to improve both ride quality and handling, while changes to sound proofing have reduced noise levels still further, making the A8 one of the most quiet and refined cars ever made.
The A8 already has an enviable safety record thanks to its clever aluminium construction and numerous safety systems, but the revised A8 takes this further with the addition of some clever features. Audi side assist uses radar to monitor the common over the shoulder blind spot, and illuminates LEDs mounted in the door mirror if a car moves into this critical zone to warn the driver. Additionally, lane assist vibrates the steering wheel to warn the driver if the car drifts starts to cross lane markings without signalling.
The comprehensive engine range remains largely unchanged, save for the introduction of the 2.8 model. Using FSI and valve lift technology, the 2.8 version is matched with a front-wheel drive only configuration and the CVT multitronic transmission it claims to deliver the best fuel consumption and lowest C02 figures in class.
Our verdict on the Audi A8 2.8
The A8 was already a highly capable and rewarding machine to use, so the revised version had a tough job to improve. Yet the subtle changes have enhanced its appeal, particularly the 2.8, offering the same high levels of luxury and decent performance but with very respectable green credentials.
Costs

Running costs for a car of this nature will inevitably be high, although the fuel economy possible in the 2.8-litre petrol and diesel versions will help to reduce fuel bills.
Space and practicality

As one might expect, the A8 is not short of cabin space. Front and rear passengers are spoilt for leg and elbow room, with impressive headroom too. A long-wheelbase version is also available for proper limousine space in the rear. The boot is also cavernous, and is more than enough for most situations.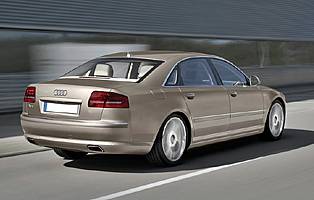 LED rear lights are the main change at the rear
Controls and display

The layout of the A8's cabin is almost peerless. Combining the myriad of functions into the MMI controller does make operating the A8 more simple, as the main functions can be accessed quickly and it does not require as much familiarisation as some equivalent systems. The displays themselves are clear, attractive and intuitive, while the quality of the switches and controls make them a pleasure to use.
Comfort

This is the A8's strongest suit. The standard air suspension allows fine tuning of the ride quality depending on circumstances, but with very little wind, road and engine noise combined with supple suspension, the A8 is one of the most comfortable cars available.
Car security

With a full complement of security equipment including an approved alarm and immobiliser system with interior and tow-away protection, the A8 is one of the most secure cars in its class.
Car safety

The A8 sets a very high standard of safety, not only due to the strong but light aluminium design, full complement of airbags and safety systems, but the innovative technology such as the blind spot warning system and lane departure features.
Driver appeal

The A8 is almost as relaxing from the driving seat as it is from the rear bench, such is the high level of refinement on offer. With just 2.8-litres and front-wheel drive, it is tempting to think of the A8 2.8 not being a real luxury saloon, but it performs more than adequately. Driven sedately the smooth, quiet engine and smart gearbox work well together, while the sound proofing and ride quality make for near-silent progress. When extended the 2.8-litre unit does make a little more noise than some of the larger petrol engines, but it is a long way from being noisy, and the performance on offer is impressive given the potential good fuel economy and low emissions.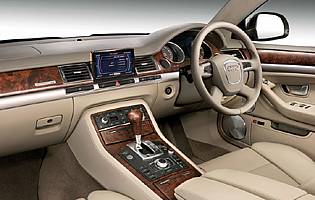 First class interior has greater trim options
Family car appeal

The A8 has the space and comfort to make an excellent family car. The boot is large, although its traditional shape means it cannot carry as much as a an MPV, plus its interior lacks the same flexibility. However, a family of four or even five could use the A8 as an everyday machine.
First car appeal

The A8 is very easy to drive, but its purchase price and running costs are likely to put it out of reach of new drivers. An executive saloon, even one as stylish as the A8, is also unlikely to appeal to younger drivers.
Quality and image

The A8's reputation is well-founded, thanks to peerless design and exceptional quality. Throughout the A8 feels robust, well designed and constructed from high quality materials. Its image is based on these qualities, while its discreet yet stylish design has won it many fans.
Accessibility

Large doors front and rear make for easy access, while access to the boot is also simple thanks to the large boot-lid. Keyless entry adds to convenience, with power closing on some models minimising effort.
Stereo and ICE (In car entertainment)
The revised A8 benefits from an upgraded stereo system, incorporating a six-CD changer, digital radio and 230-watt amplifier with nine speakers. The resulting sound quality is excellent, while audiophiles can plump for the Bang and Olufsen system for a truly impressive audio performance.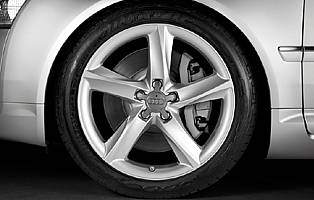 Wider choice of alloy wheels now available
Colours and trim
The A8 can be specified with a wide range of cabin trim colours and materials, allowing a high level of personalisation. The combination of fine leathers, woods and metal finishes make the cabin a superb place to be. Exterior colours are best in the traditional darker metallic shades, although Audis can be specified in a much wider range of hues at extra cost.
Parking
The A8 is an undeniably large vehicle, and hence squeezing into smaller spaces or multi-storey car parks can be testing. However, parking sensors front and rear are available, and with a graphic display make it easier to park without damage.
Spare wheel
Space saver or full size spare wheel fitted depending on model.
Range information
Petrol engines: 2.8-litre (210 bhp), 3.2-litre (260 bhp), 4.2-litre (350 bhp), 5.2-litre, (444 bhp), 6.0-litre (450bhp). Diesel engines: 3.0-litre (233 bhp) and 4.2-litre (326 bhp). 2.8 and 3.2-litre models are front wheel drive with seven-speed multitronic automatic transmission, all other models are four-wheel drive with six-speed automatic transmission. Trim levels are SE, Sport and S8.
Alternative cars
Mercedes-Benz S280 Controversial styling hides capable and refined car
BMW 730i Best driving experience, complex cabin and questionable styling
Citroen C6 3.0 Unusual and distinctive throughout, comfort biased
Jaguar XJ6 High capable but fussy retro styling disappoints
Over 1,200 more car reviews online
All the reports since 1990 are available on this site, just search by make and model below.
Other products & services
Related information
September 2007