Audi A5 S5 quattro
August 2007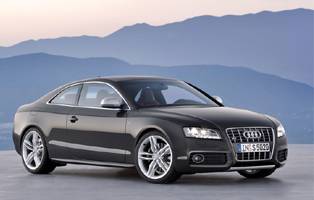 Prominent grille marks out S5 from regular A5 models
Ratings
Overall rating
Value for money
Costs
Space and practicality
Controls and display
Comfort
Car security
Car safety
Likes
Flexible and powerful engine
Attractive exterior styling
Fine ride and handling balance
High quality cabin
Gripes
Access to rear is slightly restricted
Rear styling is a little plain
Running costs likely to be high
Fuel economy relatively poor
Premium German marque Audi is re-entering the mid-sized coupe market with the A5. Designed to compete head on with rivals from BMW and Mercedes-Benz, the A5 fills a gap in the Audi range and opens it up to a new type of customer. In S5 form it also competes as a serious performance car, with aggressive looks and honed mechanicals.
Audi has a long history of successful cars in this segment, but despite its recent sales success in the UK and abroad, it is more than 10 years since it last sold a coupe in this class. With the introduction of the A5, Audi is entering a segment that demands a premium badge, a big style factor and a wide range of models. Given that most of Audi's existing range meets these criteria, the A5 has the pedigree for success.
Another key element to the appeal of a coupe such as the A5 is the performance version. Here it wears the well-known S badge, and benefits from a number of visual and mechanical enhancements to put it above regular A5. All versions of the coupe are sleek and graceful in appearance, with a long nose and sculpted flanks, which make it appear larger than its dimensions would suggest.
Rather than being a chopped-down version of an existing saloon, the A5 benefits from a new chassis, designed with improved handling in mind. The front axle is moved forward to improve weight distribution while the front suspension is a new multi-link arrangement, which promises improved responses and wheel control. The rear suspension is also revised, while quattro models benefit from a 40/60 front to rear power split, with the aim of improving balance.
The S5 benefits from the highest specification of the current A5 range, using the biggest output V8 petrol engine combined with the quattro four-wheel drive system as standard. The visual enhancements include larger alloy wheels, a four-pipe exhaust system and enhanced front and rear bumpers. Subtle S5 badges front and rear complete the visual changes.
Our verdict on the Audi A5 S5 quattro
The S5 not only signals Audi's re-entry into the coupe market, but also highlights the progress made in terms of dynamics. The S5 successfully combines the high level of grip and handling required of a car of this performance, yet in normal driving it is sufficiently comfortable to make a viable everyday car. The attractive styling, desirable badge and impressive interior combine to deliver an excellent coupe package.
Costs

Running costs are likely to be relatively high for the S5, due to its high performance and expense. Fuel economy is slightly below average and insurance costs will be high.
Space and practicality

Few coupes can claim to be genuine four-seaters, but the S5 is just such a car. Although access to the rear is slightly hampered, passengers in the back have sufficient head and legroom to sit in comfort. Boot space is also sufficient to cope with four adults.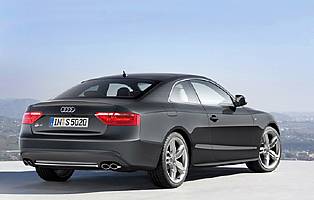 Four exhaust pipes are unique to S5 model
Controls and display

The layout of the S5's cabin is superb, with a clear and attractive design and logical layout. The Multi Media Interface makes it easy to access the vehicle's systems, while attractive conventional controls are used for simpler adjustments. The instruments are equally attractive, with a simple and clear design.
Comfort

Despite its sporting abilities, the S5 is comfortable car in which to travel. The seats are heavily bolstered, offering impressive support and comfort over long periods. Refinement is also high, meaning little wind or road noise reaching the cabin. The suspension, although sporty, is adept at soaking up road imperfections and reducing disturbance in the cabin.
Car security

A factory fitted approved alarm and immobiliser is fitted as standard to all A5 models, while the high strength door locks contribute to its status as one of the most secure vehicles available.
Car safety

With a brand-new high strength bodyshell, six airbags and tailored seat design, the S5 has a wealth of passive safety systems, but the grip and security offered by the combination of strong brakes, four-wheel drive and standard fit ESP makes avoiding an accident easier.
Driver appeal

With a potent V8 engine up front and the security of four-wheel drive underneath, the S5 has a lot to offer the keen driver. The engine is responsive low down, yet revs happily delivering a superb soundtrack at the same time. The steering is accurate and well-weighted, while the gearshift is quick although it needs an accurate hand. The grip on offer is impressive, while the handling is impressively neutral, resisting understeer very well. Conversely, the S5 is calm and relaxed when cruising.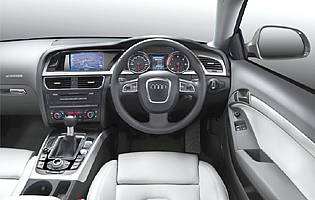 High quality cabin is a delight to use
Family car appeal

The S5 has sufficient space to be a family machine, with enough luggage capacity and room for children and child seats. However, the two-door configuration would make it difficult to get a child's seat into the rear, something which might be a problem. Children will have no trouble getting into the back seats themselves.
First car appeal

The S5 is likely to be too expensive as a first car, both in terms of purchase price and running costs. The high insurance group is also likely to put it beyond the means of inexperienced drivers.
Quality and image

The S5 is suffused with quality, through its elegant design and good materials. The quality of construction is also high, emphasising its robust feel. The image of the S5 is also strong, building on the reputation of previous performance Audis and with a strong visual presence.
Accessibility

The pair of long doors allow easy access to the front of the S5, despite the low roofline. Although the seats tilt and slide forward, access to the rear is through a smaller aperture. The boot however is simple to access.
Stereo and ICE (In car entertainment)
Even base models are fitted with MP3-compatible single CD/tuner with a colour screen and ten speakers. The upgraded Bang and Olufsen system adds a further four speakers and delivers highly impressive sound quality, while options such as TV reception and DAB digital radio systems create a wide choice.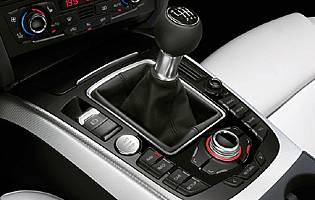 MMI system helps to simplify the cabin
Colours and trim
This is one area where Audi excels, and the S5 is no different. Although not best suited to the brighter shades on offer, it has a great deal of presence particularly in darker colours, which show off its curved flanks. Inside the trim is of a high quality, with leather as standard on the S5 and a wide choice of materials elsewhere.
Parking
All A5 models are fitted with parking sensors as standard, which is a useful feature and aids the parking process significantly. Because of the high waistline the front and rear of the S5 are a little difficult to judge, but considering its size and shape it is straightforward to park.
Spare wheel
Space saver spare wheel fitted beneath the boot floor.
Range information
Petrol engines: 1.8-litre turbocharged (158bhp), 3.2-litre (261bhp) 4.2-litre (349bhp). Diesel engines: 2.0-litre (168bhp), 2.7-litre (187bhp), 3.0-litre (237bhp). Six-speed manual transmissions fitted as standard, Tiptronic and CVT transmission also available. Trim levels are based on engine fitted: A5, A5 Sport, S5.
Alternative cars
BMW 3 Series Coupe Superb engine range and fine handling from the rear-drive coupe
Mercedes-Benz CLK-Class Excellent V8 engine in the CLK 500, but range includes comfort-biased suspension
Peugeot 407 Coupe Handsome shape, refined but lacks class and premium image
Alfa Romeo Brera Unique style, dramatic looks and sophisticated engine range
Over 1,200 more car reviews online
All the reports since 1990 are available on this site, just search by make and model below.
Other products & services
Related information
August 2007